Asian Hospital to hold 5th Clinical Innovation Summit | BusinessMirror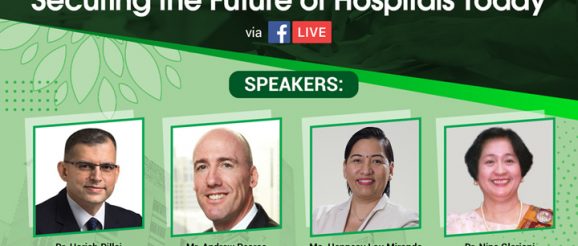 Asian Hospital and Medical Center will be holding its 5th Clinical Innovation Summit on January 27, 2022, Thursday, from 8:30 am to 12:30 pm via Zoom and Facebook Live.
With the theme "Securing the Future of Hospitals Today," Asian Hospital has lined up a distinguished panel of speakers who will participate in four plenary sessions.
With Dr. Carlos Vicente Gabriel, Asian Hospital's Associate Director for Medical Affairs, as the moderator and host, the summit kicks off with the welcome remarks from Andres Licaros Jr., Asian Hospital's President and CEO.
Plenary Session I will tackle "The Future of Healthcare in a Post-Pandemic World" and to speak about it is Dr. Harish Pillai, Group CEO of Metro Pacific Hospital Holdings Inc. Reacting to his presentation is Dr. Samuel Arsenio Grozman, Chairman of Asian Hospital's Department of Orthopedics.
Andrew Pearce, Senior Digital Health Strategist, Analytics—Asia Pacific of Healthcare Information and Management Systems Society will talk about "Improved Health System Performance through Investment in Digital Maturity and Transformation Activities" for Plenary Session II. Sharon Hernandez, Asian Hospital's Chief Strategy Officer, will present her reaction.
Plenary Session III will see Hennesy Lou Miranda, Asian Hospital's Director for Customer Experience and Engagement talk about "Humbled by Change, Grateful for Tomorrow: Serving YOU a Deeper Brand Purpose." Reacting to Miranda's presentation is Dr. Jesus Randy Canal, former Director for Innovation, Sales and Marketing of Asian Hospital.
The last plenary session will have Dr. Nina Gloriani, Chairman of the Vaccine Expert Panel of the Department of Science and Technology-Philippine Council for Health Research and Development talk about "The Future of Pandemics and the Roles of Hospitals." To give his reaction to this is Jose Paulo Flor, Asian Hospital's Manager of the Infection Prevention and Control Unit.
Rounding off the summit is Dr. Jose Acuin, Asian Hospital's Chief Medical Officer, who will give the synthesis and closing remarks.
For inquiries about the summit, contact Anjelica Padua at 632 8771 900 loc. 8163 or e-mail [email protected].
You may also follow the social-medial pages of Asian Hospital (AsianHospitalPH) for more updates.