B2B digital marketplaces bring agility and innovation to industrial markets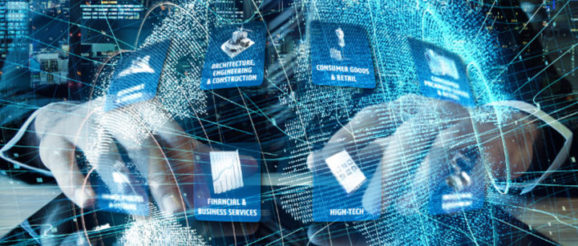 After transforming consumer retail, hospitality and travel markets, digital marketplace are now reshaping industrial markets and supply chains. Experts say the upheaval of traditional business models is inevitable, but the disruption offers companies across the B2B supply chain a unique opportunity to expand their reach and create innovative new customer experiences.
On October 24, 2017, the share prices of several Fortune 500 industrial supply companies dropped as much as 5%, even though the NYSE and NASDAQ indexes remained essentially flat.
What happened? According to investment analysts, the decrease occurred due to the launch of Amazon Business, which provides Prime's unlimited fast delivery to Amazon's business customers. As an online B2B marketplace, Amazon Business provides a software platform that enables buyers and sellers to connect and do business. The platform is the facilitator; the transactions are essentially peer-to-peer.
Amazon Business shifts inventory and logistical duties to participating suppliers, cutting its costs and increasing its agility. It's a model the world's largest B2B marketplace platform, Alibaba, adopted from inception, allowing it to carry zero inventory on its own balance sheet, much as Amazon pioneered with books.
The marketplace model allows these companies to grow at a pace and scale that companies with heavy inventory, facilities and logistics investments cannot. This enormous capacity to scale, plus a compelling user experience, have enabled these marketplaces to disrupt sector after sector.
Altered customer expectations
The disruptive nature of business-to-consumer (B2C) and consumer-to-consumer (C2C) marketplaces is well-documented in hospitality (Airbnb, Wimdu), travel (Booking.com, Ctrip), financial services (M-Pesa, PayPal), transportation (Uber, Lyft), and retail (eBay, Tmall).
From the consumer's perspective, it's easy to understand the appeal of digital marketplaces: greater choice, easier offer comparisons, lower prices, anywhere/any device access, fast fulfillment and community interactions. In short: a winning customer experience.These winning experiences have permanently altered consumer expectations regarding choice, price and convenience. It was only a matter of time, therefore, before businesses began to demand the same type of experience for purchasing business and industrial goods and services."B2B buyers are consumers as well, after all, and they have high expectations for their digital experiences," said Brian Beck, senior vice president of E-Commerce and Omni-Channel Strategy at Guidance Solutions, a B2B and B2C e-commerce services company in Marina Del Rey, California.B2B marketplaces are not new, however. While Amazon Business has only recently expanded from the US to Germany, the UK, France, Japan and India, many regions of the world have been served by large, industrial marketplaces for the past two decades. This is especially true of Asia, where well-known B2B marketplaces including Alibaba, Global Sources, TradeIndia, IndiaMART, DHgate and HAIZOL, among others, have brought millions of industrial buyers and sellers together.So what is new about industry marketplaces? For one, sophisticated strategies for using cloud, mobile and social technologies, together with advanced big data analytics, to create the more compelling, Uber-style experiences business customers demand today. For another, technologies that include affordable versions of 3D modeling and 3D printing are opening opportunities for more small businesses to participate in global marketplaces. Lastly, marketplace operators are aggressively expanding into new geographies and extending the range of goods they offer, as global awareness of the market potential of B2B e-commerce grows.
Read the rest of this story , on COMPASS, the 3DEXPERIENCE Magazine
Continue the conversation by joining our DELMIA Communities on 3DSwYm. Membership is free.