Base 11 Innovation Center Opens in Compton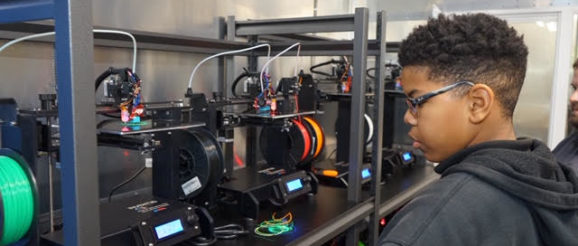 The latest Base 11 Innovation Center has officially been unveiled in Compton, CA.
The lab comes as the result of a partnership between Base 11 and Tomorrow's Aeronautical Museum. This is the fourth Innovation Center that Base 11 has opened, but is the first to be installed in refurbished shipping containers. It is also the first to be placed directly within the community versus on a school campus.
(From right) Landon Taylor, Ingrid Ellerbe, and Robin Petgrave stand in front of the newly opened Innovation Center
Several attended the grand opening event, including government officials, local community members, academic representatives, and students. Remarks were given by Base 11 CEO LandonTaylor, Base 11 Senior Vice President of Partnerships and Programs Ingrid Ellerbe, Compton City Council Member  Tana McCoy, and founder and Executive Director of Tomorrow's Aeronautical Museum Robin Petgrave.
"This is an opportunity to advance our mission to empower and transform students, particularly students from this community, into the STEM-trained talent and leaders of the 21st century that both industry and our country so desperately needs," said Landon in his opening remarks.
The Innovation Center is comprised of an MIT-inspired Fab Lab equipped with industry-quality 3D printers, laser cutters, milling machines, and programming stations that enable users to design and build almost anything they can imagine. Programming in the Base 11 Innovation Center will train students to use the technology and give them hands-on, experiential learning projects that develop the 21st century STEM skills most in-demand by industry.
El Camino College's Jim Morgan instructing local high school sophomore, Noah, on how to use the lab's laser cutter
"There's a booming shortage [of qualified workers] on the horizon. If we don't get out here and make a real concerted effort to try and grab some young people and bring them into the business, then the whole aerospace industry will suffer. The Base 11 Innovation Center can be a very good feeder for that," said American Airlines Technical Crew Chief David Mansker.
The importance of experiential learning can not be understated when it comes to staying competitive in today's job markets, and this rings especially true when pursuing a career path in STEM. For Victory Circle student Rafael Rosales, his lab experience at USC's Liquid Propulsion Lab gave him the exact edge he needed to succeed: "As a minority growing up with social barriers, I have always felt one step behind the competition in my pursuit of higher education," Rafael said. "Now, after having completed my research internship through Base 11, I am confident that I will be a competitive candidate in the application process when I apply to many universities this fall of 2018."
Noah proudly displaying his work
There are already some exciting plans in store for the Innovation Center's use. TAM's own rocketry team is set to use the lab to test and develop their rocketry designs, while the Autonomous Systems Engineering Academy from Compton and Cerritos College will be using it to build their own drones.
The Innovation Center is open to any makers who are looking to bring their ideas to life while collaborating and connecting with other tinkerers in the community. For more information, please contact [email protected]
To learn more about Base 11 Innovation Centers, click here.