BL Innovare Wins "Fleet Management Innovation Of The Year" In 2023 AutoTech Breakthrough Awards Program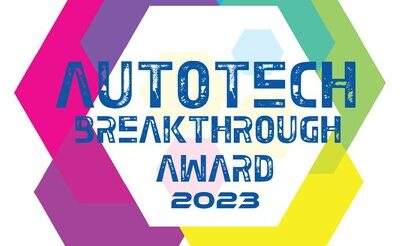 "Prior to BODYGUARD, existing condition documenting methods involved manual efforts, security type cameras or expensive tunnel-based systems that required significant infrastructure, space, and capital." said Bryan Vaughn, Managing Director of AutoTech Breakthrough Awards.
Using smart sensors and ALPR, (Automatic License Plate Recognition) technology, each vehicle passing through BODYGUARD's towers gets placed into an inspection record for easy search retrieval by license plate or date and time for each visit up to 12 months later. Users can also download still frames and video documentation of the vehicle in question.
BODYGUARD has an open API making it easy to integrate into current software systems for increased flexibility and ease of use, and often requires no changes in workflow process. In addition to fleet use cases, Automotive Dealerships, Auto Repair Facilities, Car Rental hubs, Parking Garages, and Car Washes also benefit from BODYGUARD.
"We're extremely honored to receive the 'Fleet Management Innovation of the Year' award from AutoTech Breakthrough. We have worked hard to make sure that BODYGUARD serves as an affordable yet advanced solution, for fleet companies to track the condition of their vehicles," said BL Innovare's CEO Carol Kilner. "Maintaining fleets and consistently documenting their condition costs time and has previously been more complex than it needs to be. BODYGUARD has proven itself to be an adept partner in the field by reducing complaints, mitigating damage claim risks, automating fleet vehicle condition documentation, and improving overall fleet operations."
The mission of the annual AutoTech Breakthrough Awards program is to conduct the industry's most comprehensive analysis and evaluation of automotive and transportation technology categories, including Connected Car, Electric Vehicles, Engine Tech, Automotive CyberSecurity, Sensor Technology, Traffic Tech and many more. This year's program attracted more than 1,600 nominations from over 15 different countries throughout the world. "BODYGUARD provides certainty and consistency in the vehicle documentation process. Both customers and businesses now have an opportunity to change the discussion from blame placing and finger pointing to opportunities for discussion and possible additional services," said Bryan Vaughn, Managing Director of AutoTech Breakthrough Awards. "Prior to BODYGUARD, existing condition documenting methods involved manual efforts, security type cameras or expensive tunnel-based systems that required significant infrastructure, space, and capital. BODYGUARD is designed to protect both businesses and their customers."
About BL Innovare
Founded in 2004 and based in Toronto, Canada, BL Innovare (formerly BanaLogic) has been an industry leading system designer and manufacturer on touchless vehicle inspection solutions. The company offers many innovative industry-first technologies, from government mandated inspection program solutions to touchless drive-thru alignment and damage detection & documentation technologies. The company's patented technologies and solutions are used in a wide array of industries including government agencies, fleet management, car dealerships and workshops, car manufacturers, car wash and car rental operators. For further information, please email [email protected]
Media Contact