Silmo 2023: innovation, new directions, original design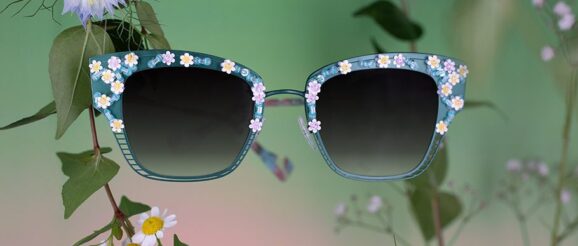 Silmo 2023 delivered a lively showcase of new directions for 2024, thanks to the creative designers and independent labels from around the globe who continue to set the innovation agenda within the world of optics. 
Silmo 2023 was a positive and dynamic event for companies across the optical business. Official figures published in the last few days report that the fair attracted a total of 31,337 visitor-buyers, including 15,902 from abroad. In total 929 companies were present in halls 6 and 7 at Paris-Nord Villepinte for the 4 day event. Creative and independent designers were well represented with companies travelling from far and wide including Japan, Australia, Canada and the US, as well as Europe.
Design and colour trends offered much choice and diversity in terms of inspiration, key colour directions and frame architecture. A particular interest in the interpretation of larger architectural and 3-dimensional frames was evident but there were also many new ideas for smaller closer-fitting shapes, multi-sided and organic structures and the beginning of a re-evaluation of rimless eyewear for 2024. Colour trends included some bright blue, yellow and lilac stories while lots of new ideas for finishes and textures offered food for thought for our trend analysis coming up. Above: The stunning Ouvrage by Lafont Paris in collaboration with Maison Sekimoto – created as part of a celebration of the company's 100th anniversary – was awarded the Prix Special Du Jury – read more about the frame here: https://www.eyestylist.com/2023/09/silmo-preview-lafont-paris-designs-with-sekimoto/
The Rigards stand at Silmo Paris was, as usual, filled with beautiful and iconic designs with new highly accomplished work including the RG1009TI finished with guilloché, a technique requiring particular savoir-faire and which was used in the past to decorate articles of beauty such as Edwardian enamel lockets. Their styles with colourful precious stone inlays were also out of this world, revisiting artistic work of the past (reminding us of the ethereal qualities and light effects of stained glass windows) to create something newly refined for the eyewear connoisseur. Read more about the RG1009TI frame here: https://www.eyestylist.com/2023/09/silmo-preview-rigards-new-work/
MYKITA won SILMO's first ever "Responsible Company" award, which has been designed to recognise progress in social and environmental responsibility. The category was assessed by an independent CSR jury. Among MYKITA's achievements in this field are their full switch to the sustainable eyewear material – Eastman Acetate Renew in 2022, and full circularity with their stainless steel supply since 2022. In 2023, the company has introduced a corporate purpose and new strategic platform focused around CSR topics, to guide the company through a sustainability transformation going forward.
A delightful collection by Italian designer Cleto Munari – his first ever work in eyewear design – has been created in Vicenza, Italy with the collaboration of experts in the art of goldsmithing in Montecchio Maggiore.
The collection is made of premium Italian cellulose acetate by Mazzucchelli 1849. The colour combinations have been carefully conceived to create something unique: the multilayer acetate plate is custom made by Mazzucchelli exclusively for Cleto Munari. Stainless steel hinges ensure resistance and performance while the design of each element meets a commitment to a sustainable, ethical, transparent supply chain.
Cleto Munari, who was presenting the collection at the stand at SILMO, is 93. Since the 1970s he has worked in the field of design collaborating with renowned designers, architects and artists including Carlo Scarpa and Ettore Sottsass. Find out more at
Capote Eyewear showed a captivating titanium collection that offers balance, harmony and original lens/frame colour combinations. New model 'Ginga' – meaning Galaxy in Japanese and "rhythmic dance" in the vocabulary of the Brazilian Capoeira dance, was an eye-catcher with an attractive undulating shape and cut-out detailing  at the bridge. The line is wearable and distinctive – with precision in all the small details.
The small design label Minchillo Occhialeria was a new highlight for those seeking handmade one-off fantasy pieces. Minchillo frames are completely bespoke and handmade in Puglia in Italy. Find out more by checking out their page on Instagram
The small independent label RAPP, presented this year at SILMO by Founder Mel Rapp, had some extremely fun-to-wear styles including brilliant cat's eye shapes; this round frame called Maggs features a raised dotted line around the rims in a contrasting tone to the base structure. The designs are made exclusively in Canada. Find out more at
This year the winners of the Silmo D'Or prizes were: Children's category, Etnia Barcelona with Ba-Baang; Sport category, Marchon with Nike Fly Free; Vision Visual Health, EssilorLuxottica with Varilux XR Series; Vision Optical System: Morrow with Morrow EProgressives; Material/Equipment: Saargos with QuickSee Free from Plenoptika; Optical Frame Brands & Label: ODLM-Seaport with CC 1086 Vedo, Carven; Ecological Innovation in Eyewear: Sbrusset & Co. with Meyro-Nde; Sunglasses Eyewear Designer: Andy Wolf with Blossom; and Optical Frame Eyewear Designer: Cutler & Gross with 9126 Lunettes Cat-Eye in the After Party collection. The Premier Classe Show Award went to Veronika Wildgruber with Lane and the Special Jury Prize to Lafont Paris with their elegant Ouvrage design.
SILMO Paris 2024 will take place on 20th to 23rd September 2024. For more details about the show and the Silmo D'Or awards visit – Further analysis, notable new launches and trend insights will be available at Eyestylist in the weeks coming up. Watch this space!
The post Silmo 2023: innovation, new directions, original design appeared first on Eyestylist.