Bridging the Gap: Uniting Black-led Innovation across Canada | Regina | July 28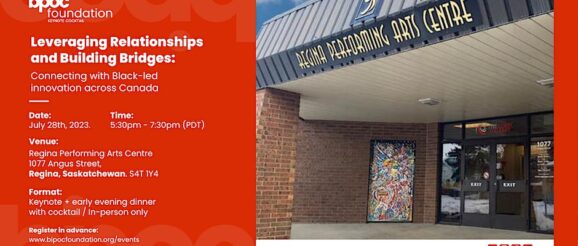 Welcome to an evening of inspiration and connection at the "Building Bridges" event, presented by the BIPOC Foundation. On July 28, 2023, the Regina Performing Arts Centre, located at 1077 Angus Street, will come alive with a transformative experience.
"Building Bridges" aims to create meaningful relationships and open new pathways for the future of Black-led start-ups in Western Canada. This event provides an opportunity for authentic conversations, unlocking doors within the region's thriving business ecosystem. Recognizing the pivotal role of the Black community as the fastest-growing population in Western Canada, the event focuses on driving economic development and fostering innovation.
The evening's centerpiece will be an engaging fireside chat featuring esteemed keynote speakers who will share their unique insights and experiences. Through their inspiring stories, attendees will be inspired to embrace their entrepreneurial spirit and seize the boundless possibilities that lie ahead.
Complementing the keynote address, a distinguished panel of business and racial equity leaders will offer invaluable perspectives on the industry's challenges. They will shed light on the initiatives shaping business and growth in Saskatchewan and Canada. The event provides a prime opportunity to connect with these influential individuals, fostering new relationships and expanding professional networks.
Inclusivity is at the heart of "Building Bridges," reflected in the complimentary catering that will be provided. Attendees can enjoy a variety of options, including vegan and gluten-free selections. The event organizers are committed to creating an environment where everyone feels welcome and accommodated.
The BIPOC Foundation proudly partners with the Government of Canada to deliver the Black Entrepreneurship Program, which creates significant entrepreneurship opportunities for diverse communities. Through their initiatives, the foundation strengthens the entrepreneurship ecosystem for Black entrepreneurs and business owners in Western Canada. They strive to foster a supportive and inclusive environment that empowers individuals to thrive and succeed in their entrepreneurial journeys.
"Building Bridges" is not just an event; it is an invitation to be part of something greater. Whether attendees own a business, have a business idea, or simply possess a passion for innovation, this event is a must-attend. Decision-makers and business leaders shaping the local and provincial economy will be present, offering valuable insights into the initiatives that will shape the future.
To learn more about the BIPOC Foundation and their exceptional work, interested individuals can visit their website at https://www.bipocfoundation.org/.
The journey starts here, so mark your calendar and prepare for an unforgettable experience.
Venue: Regina Performing Arts Centre
1077 Angus Street
Regina, Saskachewan S4T 1Y4
Time: 5:30 PM – 7:30 PM (PDT)
Date: July 28, 2023
Format: Keynote + early evening dinner w/ cocktail – In-person event
The post Bridging the Gap: Uniting Black-led Innovation across Canada | Regina | July 28 first appeared on Dami Adeniyi.
The post Bridging the Gap: Uniting Black-led Innovation across Canada | Regina | July 28 appeared first on Dami Adeniyi.