British-Romanian Chamber of Commerce – Future Trends in the Healthcare Industry – 2nd Edition: Sustainable Innovation, Digital Transformation, Telehealth, Advanced Research, and Financial Efficiency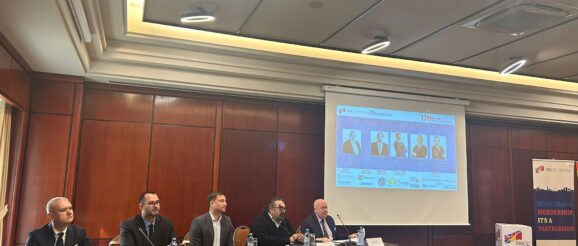 British-Romanian Chamber of Commerce – Future Trends in the Healthcare Industry – 2nd Edition: Sustainable Innovation, Digital Transformation, Telehealth, Advanced Research, and Financial Efficiency
The British-Romanian Chamber of Commerce organized the conference "Future Trends in the Healthcare Industry" – 2nd Edition, in Bucharest on October 17. This event highlighted the latest trends in the healthcare sector, with a particular focus on sustainability.
"We live in a world where people live longer coupled with a lowering average birth rate. The health of Romania has never been more crucial for families and business as the country moves confidently forward. This important event highlighted those great opportunities but also challenge the industry on what it needs to focus on and deliver over the coming few years" said Colin Lovering, Chairman of BRCC.
This year's edition of the conference primarily centered on patient care solutions, highlighting emerging technologies and applications in healthcare, as well as strategies for digital transformation and anticipating developments in the healthcare industry. Additionally, various innovative telehealth solutions and how blockchain technology can contribute to electronic health records and supply chain management were discussed.
The first panel was moderated by Katie Rizvi – Co-Founder & Executive Director, Youth Cancer Europe while the second panel was moderated by BRCC's vice chairman Charlie Crocker.
Katie Rizvi stated: "Today's meeting highlighted how Romania's strategic positioning and the availability of funds earmarked for healthcare investments, the country is poised for transformative advancements. These investments can harness the potential of digital healthcare records, AI, and personalized medicine to usher in a new era of healthcare, offering the prospect of significant improvements in patient care and a substantially better quality of life for all its citizens."
Panel I discussed the "Advancement of the Digital Healthcare Ecosystem in Romania," focusing on digital transformation, telehealth, and blockchain technology, and the newest trends in genetic testing and IVF procedures.
Health Minister prof. dr. Alexandru Rafila has provided an overview of the actual situation of the health sector in Romania, underlining the existing challenges and opportunities. He also underlined the good collaboration between the Ministry of Health and the private sector, in their common effort to advance digital health. The presentation included mentions of the most recent digital solutions available in Romania for the health sector.  Minister Rafila's speech also touched the European health data platform, emphasizing its role in Romania and Europe, giving an overview of the purpose and contribution of the platform in what concerns the advancement of cross-border cooperation and health related information exchange in Europe, both for better access of patients to medical services, as well as for the progress of research in the medical and pharmaceutical fields.
"The financial support granted by the IVF National Program 2022-2023 program is worth 15,000 lei for one procedure and will be awarded in two installments, in the form of an electronic voucher worth 5,000 lei and a paper voucher worth 10,000 lei. The National IVF Program comes to support the couples and individuals that are struggling with infertility. Did you know that 1 in 5 couples is having this problem? If in 2022 the number of vouchers went up to 2500, in 2023 we supported 10.000 people and we are looking forward to 2024 in order to continue to support the population." said Alexandra Dobre- Director of  Family and Demographic Policies – Minister for Family, Youth and Equal Opportunities.
"This is an exciting time for reproductive medicine, when newer technologies related to advanced genetics, time-lapse, or AI may bring answers and solutions for the most difficult cases. Our unique AI project, implemented by Gynera Fertility Center together with its international partners from FutureLife group, is only one example of how analyzing a huge amount of digital data can change and improve assisted reproduction practice, to achieve our most precious goal – creating families and bringing more children into the world." stated Dr. Laura Dracea, Gynera Fertility Center.
"We all know that "we are what we eat". But now, with the new Nutrigenetics TEST -NutriVi, you will not only lose weight or improve your metabolism through personalized nutrition plans. You will find out what lies at the core of your DNA. It's easier than ever before! The NutriVi Test, harnessing cutting-edge advances in nutrigenetics, stands at the forefront of personalized healthcare. By decoding your unique genetic blueprint, NutriVi doesn't just predict potential diseases but actively empowers prevention through tailor-made nutrition plans. Our mission? Elevate each individual's quality of life and health, weaving the fabric for a more vibrant, healthier society. Together, with NutriVi, we're not just adapting to the future—we're building it." said Dr. Diana Prepelita, Cytogenomic Medical Laboratory.
Panel II addressed "Implementing Health Programs in a Sustainable Manner," discussing sustainability, innovation in research and development, healthcare system reform, and healthcare service financing.
"In today's healthcare landscape, challenges continue to mount, putting significant pressure on the healthcare systems to provide sustainable, universal and affordable care. The traditional models of healthcare delivery are being put to the test, necessitating a fundamental reevaluation and a shift toward innovative systems, technologies, and approaches that not only bolster capacity but also drive down costs and fortify preventive measures. A proposition to this approach is telemedicine. With a strategic integration of technology and a sustainable way of leading innovative initiatives,
telemedicine could redefine healthcare delivery, optimizing costs, and strengthening preventive measures. Telemedicine is playing a pivotal role in ensuring sustainable, universal and immediate healthcare, by decongesting the access to the classic healthcare services, as for instance, the overwhelmed Emergency Rooms or Family Medicine offices.  Our conference hopes that by sharing ideas and bringing together specialists from all areas of healthcare both public and private  that some of these ideas and other initiatives can be explored. " stated Charles Crocker, Vice President of BRCC.
BRCC thanks all the event partners for their support: Silver Partners: Gynera and Cytogenomic, Bronze Partners: Groupama Asigurari and Enviso, Strategic Partners: "Carol Davila" University of Medicine and Pharmacy in Bucharest, Support Partners: Thaico Spa and Dacris and Media Partners:  Nine O'Clock, Ziarul Bursa, TheBizz, eventsmax, BDR Associates, Nine O'Clock and Tarus Media.
The British-Romanian Chamber of Commerce is committed to representing the interests of its members in the healthcare sector and contributing to the digitalization of the system. Since last year, BRCC has established an internal Healthcare working group to facilitate cooperation, encourage the exchange of best practices, ideas, diagnostics, and opportunities in the field of healthcare. The main objectives of the group are: promoting British expertise in healthcare, improving Romania's healthcare system with internationally recognized British expertise, and promoting the exchange of best practices and cooperation among different stakeholders in the sector.
About BRCC
The British-Romanian Chamber of Commerce is the leading business organization promoting bilateral trade and investments between the United Kingdom and Romania. Its mission is to facilitate and enhance trade between these two countries through business dialogues.
The British-Romanian Chamber of Commerce plays a significant role in creating and sustaining an environment in which free trade and investments can flourish. By facilitating partnerships and having an extensive network of corporate members and key personalities, BRCC provides essential support through resources, knowledge, and infrastructure, crucial for UK companies to make the most of emerging opportunities in Romania and for Romanian companies.
Established in 1998, BRCC is an independent organization wholly owned by its members, with offices in London, Bucharest, Cluj, and Sibiu.