Celebrating 18 Years of Innovation: Unveiling 18 Fascinating Facts About WSO2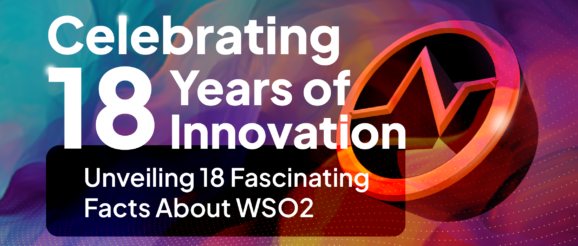 Today, we raise our virtual glasses to toast the 18th anniversary of WSO2 – a company that has redefined the realms of software development and innovation. 
From its humble beginnings to becoming a global force, WSO2 has stood the test of time, consistently delivering game-changing products that drive success for countless organizations across the world. So, join us as we take a captivating journey through WSO2's milestones, uncovering 18 fascinating facts! 
Fact 1 – Global reach
Right now, we have customers in 90 international markets. Throw a dart at a map, and wherever it lands, chances are we have a customer there. 
Fact 2 – Powering public services
We work with 37 governments around the world to power their public service offerings to their citizens. If you are paying a tax bill, going through border control, or paying your vehicle registration, you are using us. 
Fact 3 – Partners at the core of our business
As of today, 47% of our global revenue comes from partners. Thank you!
Fact 4 – Fully inbound driven 
Customers come to us, we don't go find them. This leads to less "sales talk" and more "real talk". We like it that way and we're pretty sure customers prefer that as well
Oh, and I think they call this "product-led growth" now.
Fact 5 – Lotsa customers
To date, we have 675 enterprise customers globally – in addition to 32 independent software vendors, or ISV partners that redeploy WSO2 across their solutions in multiple regions. 
Fact 6 – Open source success
We can proudly say that today we are the 2nd largest open source software company in the world, next to Red Hat. 
Fact 7 – Global presence
We have regional offices in six countries (US, Brazil, UK, Germany, Dubai, Sri Lanka) and a presence in many others, with more offices to be added to our global footprint. 
Fact 8 – Diverse team
We have team members from all regions, making us a diverse team that brings together unique perspectives, experiences, and talents, fostering innovation and enabling collaborative success. 
Fact 9 – Trust-based relationships with customers
We don't audit customers, put in license keys, or call home features to measure usage. We work on trust and let the customer tell us how much they use us. 
Fact 10 – Customers are partners
Our longest-standing customers have been with us for over 10 years, some as long as 17 years and counting!
Fact 11 – Always thinking of the bigger picture
When we started the company, we had over 20 products. But today we talk in terms of a platform. Middleware was and still is a complex problem that was never meant to be solved by just one product. We continue to believe in that sentiment, offering a platform of capabilities that truly meets a "one-stop-shop" place for all things to enable digital transformation.
Fact 12 – Making a difference in Asia
WSO2 set out to change the global mindset about the IT industry in Asia from being a low-cost services provider to creating world-class quality software products. WSO2 is the largest Sri Lankan born product company today. 
Fact 13 – Financially secure company
We are a profitable company, generating our own cash and growing in double digits
Fact 14 – Cultivating a generation of leaders
We are fans of nurturing leaders who have passion and drive – not just a qualification or tenure. This means we don't necessarily look for 'qualified' leaders, rather those with grit and courage to take on new challenges, learn, and grow (sorry seasoned folks, don't take it personally!)
Fact 15 – Teamwork over individual work
We are a non-commissioned global sales team. We work as a single unit to meet our regional targets and reap the benefits by way of bonuses at the end of the year. Teamwork is everything!
Fact 16 – Technically driven 
At the heart of WSO2, we are a bunch of nerds who want to help developers be as productive as possible. Need some evidence? We built our own programming language – Ballerina. 
'Nuf said!
Fact 17 – Work smart, rest, and work hard
We encourage our people to take a paid break after completing 7 years in any full-time role to recharge, do something different, and come back. And if you're still with us, you take another break after 7 years!
Fact 18 – Treat people the way you want to be treated
We live in a respectful culture where we firmly believe in treating people the way we want to be treated, ensuring fairness and transparency in everything we do, from communication to processes!
Happy birthday, WSO2, and here's to many more years of success stories and memories! 
Founded in 2005, WSO2 enables thousands of enterprises, including hundreds of the world's largest corporations, top universities, and governments, to drive their digital transformation journeys—executing more than 60 trillion transactions and managing over 1 billion identities annually. Using WSO2 for API management, integration, and customer identity and access management (CIAM), these organizations are harnessing the full power of their APIs to securely deliver their digital services and applications. Our open-source, API-first approach to software that runs on-premises and in the cloud helps developers and architects to be more productive and rapidly compose digital products to meet demand while remaining free from vendor lock-in. WSO2 has over 900 employees worldwide with offices in Australia, Brazil, Germany, India, Sri Lanka, the UAE, the UK, and the US. Visit https://wso2.com to learn more. Follow WSO2 on LinkedIn and Twitter .