Chart Industries on LNG and innovation [Gas in Transition]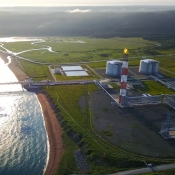 Chart Industries on LNG and innovation [Gas in Transition]
Q: The world is now scrambling for more LNG. How are the ways in which projects are developed evolving in order to achieve faster delivery?
A: The liquefaction facilities being commissioned for the export of North American LNG and their counterparts establishing regional hubs for LNG distribution, including bio-methane, are good examples. The export facilities are constructed as liquefaction modules, so instead of total liquefaction capacity achieved through a single large custom built facility, the modular approach achieves total capacity via a series of identical and replicable modules all of which feature standard shop built equipment. Not only does this minimise equipment manufacturing schedule it also reduces time at site and modules can be constructed and brought on line independently for earlier revenue recognition.

Advertisement:
The National Gas Company of Trinidad and Tobago Limited (NGC) NGC's HSSE strategy is reflective and supportive of the organisational vision to become a leader in the global energy business.
There are also many technology innovations and iterative work on existing technologies which bring more efficiency and output to the export facilities.  Implementing more flexible LNG infrastructure as well can facilitate faster delivery.  Some examples of this include mobile regas units and ISO containers.  At Chart, over the past year and a half we have seen record levels of ISO container orders.
Q: Walk us through the various ways that Chart is helping to address methane emissions from the natural gas chain? What key partnerships have you forged in this area?
A: Chart brings decades of cryogenic experience to the LNG value chain and all our products and solutions are designed and proven to minimise methane slip, from both an efficiency and emissions standpoint. We're continually innovating our products so, for example, our thermal insulation and boil off gas recovery and management systems are second to none and we have specialty products such as vacuum jacketed pipework and heat exchangers that minimise methane emissions.
At LNG2023 we were delighted to showcase Chart partner Kathairos™ at our booth. Kathairos has developed a solution to eliminate methane emissions at off-grid oil and gas facilities by using liquid nitrogen, instead of methane, to operate pneumatic devices. Chart's MicroBulk storage system provides a continuous unattended nitrogen supply and  also makes the solution easily scalable according to any demand requirement and quick to market with the ability to deploy hundreds of units each month that can be purchased or rented.
Chart has harmonised standards across the organisation so customers can be certain that they receive the same high quality product regardless of which location it's built at. One area where Chart has dramatically increased our scope is in after sales and service where our aim is to ensure that Chart equipment continues to operate at the highest levels of efficiency, performance and safety. Outside of the operation of our products we are also reducing our own emissions and improving sustainability in their manufacture at our facilities.
Q: Can you point to recent developments in Chart's businesses associated with hydrogen and CCUS. How significant a role will these technologies play in Chart's overall business going forward?
A: Chart is hugely active in both spaces through organic development and acquisition activity with hydrogen and carbon capture as cornerstones of our business going forward. Our stated aim is for Chart to leverage and supplement our core technology to provide complete solutions across the respective value chains from production, storage and distribution through to end-use with Chart as the single point customer contact and technology lead with all mission critical equipment manufactured in-house. To this end we have made numerous acquisitions of companies that not only provide us with the complementary technology and products to complete the value chain solutions, but also share our commitment to innovation and problem solving. We have forged multiple partnerships with companies where we're jointly developing products and solutions to speed the transition to net zero and Chart is an active and respected member of prestigious industry associations.  Finally, and most importantly, we are at the forefront of certifications, safety in particular, in these spaces.
Q: The IEA and others place a lot of pressure on hydrogen and CCS to help deliver net zero. Is enough progress being made and what is needed to accelerate their innovation and deployment?
A: We are seeing both public and private sector support for the adoption of a variety of different solutions and participants in the energy transition.  On the public sector side, government support and policy is being deployed in many countries, such as the US Inflation Reduction Act, UK budget, and India hydrogen fund incentives.  There remains the need for clarity on how these will be rolled out and how to utilise the incentives, and we expect that to be one of the next crucial steps in the public sector support.  It remains extremely important that the private sector continues to make investment, and both government and industry take a pragmatic approach to all energy and power sources, as oil and gas does have a role to play in this process.
Q: As for LNG, does Chart view it as a transitory fuel or an end fuel in a net-zero future?
We share the same view as the conference that natural gas and hence LNG, will continue to be an important part of a net zero future as well as being a transitory fuel to hydrogen and renewables. It is proven, reliable technology and while hydrogen and battery storage offer much potential there are still many hurdles to be overcome before they are able to make significant inroads into the displacement of fossil fuels. LNG is also an excellent back up for insufficient or intermittent renewables.
Q: Can you highlight several recent technological innovations that you are most proud of at Chart?
A: Innovation at Chart is one of the aspects of our business that impresses me everyday and one that we seek to encourage through multiple initiatives. An innovative culture is also a pre-requisite for the acquisitions we make hence I have drawn examples from across our business in the areas of LNG, carbon capture and hydrogen.

Chart's IPSMR® is a single mixed refrigerant liquefaction technology initially designed for natural gas but which can also be applied to other gases. It provides significantly better efficiency and superior performance versus comparable technologies and is key to many of the small- and mid-scale liquefaction plants covered previously.
Howden's compression technology is second to none and their reciprocating compressors are at the heart of many industry leading hydrogen projects around the world, including the world's largest HRS in China and Europe's largest renewable plant to name but two. Howden Uptime is a digital platform that monitors performance ensuring maximum reliability, efficiency and availability of these process critical assets.
Through the acquisitions of SES and Earthly, Chart owns two award winning carbon capture technologies that can go beyond sequestration and provide purified, liquid carbon dioxide as a valuable commodity for re-use in the manufacturing cycle or for resale. Cryogenic Carbon Capture™, developed by SES, captures >98% of CO2 emissions from hard to abate industries, such as cement manufacturing, and also freezes out harmful Nox, Sox, mercaptans and other harmful emissions.  Earthly Labs CiCi® technology is aimed at capturing CO2 emissions from small-scale sources that make up more than half of overall emissions. Widely used in the craft brewing industry CiCi captures carbon dioxide emissions and converts it to beverage quality liquid carbon dioxide.
By acquiring Cryo Technologies Chart is able to provide customers who want to liquefy, store, distribute and market hydrogen and helium molecules a unique one stop shop, regardless of plant capacity. All key capital equipment including rotating equipment, compression, heat exchangers and cold boxes is included in our scope and we are leveraging the process expertise of our expanded engineering group to develop larger and more efficient liquefaction facilities.