CITGO Innovation Academy Launches at E.K. Key Elementary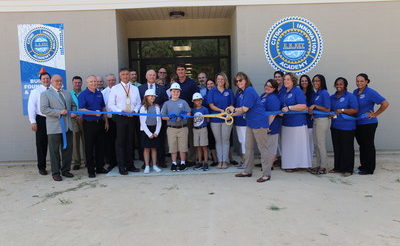 SULPHUR, La., /PRNewswire/ — CITGO Petroleum Company announced the launch of the CITGO Innovation Academy at E.K. Key Elementary School in Sulphur, La. The academy is the first established in the Lake Charles region and the fourth Innovation Academy established by CITGO across its operational footprint.
Kindergarten through fifth grade students at E.K. Key will be introduced to the foundation of Science, Technology, Engineering and Mathematics (STEM) education through hands-on learning and activities, interactions with professionals in the STEM field and tools to build critical-thinking and problem-solving skills.
"This is the perfect time to partner with E.K. Key on this initiative," said Jerry Dunn, CITGO Vice President and General Manager Lake Charles Refinery. "The booming industrial sector in Louisiana is creating more and more STEM-based career opportunities. The earlier we can introduce STEM education to empower and equip our future generations, the more successful our communities will be."
The CITGO Innovation Academy at E.K. Key Elementary will be hosted this fall in a brand-new building on the school campus, complete with six classrooms, one lab and a resource room for teachers. There will be access to state-of-the-art STEM resources, including robotics, coding software and additional computer programming.
E.K. Key Principal Laura LeDoux said Louisiana has many needs in STEM fields. "CITGO recognizes that enhancing the natural love of the sciences at the elementary level is crucial to the development of filling these needs," LeDoux said. "CITGO is providing the Academy with resources and technologies to enable teachers to immerse students in project-based learning, and enhance their problem-solving skills while instilling a life-long love of science."
The first CITGO Innovation Academy was launched in 2013 at Foy H. Moody High School in Corpus Christi, Texas, which serves as the flagship campus, followed by the launch of two Innovation Academies at Cunningham Middle School and Garcia Elementary School, also in Corpus Christi. The CITGO Innovation Academy at Lemont High School in Illinois was also recently launched.
"We've seen such incredible successes at our other Innovation Academies," continued Dunn. "This past year, an underwater robotics team from a Corpus Christi-based Innovation Academy participated in an international competition held in Seattle! We're excited to help E.K. Key students accomplish their dreams."
CITGO Innovation Academies are the cornerstone of the CITGO STEM Talent Pipeline. Through the CITGO STEM Talent Pipeline, the company actively supports the academic exploration of STEM education in the schools nearby its refineries in Corpus Christi, Texas; Lake Charles, La., Lemont, Ill. and its headquarters in Houston, Texas. Since the initiative's inception, CITGO has awarded more than $1.5 million toward programs that promote the importance of STEM education and provide educators with the resources they need.
About CITGO
Headquartered in Houston, Texas, CITGO Petroleum Corporation is a recognized leader in the refining industry with a well-known brand. CITGO operates three refineries located in Corpus Christi, Texas; Lake Charles, La.; and Lemont, Ill., and wholly and/or jointly owns 48 terminals, nine pipelines and three lubricants blending and packaging plants. With approximately 3,400 employees and a combined crude capacity of approximately 749,000 barrels-per-day (bpd), CITGO is ranked as the sixth-largest, and one of the most complex independent refiners in the United States. CITGO transports and markets transportation fuels, lubricants, petrochemicals and other industrial products and supplies a network of approximately 5,200 locally owned and operated branded retail outlets in 30 states and the District of Columbia. CITGO Petroleum Corporation is owned by CITGO Holding, Inc., an indirect wholly owned subsidiary of Petróleos de Venezuela, S.A., the national oil company of the Bolivarian Republic of Venezuela.
For more information, visit .
View original content to download multimedia:http://www.prnewswire.com/news-releases/citgo-innovation-academy-launches-at-ek-key-elementary-300733631.html
SOURCE CITGO