Reinvention, Innovation at Shanghai Jewellery Fair 2018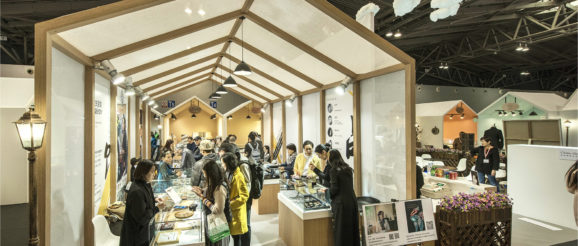 The fascinating mingling of jewellery with other fashion products, including bags, beauty elements, apparel, art works and other accessories, will be on elaborate display at Jewellery Life Pavilion 2.0.
Jewellery Life Pavilion 2.0 brings a signature style all their own to the pavilion are several notable jewellers, including Kelly Xie Fine Jewelry, Chic Chu Fine Jewelry, designer brand Alice, and international precious gems supplier P.N. Gems. Joining them are overseas fashion brands, including Gdesignare (Philippines), KeCapunG (Indonesia), Nature SIAM (Thailand), PERA (Singapore), TSAR (Malaysia), WannaSuvarnamani Co., Ltd (Thailand) and Gem (Singapore).
The cooperation between the Shanghai International Brand Jewelry Center and Shanghai Jewellery Fair is instrumental in providing the unifying thread between various lifestyle elements, such as clothing, handbags, leather, cosmetics, home furnishings and artworks. Carrying these elements through to everyday life unlocks a whole new way of living for the Chinese high end consumer.
Launching the "Crossover-Shining Your Life" programme, experts in their field are at hand to showcase snippets of an exquisite lifestyle: jewellery designers, apparel designers and makeup artists transform the looks of the models; a fitness trainer advises the models on their postures; and an interior designer sets up the backdrop for the scenes. A summit during the fair sets the stage for brainstorming for more crossover ideas; the kinds that would spark innovations that will open up business opportunities for all involved. All these are aimed to encourage and inspire.
Asia-Pacific Jewellery & Watch Expo
Another exciting feature buyers should watch out for is the third annual Asia-Pacific Jewellery & Watch Expo. The result of UBM's strategic alliance with the Shanghai NIU International Exhibition Co., Ltd, this classic feature transmits the different life philosophies and attitudes of designers through their works. Each jewellery and timepiece has as much a story to tell as the art works that will also grace the expo.
An innovation making its debut this year is the Chinese Culture Pavilion. Exhibitors in this pavilion will explore connections between jewellery characteristics and the five elements that are central to the Chinese culture – metal, wood, water, fire and earth. "We believe these represent the five kinds of energy that make up the universe," says Teddy Tan, Event Manager, China Jewellery Fairs, UBM China (Guangzhou) Co., Ltd. "Each one of them provide a guiding direction for the works of the artists exhibiting in this pavilion."  Exhibitors will showcase related products in booths under the corresponding five themes, thus allowing buyers to find products easily.
"We designed the fair to enable buyers to see products in person as well as network with other industry players through various social-business events. Through our series of informative seminars, buyers will get first-hand look at upcoming trends in the marketplace," says Tan.
Pre-registration now open
SOURCE UBM China (Guangzhou) Co., Ltd