Clari to Showcase Rapid Product Innovation at Dreamforce 2023 New Groove & Align Capabilities Now Available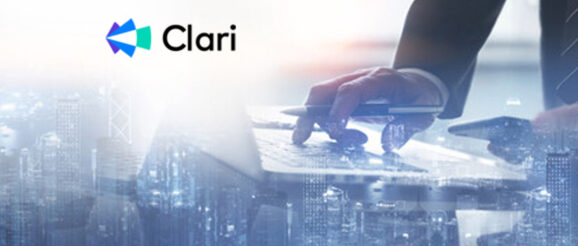 Leading CROs to share best practices as Clari unveils new Groove integrations, revenue plays for connected sales execution, and a reimagined buyer-seller collaboration workspace
At next week's Dreamforce 2023, Clari will host a two-day summit where revenue professionals can network, share best practices, and explore new capabilities within Clari's leading AI-powered Revenue Platform. Thousands of revenue leaders and practitioners are expected to attend Charge: The Revenue Summit to learn how to consolidate their technology investments while increasing pipeline, conversions, and win rates.
Following its recently-closed acquisition of sales engagement leader Groove, Clari will unveil a first set of new integrations between the companies' respective technologies that demonstrate how revenue professionals can get real-time revenue insights and then act with unprecedented speed to create and convert more pipeline. The company will also introduce additions to Groove Plays, a new product that enables sales leaders to program their strategy and assist sellers in real-time, ensuring they follow their unique playbook when it matters most. Clari will also launch a reimagined buyer-seller collaboration experience that improves deal cycle times and integrates unique buyer intent data into the Clari Revenue Platform.
"Companies can no longer afford to fly blind when it comes to the effectiveness of their revenue initiatives," said Clari CEO Andy Byrne. "That's why we hit the accelerator on Clari-Groove integrations, so revenue teams from the front lines to the C-suite can gain complete visibility, predictability, and control across the end-to-end revenue process. We'll demonstrate our new capabilities at Charge in San Francisco as the revenue community comes together to share strategies and playbooks for winning every revenue moment."
"Companies can no longer afford to fly blind when it comes to the effectiveness of their revenue initiatives"
New platform capabilities close the loop between revenue insights and actions
The following new capabilities are now available in the Clari Revenue Platform:
New Groove integrations:

Deal inspection with automated sales actions. With its AI-driven health scores and other purpose-built functionalities, Clari Inspect makes it easy for reps and managers to inspect deals and spot risks. Now, Groove allows managers to create tasks and reps to execute follow-up actions, directly from the inspection workflow.
Smart Summaries with integrated sales recommendations. Clari's Copilot and RevAI products analyze calls, provide instant summaries, and automate actions to make reps more productive. Sellers can now use Groove to execute the recommended actions, directly from Clari Copilot, and scale their outreach.
Enhanced Groove Plays:

Integrated Groove Action experience. Groove Plays now integrates the new Groove Action experience, which provides the seller with all of the important information needed to successfully execute their actions, in one location.
Support for new action types. Groove Plays now supports new action types, such as a Task or a Form action, enabling customers to improve data hygiene and stay on top of sales methodologies (e.g., MEDICC) with post-meeting forms.
Reimagined Align buyer-seller workspace:

Enhanced buyer-seller collaboration. Clari has significantly enhanced Align, its collaborative workspace for buyers and sellers. Align now offers a customizable collaborative microsite that streamlines deal management; centralizes relevant resources and communications, including Copilot calls directly in Align; and integrates all data in the Clari Revenue Platform, so reps can de-risk the buyer and close deals faster.
Additional Groove integrations coming soon
In the coming months, customers can expect additional Groove integrations into the Clari Revenue Platform, notably:
Revenue insights in the flow of work. All relevant Clari insights will soon be available in the seller's flow of work, via the Groove extension & Omnibar. The Clari Revenue Platform is increasingly becoming the cockpit for all frontline sellers and account managers, as integration with the Groove Omnibar will soon give them contextual insights driven by Clari's RevAI, as well as a complete view of all actions (including Clari Align's mutual action plans and RevAI recommendations), and an integration with Clari Copilot for conversation intelligence.
Generative AI for sales engagement. New capabilities will enable reps to engage faster and more effectively by suggesting ideal email content based on insights gathered from meetings recorded in Clari Copilot or any other conversation intelligence tool. Content can be aligned with a company's unique brand voice and include approved language from marketing, enablement, or compliance.
Sales plays triggered from any data source. Groove Plays will soon be triggered by updates to any data source – including external data from PostgreSQL, Snowflake, BigQuery, Google Sheets, and SQL Server ingested into Clari's RevDB –supporting complex scenarios for automation, such as noticing a change in consumption usage and automatically triggering a cross-sell play.
Full funnel analytics. Forthcoming integrations will give revenue leaders pipeline predictability by connecting the dots between top-of-the-funnel efforts and revenue outcomes. By combining Clari RevDB's historical snapshotting of all revenue data with Groove's flow and engagement data, the Clari Revenue Platform will provide full funnel observability and predictability.
Charge attendees will have an opportunity to network with their fellow revenue professionals and hear from leading CROs and executives from companies like Miro, Asana, and Avail Medsystems. Sessions will explore the crucial role of RevOps; leveraging a revenue operating cadence to win new business and avoid retention pitfalls; how life sciences companies can boost revenue with the digital sales maturity model; and techniques for creating, converting, and closing pipeline.
Attendees will also receive a free copy of Clari's Revenue Cadence Playbook, a comprehensive blueprint that documents and suggests actions for every revenue moment.
Charge will take place on September 12-13 at the Nasdaq Entrepreneurial Center (revenue pros can register here) and at Novela (register here), with both venues just steps away from Dreamforce 2023.
Read More: Beacon Bid Introduces RFP Critic: An Intelligent Procurement Draft Analysis & Review Software for Purchasing Departments
Write in to 

[email protected]

 to learn more about our exclusive editorial packages and programs.
The post Clari to Showcase Rapid Product Innovation at Dreamforce 2023 New Groove & Align Capabilities Now Available appeared first on SalesTech Star.