Connecting Cultures, Expanding Horizons: Join us at the Taiwan Expo 2023 in Belize City from November 15th to 17th, and discover a world of trade and innovation.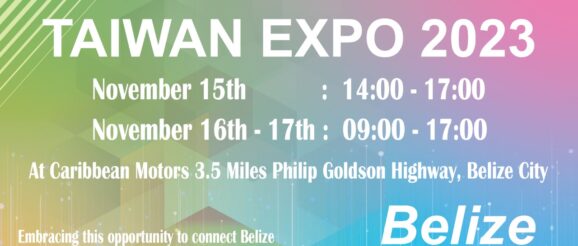 Posted: Wednesday, November 8, 2023. 4:25 pm CST.
By Breaking Belize News Staff: The Embassy of the Republic of China (Taiwan) and the Taiwan External Trade Development Council (TAITRA) are excited to announce the participation of 22 Taiwanese enterprises at Taiwan Expo 2023 in Belize. This event will be held from November 15 to November 17 at Caribbean Motors in Belize City.
The Embassy of Taiwan and TAITRA extend a warm invitation to visitors to join us at the trade show,
with public hours from 14:00 to 17:00 on November 15 and from 09:00 to 17:00 on November 16-17.
The trade show will showcase a diverse range of Taiwanese products tailored for Belize's industries,
including:
Building Material: Metal Building Materials, Sewage Pumps
Food Processing Machinery: Bakery Machines, Food Steamer
Food Packaging Machinery: Auto Filling, Sealing, Packing Machine
Electrical Products: Household Electrical Materials & Wiring Devices
Hardware: Stainless Steel Hardware Parts, Home/Industrial RO Systems, Countertop & Under Sink
Systems, Water Dispensers & Bath Filters, Filter Housing & Cartridges, Ultraviolet Water Sterilizers,
Tanks, Pumps & Drinking Faucets, Cluster Filter Housings, Brackets & Hardware Components, Range
Hoods, Gas Stoves, Water Heaters; Knife Sharpeners, Can Openers, Kitchen Knives, Garden Scissors;
Hand Trucks
Leisure Food: Soy Crackers, Japanese style Pancakes, Animal Shape Biscuits, Canned Desserts, Drinks
Motorcycles: E-Scooters, Petrol Scooters/Motorcycles/ATVs/UVs
Others: Health Food/Skincare Products, Solar Products and Road Marking Materials, LED Lighting,
K/D Furniture, Adhesives
Featured companies at Taiwan Expo include:
CHANMAG BAKERY MACHINE CO., LTD.: Since 1979, CHANMAG has led the global bakery
machine industry with tailor-made production lines for bakeries and central kitchens. Their products
have earned CE, ISO9001, and SGS certifications. Visit: www.chanmag.com.tw
Daulong Road-mark Materials Co., Ltd.: Established in 1995, Daulong specializes in traffic safety
and road maintenance products, including thermoplastic road marking materials and road reflective
studs. They adhere to international standards and serve markets in the USA, South Africa, China, India,
and more. Visit:
ILLINOIS ENTERPRISES CO.: Illinois produces a variety of moving trucks, including professional
and industrial use, household hand trucks, tool trucks, and protective blankets. Their products emphasize
efficiency, space-saving, and durability. Visit:
JI ZHI MANAGEMENT CONSULTING CO., LTD.: Jizhi Biotechnology pioneers healthy living
through nature-inspired skincare and body care products. Their innovative approach utilizes the power of
nature to provide users with essential skincare solutions. Visit: morisaka.webnode.tw
KWANG YANG MOTOR CO., LTD.: KYMCO is a global powersport group operating in over 100
countries, emphasizing sustainability and electrification. With a sales revenue exceeding USD 1 billion,
KYMCO has marketed millions of scooters, motorcycles, e-bikes, side-by-sides, and ATVs. Visit:
TONG SHEN ENTERPRISE CO., LTD.: Tong Shen is a leading provider of cyanoacrylate adhesive,
catering to international markets such as Indonesia, India, the USA, and more. Their products meet
stringent environmental standards, ensuring quality and reliability. Visit:
In addition to the product displays, the Expo will offer a dedicated area for Taiwanese food and
beverages tasting, allowing visitors to explore Taiwan's culture and scenery through informative video
presentations. Furthermore, TAITRA will showcase products which won the Taiwan Excellence awards,
including Recreation and Sports, Stepper, ScreenBar Lite, and more, all from renowned Taiwanese
brands such as BenQ and Giant.
Taiwan and Belize enjoy a longstanding and friendly relationship, further strengthened by the mutual
Economic Cooperation Agreement implemented last year. According to the International Trade
Administration, Ministry of Economic Affairs, Republic of China statistics, Taiwan's bilateral trade with
Belize in 2022 amounted to US$11.42 million. The exports to Belize (US$8.18million) experienced a
22.98% decrease, whereas imports from Belize (US$3.24million) surged by 317%.
The trade relationship between Belize and Taiwan demonstrates significant complementarity. Taiwan
imports mainly seafood (1441.60% increase) and in return exports pumps, compressors and fans
(up20.61%); vessels and preserving fishery products (down 49.89%); bicycles (up45.86%); food
preparations (up86.6%); Machine-tools; auto Parts and accessories.
The Embassy of Taiwan and TAITRA extend a warm invitation to visitors interested in Taiwanese
products to attend Taiwan Expo 2023 in Belize. This event presents an exceptional opportunity to engage
with Taiwanese enterprises.
For further information about the Taiwanese delegation, please contact:
Embassy of the Republic of China (Taiwan), Belize
Address: No. 1, Taiwan Street, Belize City, Belize.
Office: +501-2278744 Email: [email protected]
Taiwan External Trade Development Council
Contact: Ms. Goldie Lee
Address: 5th Fl., 333 Keelung Rd., Sec. 1, Taipei 11012, Taiwan, R.O.C.
Office: +886-2-27255200; Ext. 1334 Email: [email protected]
Advertise with the mоѕt vіѕіtеd nеwѕ ѕіtе іn Belize ~ We offer fully customizable and flexible digital marketing packages. Your content is delivered instantly to thousands of users in Belize and abroad! Contact us at mаrkеtіng@brеаkіngbеlіzеnеwѕ.соm or call us at 501-601-0315.
© 2023, BreakingBelizeNews.com. Content is copyrighted and requires written permission for reprinting in online or print media. Theft of content without permission/payment is punishable by law.
The post Connecting Cultures, Expanding Horizons: Join us at the Taiwan Expo 2023 in Belize City from November 15th to 17th, and discover a world of trade and innovation. appeared first on Belize News and Opinion on www.breakingbelizenews.com.