Creating a Global Hub of Knowledge, Innovation, Research and Entrepreneurship | Education News,The Indian Express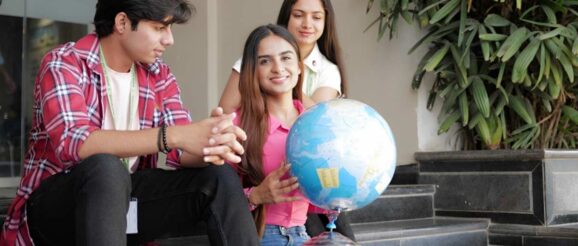 Backed by the glorious 26-year legacy and a strong foundation of values, ethics, excellence, research, innovation and entrepreneurship, Manav Rachna makes sure that students identify their 'ikigai' correctly and at the right time.
Nestled amidst the lush green campus with modern infrastructure providing students with a unique learning experience, and preparing them for the future with technology, Manav Rachna focuses on academic rigor and improved efficiency with new-age skills that teach problem-solving to students for the real world.
THE STAMP OF EXCELLENCE
The NAAC A++ Accreditation makes MRIIRS (under MREI) the only Private University in Delhi-NCR with this highest NAAC recognition. As a unique hallmark of quality education, MRIIRS enjoys the QS 5-Star rating for Teaching, Facilities, Social Responsibility and Inclusiveness. Manav Rachna University is also the QS I-Gauge Diamond Rated Institution. In addition, Manav Rachna International Institute of Research and Studies (MRIIRS, formerly MRIU) and Manav Rachna University (MRU) are Founder members of the prestigious "College Board's Indian Global Higher Education Alliance".
INSTILLING THE BEST
Right from inculcating essential skills among the students to focusing on their employability, Manav Rachna has been the frontrunner in giving real-world experience to students. Real-time case studies, hands-on lab experiences, industry visits, guest lectures, faculty and student exchange programs, dedicated life skills programs, institutional social responsibility activities, cultural interactions, and employability augmentation initiatives are some of the activities that ensure immersive learning.
BUILDING GLOBAL PATHWAYS
Manav Rachna has tie-ups with leading Foreign Universities from Australia, New Zealand, UK and USA for International Pathway Programmes. Students enrolled in these courses have the option to pursue the first two years at the campus and complete their degree abroad. 
HAND-IN-HAND WITH THE INDUSTRY
Keeping pace with the industry and to make students relevant in the cobotic future, industry-oriented specializations are offered at Manav Rachna including Artificial Intelligence, Machine Learning, Cyber Security & Threat Intelligence, Embedded System & VLSI, Forensics, Business Analytics, and Internet of Things among many others. This ensures that the students exiting from the university are relevant, employable and conceptually sound.
More than 25 Centres of Excellence have been established in close association with industry leaders like Microsoft, Mitsubishi, Daikin, Xebia, BSE, IBM, Intel and many others. Experts from Xebia Academy, QuickHeal Academy, Altair Engineering, Mitsubishi, and Microsoft deliver lectures in collaboration with the faculty members. 
INNOVATING & CREATING
State-of-the-art research labs, Research and Innovation Clusters, Innovation and Incubation Center, research projects, paper presentations, sponsored R&D Projects, and competitions contribute to grooming students in advanced areas. The spirit of innovation is reflected in the young minds of Manav Rachna as they create something to achieve better. 
The Manav Rachna Business Incubator set across more than 5,000 square feet area caters 24X7 to the requirements of budding entrepreneurs. The budding entrepreneurs are provided support for everything a new set-up needs – from seed funding to incorporation and from Intellectual Property advisory to establishment. Over the years, more than 80 companies have been incubated at Manav Rachna's campuses. Halestein Foodlabs LLP, Tackyon Motorsports Pvt. Ltd., Aarkaya Solar Solutions Pvt. Ltd., Naturoplast, Organic Farmfresh are among the start-ups incubated at the campus. 
Encouraging and promoting start-ups and ideas is a culture that Manav Rachna promotes to empower young minds. Very recently, their team VISIONEO has recently bagged the Top Position in the National finals of Microsoft Imagine Cup 2023. It is an exciting technological advancement that has been innovated for the visually impaired. 
Manav Rachna New Gen IEDC provides mentorship and support to the students with a funding of Rs. 2.5 Lakhs to help them realise their big ideas into successful companies. 
ROBUST RESEARCH ECOSYSTEM
To acknowledge the strong foundation and focus on research and development, UGC has granted the 12 B status to MRIIRS, which is a true testimony to the value it adds to the lives of the management graduates. The 33 h-index for quality research publications as per the Scopus database attests to the active research environment offered to students.
In order to create a highly elevated research environment for its researchers, it has launched one of the nation's first academic research lab – Springer Nature Academic Research Lab. This research lab is open to scholars around the world allowing students to advance their practical understanding, promote collaboration, nurture ideas, and display ingenuity.
BREAKING RECORDS
Manav Rachna prepares students to make ground-breaking contributions with new-age skills for the world of tomorrow. The dedicated Manav Rachna Career Development Centre is an in-house corporate-style training centre where students are trained with soft and hard skills for the industry. The Centre uses specialized methods to help students to overcome obstacles that come their way, by thinking out of the box. 
More than 600 recruitment partners are listed with Manav Rachna including KPMG, TCS, Clove, Yamaha, Cognizant, Damco Solutions, Quovantis Technologies, Koyo Electronics, Maven Wave, Lido Learning, Crowe Horwath, Indigo, IBI Group, Expert Lancing, TCS, Shivalik Power, Entab Infotech, Befikr.in, Jaro Education, Bharti Airtel, IDFC Bank,  iAugmentor, Eigo Paathshala, IBM, Amazon, LinkedIn, Qi Spine, Sonalika Tractor, Polymedicure, Sanmar Engineering, Tata Steel, Aroma Engineering, Optum (UHG), Zomato, Ortho Cure, and Aktiv Health are some of the companies that have offered lucrative packages to the 2022 batch of engineering and non-engineering students. It is quite noteworthy that more than 1000 students 2023 Batch have bagged their dream job with blue chip companies. Students of 2025 Batch of Hospitality and Hotel Management have already been placed for their internship with 5 Star hotels.
The Highest package bagged by a Manav Rachna student is 54 Lakhs CTC which itself defines the augmenting culture that places students at the centre.
Be it the international scholarships, research grants, the high pay packages, or the stupendous community service they do, MRites excel everywhere. 
At Manav Rachna, a student is distilled, refined and completely transformed in a holistic environment that promotes both didactic and autodidactic learning and development. 
Applications are invited to the Session 2023-24 and candidates have the chance to earn upto 100% Scholarship.