Dell launches a €2m open telecom innovation lab in Cork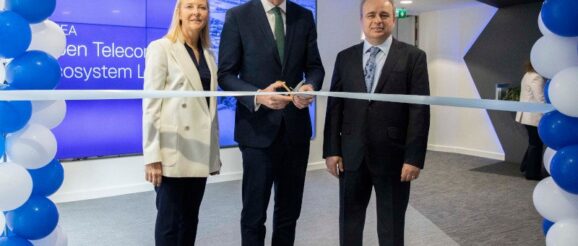 The only one of its kind outside the US, the Open Telecom Ecosystem Lab is expected to create new business opportunities in 5G and 6G.
Dell Technologies has opened an innovation lab at its Cork campus following a €2m investment.
At the Open Telecom Ecosystem Lab opened today (15 May), leading engineers at Dell will connect with telecom providers from across the EMEA region to test and deploy the latest innovations around 5G and 6G networks.
It is hoped that the new lab will accelerate technological development in areas ranging from smart manufacturing and industry 4.0 to smart mobility and digital cities.
The lab is the only one of its kind outside the US, the other being based in Dell's Texas campus, and was officially launched by Minister for Enterprise, Trade and Employment Simon Coveney, TD at Dell's campus in Ovens, Co Cork.
"As emerging technology accelerates the pace of change within every sector of our economy, it has never been more important for technology leaders and telecom providers to work together to advance Ireland's position as an innovation leader," Coveney said.
"This investment not only strengthens Ireland's position as a hub for emerging technology but will also help create new business opportunities linked to 5G and the future roll-out of 6G."
Dell has employees across three campuses in Ireland, including in Dublin's Cherrywood as well as in Limerick, where it has an innovation lab.
Bob Savage, regional CIO for EMEA and Cork site leader at Dell, said that the investment places Cork "at the heart of Europe's open telecom ecosystem".
"As telecoms providers look to accelerate the pace of digital transformation within their sector, the new Lab will provide an important space to collaborate, innovate and push the boundaries of an open and modern telecom system," he said.
"Our talented team of engineers and leading industry partners such as Vodafone, Ericsson, VMware and Druid Software can accelerate the roll-out of next-generation services."
Just last week, Dell announced that Catherine Doyle has been appointed as managing director of Dell Technologies Ireland, succeeding Jason Ward who held the role since 2020.
10 things you need to know direct to your inbox every weekday. Sign up for the Daily Brief, Silicon Republic's digest of essential sci-tech news.