DKTE Society's Textile and Engineering Institute: Creating Innovation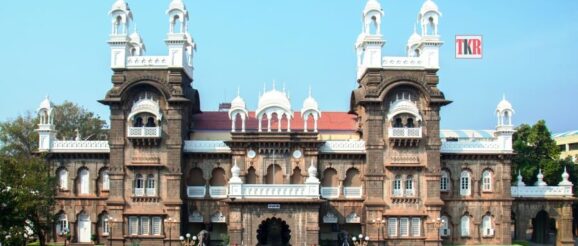 "Science can amuse and fascinate us all, but it is engineering that changes the world" is a statement we all could agree with. The innovations and the marvels of technology the world enjoys today are the largesse of engineers.
Contributing to every sector, engineering has widened its scope and kept up with the global demand, specifically in the lifestyle sector. A huge portion of this sector is the textile, where new technological innovations have augmented the industry.
Developing brilliant minds is the intuition of brilliant institutions, along with training them to contribute their fair share to the industry and creating more brilliant minds catering to that field. One such institute that has changed and stood to the significance of the field is DKTE Society's Textile and Engineering Institute.
Established in 1981, DKTE Society's Textile and Engineering Institute stays true to its grail of catering to the industry's need for skilled technical human resources and being a facilitator of knowledge rather than just being a provider.
Flourished under the guidance of Director, Prof. (Dr.) P.V. Kadole, DKTE, has seen excellent curricular and extracurricular growth. Under his attentive and vigilant leadership, the institute focuses on providing students with top-notch infrastructural facilities, exceptional career opportunities, and outstanding academic outcomes that will help them excel in the future.
Communicating with DKTE Society's Textile and Engineering Institute, we at The Knowledge Review had an insightful conversation with the institute management, where the Director highlighted its journey and how they are upskilling the industry standard.
Foundation of Innovative Stronghold
Ichalkaranji, situated in the western region of Maharashtra, in 1980 experienced the decentralization of the power loom industry at a very expeditious rate. With no technical educational institution catering to the current need for a technically skilled workforce, nine co-operative organizations united under the leadership of Mr K.B. Awade (Ex. Member of Parliament) to lay down the foundation of DKTE Society's Textile and Engineering Institute in 1981. It derives its name from Shri Dattajirao Kadam, a veteran leader and an ardent co-operator instrumental in the textile industry of Ichalkaranji.
Dattajirao Kadam Technical Education Society (DKTE) came into existence to start institutes and colleges to cater to technical education in the field of textiles, engineering, and other related disciplines.
Values at Heart
DKTE's Textile & Engineering Institute enjoys a unique and prominent place amongst the Engineering and Management colleges that are engaged in education, training, research, and consultancy in various disciplines of engineering and management.
Presently the institute has been providing three diploma courses, eleven undergraduate courses (Five in Textiles while Six in Engineering), four P.G. Courses and Doctorate programs in engineering, and a textiles and management studies program. With around 3750 students and 202 faculty members, the institute is equipped with excellent infrastructure, spacious buildings, ultra-modern laboratory machinery and equipment, a well-equipped library, and highly qualified and experienced faculty and staff.
Forward to Provide
While talking about the vision, Prof. Kadole asserts, "To be one of the leading institutes in technical education and research through academic excellence and innovation, to serve the needs of industry and society through continuing education programs, industry interaction, entrepreneurship development, and incubation."
Creating a Mark
With the rapid change in the corporate world, it is essential to maximize company values along with keeping its ethos and morale intact. Considering these factors, DKTE emphasizes a comprehensive learning methodology and tries to create its students as the world's perfect managers.
Being an autonomous institute with A+ NAAC accreditation, the Department of Management Studies, with its unique education pedagogies and many awards, has been recognized by AICTE.
There are many MOUs with renowned companies signed by the MBA department that are beneficial for students by providing them with scholar internships, industry guest lecture sessions, industrial training, sponsored projects, and industrial visits. This helps in sharing technical and professional knowledge and practical experiences for both the faculty and students, resulting in the best placement records for years. With placement in reputed industries, many of the students have been able to set up their own enterprises, to which the textile incubation center of DKTE provides help.
Creating Perfection
Ensuring equality in education includes creating education facilities that are student-centred and provide an effective, safe and inclusive learning environment for all. With students spending most of the time in a college environment, DKTE believes in creating rapport between teacher and student, ensuring a positive and safe learning environment. Building a 'Mentoring' system for students, DKTE allots a faculty mentor to every batch of 15-20 students, who conducts sessions with students once every two weeks. These meetings help in scheduling lectures for students by well-known personalities from the academic, industrial and social spheres.
DKTE provides guidance to improve the student's academic qualities through their classroom participation and assistance during exam time. Along with this, the institute has a 'Career Development Cell' through which students get an opportunity to prepare themselves for campus recruitment drives, competitive exams, and solving technical aptitudes as per industry requirements. Students also avail of the benefit of 'Foreign language learning' and 'Soft skills development training' through this cell.
The institution realizes the overall development of the student, which includes additional academics, literary, cultural, and sports activities offering avenues for leadership qualities, decision-making abilities, team spirit, precision, analytical capabilities, and socio-psychological awareness, developing one into an intellectually mature personality.
Opinion on Indian Business Education
According to DKTE past few years have witnessed the demand for management education in the presence of globalization and liberalization. The institute believes in a strong correlation between the growth of the Indian economy and management education as it plays an important role in addressing the economic problems, like population and unemployment, effectively by opening many career opportunities for the citizens.
According to DKTE, management education opens a huge set of opportunities in the service and private sectors. It further believes in management education being helpful in improving the leadership skills of Indian employees, which is essential for creating Indian global leaders.
Insights into Changing Dynamics of Education
With the world in shackles of lockdown, the education system has changed dramatically with the distinctive rise of e-learning, whereby teaching is undertaken remotely and on digital platforms. With the belief that the changes coronavirus has caused could be here to remain, DKTE believes in seeing beyond the immediate concerns to what possible solutions for education on the opposite side of the COVID-19 pandemic.
Noticeable Achievements, Accolades, and Awards
Throughout its journey of imparting excellent education, DKTE has achieved many noteworthy landmarks. It has achieved a ranking in various surveys. While describing these achievements of DKTE with pride, Prof. Kadole notes:
33rd Place in the Atal Ranking of Institutions on Innovation Achievements (ARIIA) 2020 survey, which was performed by the AICTE in New Delhi and the Innovation Cell of the Ministry of Education of India.
Praxis Media, New Delhi, presented National Education Excellence Awards on 30th June 2020 to the institute, recognizing it as the 'Best Private Engineering College in Maharashtra'.
The endeavours of 'Nature and Yoga Club' of DKTE were recognized by Mahatma Gandhi National Council for Rural Education' and awarded 'District Green Champion 2020-21' by the Department of Higher Education, Ministry of Higher Education, Govt. of India.
Centre of Excellence in Skill Development under Eduskill and ISTE has been established in the institute, in association with academic divisions of corporates including CISCO, AWS, Microchip, Blueprism, Paloalto, and RedHat. It offers Certificate Courses using a cloud-based learning management system, free of cost to any interested individual professional.
The NAAC has accredited the institute with an 'A+' Grade (in 1st cycle) with a CGPA of 3.53 for the duration of 23rd 2017 to 22nd Jan. 2022. On the request for extension of NAAC Accreditation, the institute has received an email from NAAC granting extension in the validity period of accreditation with the existing 'A+' Grade and with a CGPA of 3.53 till the completion of the 2nd Cycle Assessment and Accreditation process subject to NAAC accreditation dated 09.07.2020.
Envisioning the Future
DKTE has been catering to industrial needs for the past three decades, cultivating the link between the industry and the institution. DKTE has made to the list of reputed engineering institutions by emphasizing value-based technical education to the aspirants who wish to enter the area of the corporate world and be on the helms in the twenty-first century. The institute follows the same footprints in management education, resulting in creating its own niche by offering quality management education and meeting the expectations of industry and society.
As DKTE says, "We at DKTE are very much sure that the changing dynamics of industry and society will be addressed effectively in the future too."
The post DKTE Society's Textile and Engineering Institute: Creating Innovation appeared first on The Knowledge Review.