ECA hosts 5th African Science, Technology and Innovation Forum in Niger – PAN AFRICAN VISIONS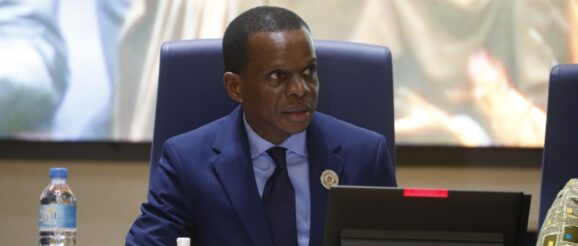 By Wallace Mawire
Acting Executive Secretary for the United Nations Economic Commission for Africa (ECA),Antonio Pedro has today said at the Fifth African  Science, Technology and Innovation Forum for 2023, in Niamey, Niger that the commission is looking at harnessing technology for a green, inclusive and resilient Africa.
The innovation forum is been held under the theme: Accelerating development and diffusion of emerging technologies for a green, inclusive and resilient Africa.
Pedro said that delivering sustainable industrialization and economic diversification in Africa is built on the premise of investing in research and development.
'Currently, most African countries have less than 100 researchers per million inhabitants and 0.5% GDP allocated to Research and Development,' Pedro said.
He added that there are already many examples of transformative uses of technologies  for the same purpose  across the continent.
Examples cited in support of SDG 6  on Ensuring access to water and sanitation for all  in rural part of Arusha, Tanzania, include a nanotechnology-based, low-cost water purification system which is  is serving thousands of lives and creating hundreds of jobs for people.
Other initiatives include  facilitating access to affordable and clean energy, SDG 7, SOLEKTRA International has installed 100,000 solar streetlamps and 1,200 solar micro-grids in 15 various countries bringing electricity to many for the first time.
Various car-hailing services -such as Ride in Ethiopia, Ulendo in Zambia -have cut down waiting time, enhanced transparency, and reduced cost of travel across African cities.
Similarly, according to Pedro, last year 11,200 bags of ground coffee were sold in a mere one (1) second on the Alibaba E-Commerce platform.
'Here in Niger, we have Dr Fadji Maina, a computational hydrologist at NASA, who is using data to develop a water atlas that will enable a better understanding of water movements in parts of the world to help address the issues many countries face,' Pedro said.
he said that these are just some examples of real solutions that can accelerate the achievement of the SDGs.
According to him, to build on the innovative spirit, there is  need to strengthen the enabling environment through informed policies, increase investment in the Research and Development  process, and to harness the support of the private sector more effectively.
Pedro said that Africa should be at the forefront of a green transformation to accelerate growth, diversify economies and deliver on the SDGs and Agenda 2063.
'One key opportunity for us lies in the renewable energy market,' Pedro said.
He said that the value in that market in 2020  was estimated at $881.7 billion and is projected to reach $1,977.6 billion by 20301.
'A 10% share can easily add $200 billion to Africa's economy,' he said.
Another opportunity he highlighted which he said should not be missed out is the global digital economy, which is estimated at about $14.5 Trillion2 , with about 60% of the global GDP now depending on digital technologies.
Pedro added that initiatives such as the African Trade Exchange (ATEX), which have been conceptualized by ECA and now fully operational under Afreximbank, can connect African entrepreneurs to the global marketplace more effectively, link them to sources of finance, and accelerate implementation of the AfCFTA.
'ECA is committed to supporting this transformation,' Pedro said.
He also highlighted that ECA and its partners have completed the STI Policy Design and Implementation Guide, which countries can use irrespective of the policy implementation cycle.
He said that similarly, the Alliance of Entrepreneurial Universities in Africa, launched with support of ECA in Kigali last year, and the African Technology Development and Transfer Network (TDTNet) continue to grow.
The STI Forum Youth Innovation and Design Bootcamp 2023 attracted 354 participants and 52 mentors and trainers.
As part of this year's events, there is a physical Science, Technology, Engineering and Mathematics (STEM) bootcamp for primary and secondary schools, as well as a hackathon for climate change and a Connected Africa Girls Coding Camp that will run alongside the Forum.
To further enhance the innovation space on our continent, ECA will be launching Origin Research and Innovation Labs (Origin) for East Africa with Dedan Kimathi University of Technology in Kenya tomorrow.
Origin Centres are designed as sustainable, responsible and innovative spaces that attract the best talent to generate ground-breaking, revolutionary solutions and showcasing innovative solutions that can be deployed on a massive scale in Africa and globally.
Origin will also be featured at the STI Day in Africa, as part of the global STI forum on 2 May 2023 in New York – please join us there.