Edmonton Unlimited opens innovation headquarters – Taproot Edmonton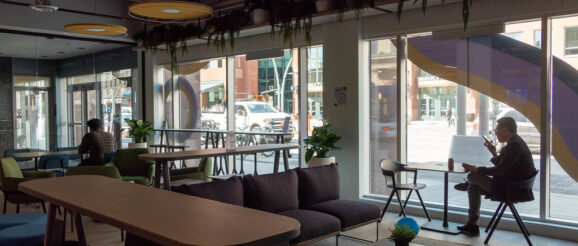 Edmonton Unlimited has opened its new headquarters downtown with a desire to welcome innovators and restore some vibrancy to the corner of Jasper Avenue and 101 Street.
"We are very much open-door," CEO Catherine Warren told Episode 220 of Speaking Municipally. "I invite you in: Come to our offices, blast open the doors, check out the community café, meet with some fellow founders, and really make this place your own."
More than 500 people attended an open house for the new facility on May 12. In addition to being the home base for Edmonton's organization to encourage innovation, the building offers street-level space for program participants and alumni.
According to Edmonton Unlimited's annual report, Edmonton's startup ecosystem has increased in value by 236% since 2020, and Warren said there is still emerging potential. She noted the building is across the street from the Alberta Machine Intelligence Institute (Amii) and just down the avenue from Enterprise Square, where the University of Alberta expanded its presence earlier this year.
"We really see ourselves as playing a key role in revitalizing downtown, in bringing international trade opportunities to our city, creating something we can all be proud of," Warren said in her return visit to Taproot's civic affairs podcast — she last appeared in December 2020, shortly after becoming CEO of what was then called Innovate Edmonton.
Hear more about Edmonton Unlimited's new building and plans for the future in the May 12 episode of Speaking Municipally. You will also gain some insight into the city's long-awaited solar rebate program, which is now taking applications.