Elevating Innovation – SULS0205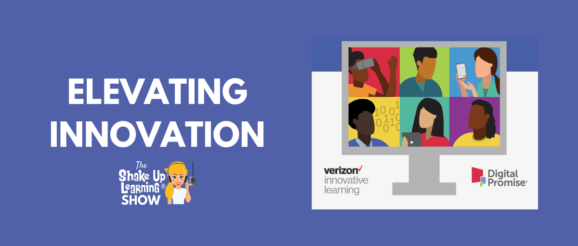 The post Elevating Innovation – SULS0205 appeared first on Shake Up Learning.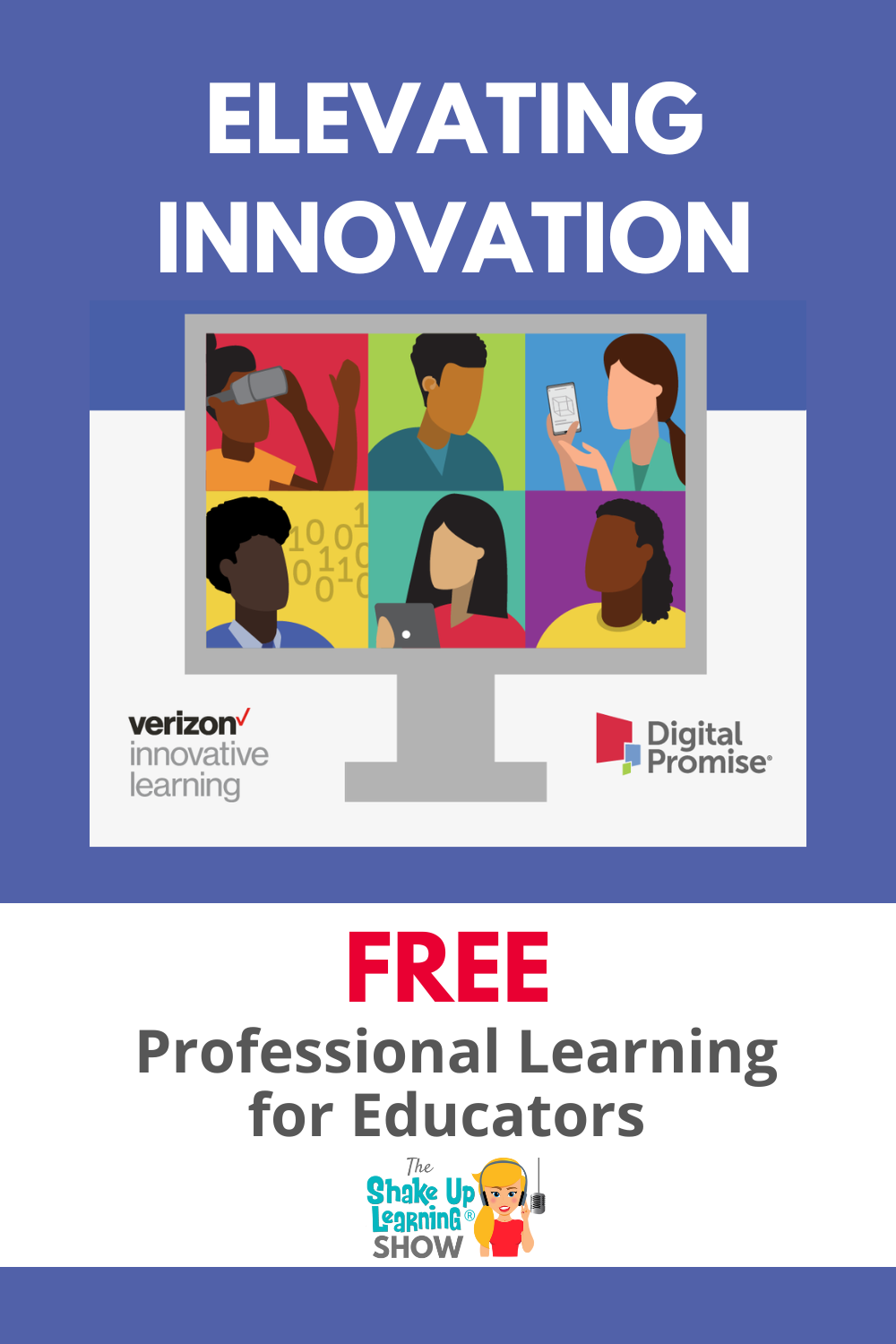 In this episode, join Kasey in a captivating conversation with David L. Jackson, a seasoned education professional with a rich and diverse background spanning from classroom teaching to curriculum design and professional development leadership.
Discover the wealth of free online learning courses for educators offered through Verizon Innovative Learning HQ.
Also, gain insights into the upcoming Elevating Innovation Virtual Conference taking place next month, promising exciting opportunities for professional development.
Don't let these outstanding PD prospects pass you by!
This episode is sponsored by .
To inspire tomorrow's brightest minds, educators need today's best tools. Introducing Verizon Innovative Learning HQ, an easy-to-use, free, online portal that empowers K-12 educators to bring new ways of learning into the classroom. The site offers hundreds of free standards-based ready to teach lesson plans, immersive educational experiences, and professional development courses to help educators learn new skills, feel more confident with technology integration, and have the opportunity to earn research-backed micro-credentials. FREE. New curricula is available from partners including Discovery Education, McGraw Hill, and NYU Also, don't miss their professional development virtual conference with Digital Promise, Elevating Innovation, on November 7th, helping educators explore ways to integrate tech in the classroom. It's all part of Verizon's commitment to help close the digital divide. Start your journey at . Visit the webinar page for more info and to register for Elevating Innovation.
Elevating Innovation in Education
In a world where education is constantly evolving, it's crucial for educators to stay up-to-date with the latest trends and innovations. One way to do this is by attending conferences and professional development opportunities, and one such event that's making waves in the education community is the "Elevating Innovation Virtual Conference." I had the privilege of speaking with David L. Jackson, the Associate Director of Learning Delivery at Digital Promise, about this exciting event and his unique journey in education.
David's Journey
David's journey in education is nothing short of remarkable. Raised by Jamaican immigrant parents, he was instilled with a deep appreciation for the value of education from a young age. His parents believed that education was the key to a better future, and they ensured that David prioritized reading, writing, and math. However, as he grew older, he began to question his place in the education system.
His perspective changed when he received a scholarship to attend Syracuse University, a transformative experience that broadened his horizons and ignited his passion for education. During his time studying abroad in Paris, he delved into the study of African-American literature and observed the differences in the education system between Paris and his hometown Miami, Florida. This experience reinforced his desire to make a difference in the lives of students who shared his background.
David eventually returned to his alma mater to teach, offering students a positive role model deeply committed to their education. Over the years, he taught various grade levels, including time in alternative education. The onset of the COVID-19 pandemic compelled him to reflect on his impact on education. He sought to merge his passions and make a meaningful change in the ever-evolving digital education landscape.
Through a serendipitous discovery, he came across Digital Promise and felt an immediate connection. The organization's mission resonated with him, prompting him to transition from the classroom to a role where he could be an agent of change in education.
Verizon Innovative Learning HQ: Micro-Credentials for Educators
David's current role at Digital Promise involves managing the delivery of products at the Verizon Innovative Learning HQ. This platform offers educators a unique opportunity to earn micro-credentials and enhance their teaching and learning skills. Micro-credentials are a means to demonstrate competency in a specific skill or skill set. They are a testament to an educator's expertise and dedication to professional development.
The Verizon Innovative Learning HQ provides a wide range of professional development opportunities that focus on leveraging technology while ensuring equitable and engaging learning experiences for students. Educators can select micro-credentials that align with their interests, needs, and career goals, allowing them to further their professional development at their own pace.
One of the most significant benefits of these micro-credentials is that they often qualify for continuing education units (CEUs) in various school districts. They provide an avenue for educators to enhance their teaching skills, improve student outcomes, and explore new teaching methodologies—all for free.

Get your FREE Verizon Innovative Learning HQ Account here.
Elevating Innovation Virtual Conference
The Elevating Innovation Virtual Conference is a unique event that brings together educators, school leaders, district officials, and experts in the field to explore the latest educational trends, share best practices, and connect with peers. The event serves as a collaborative space for individuals committed to enhancing the educational experience for students.
The conference aims to inspire and invigorate educators by providing them with the tools and knowledge they need to innovate in their classrooms. The free virtual conference takes place on November 7th, 2023, from 11 AM to 4 PM. However, if you're unable to attend the live event, don't worry! All sessions will be recorded and made available on the Verizon Innovative Learning HQ for free.

Register for the Elevating Innovation Conference here.
Conference Highlights
The Elevating Innovation Virtual Conference features a diverse lineup of speakers and partners, offering a wide array of topics and insights. Attendees can expect to gain fresh perspectives on a variety of educational areas, from AI in education to leadership and coaching. Here are some highlights:
AI in Education: Dive into the world of artificial intelligence and its role in enhancing education. Monica Burns, an expert in the field, will shed light on how AI can transform learning.
Leadership and Coaching: Explore the principles of effective leadership and coaching in education. Learn from experienced educators and leaders about strategies to foster growth and success.
Student Engagement: Discover innovative methods to engage and motivate students. Discover how technology can be leveraged to create dynamic and interactive learning experiences.
Collaborative Learning: Connect with fellow educators and professionals to share ideas, resources, and best practices. Collaborative learning is a key focus of the conference, and attendees will have the opportunity to interact with their peers.
Transformation and Innovation: Embrace innovation and learn about the latest trends and tools that can transform your teaching and impact students positively.
If you're passionate about education and eager to take your teaching to the next level, these resources are a great place to start. Don't miss the chance to join the Elevating Innovation Virtual Conference and explore the ever-evolving world of education.
About David L. Jackson
"When faced with learning something new, I approach with a 'can't lose' mentality. Learning new things can be very rewarding yet stressful in the same breath. It's essential that before tackling a new endeavor, you prepare as best you can. Prepare for the journey and get ready to embrace the outcome."
David L. Jackson exists in the margin, intending to make education a more equitable space for students and teachers who will shape the future. David comes to Digital Promise with a plethora of diverse experience in the education sector, both conventional and non-conventional (juvenile services). He started his journey in the classroom teaching reading, world history, and speech and debate, and later moved into redesigning and writing curriculum for several secondary school programs, including law and African-American literature. In the classroom, David has worked with every grade on the secondary spectrum from grades 6-12. Outside of school, he specializes in leadership, emotional, and professional development, working with students across the United States in hands-on workshops and seminars. Jackson has an interminable passion for knowledge and ensuring everyone has an opportunity to learn and better their community.
© Shake Up Learning 2023. Unauthorized use and/or duplication of this material without express and written permission from this blog's author and/or owner is strictly prohibited. Excerpts and links may be used, provided that full and clear credit is given to Kasey Bell and Shake Up Learning with appropriate and specific direction to the original content on ShakeUpLearning.com. See: Copyright Policy.
The post Elevating Innovation – SULS0205 appeared first on Shake Up Learning.