Employee-Owned Innovation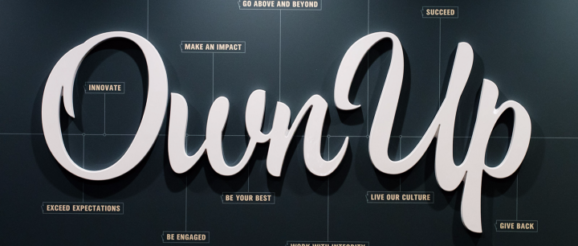 How NewBoCo's Intrapreneur Academy Helps Van Meter Inc.
For the past six years, the Des Moines Register has named Van Meter Inc. as one of Iowa's top places to work through a survey based completely on employee feedback. In a press release regarding this win, Van Meter CEO Lura McBride said that Van Meter "focuses on the total wellbeing of its people," by providing for not only their health, wellness, and safety, but also financial stability, personal growth and development, and work-life integration.
Not familiar with Van Meter? Think of them as the Amazon of professional electrical equipment and supplies. They're also an ESOP company, like Hy-Vee, which means the employees are the owners.
"One of my favorite things about working at Van Meter is our employee-owner culture," said Jordan Grimm, Continuous Improvement Specialist at Van Meter. "Everyone, from the guy sweeping the floor to our CEO, has skin in the game here. We really own our work."
However, Van Meter found that this support wasn't driving their employees to be innovative.
"We assumed that having engaged employees meant that they would innovate, but there needs to be a framework and tools to support them in this," said Grimm. "You can't just put someone in a room and say, 'Go innovate!'."
So when Mandy Webber, NewBoCo's Director of Innovation, pitched the idea of Intrapreneur Academy, a year-long training program where organizations of all types learn how to be innovative in a rapidly changing world, they knew they had to be a part of it.
"For me, Intrapreneur Academy is the next phase of capitalizing on our engaged employees," said Grimm.
Van Meter joined five other organizations representing a mix of government, nonprofit, and corporations in the first Intrapreneur Academy cohort. In Intrapreneur Academy, teams learn about a different competency of an innovative organization each quarter: Agile, Methods, Strategy, and Culture. The inaugural cohort recently finished their first quarter focused on the Agile Mindset. And in the first few months, they're already seeing improvements.
At its core, "Agile" is a way of thinking about how people do work. It's a mindset that encourages visible work, repeated customer feedback, and working in small iterations.
The Van Meter team took these concepts to heart and used them to drastically improve their internal package tracking system.
"We had a two-day summit where we brought in the actual users of this tracking system and they sat in a room while one of our programmers coded a prototype and the group tested it out," said Grimm. "It was two days of coding and testing, and by far that's been one of our most successful projects."
"This took two days, but normally, I don't think this would have even happened," said Grimm. "Part of it was that we went into this project without a preconceived notion of what the product was going to look like. And we let the customer, our internal employees, dictate what it became. It was a huge success."
Embracing an Agile Mindset has a ripple effect. Other Van Meter employees are using what they've learned from the Intrapreneur Academy team to improve their own internal processes.
Learning and Development employees worked with Van Meter's Intrapreneur Academy participants to help manage an overhaul of company's inboarding process, using the Agile tools gleaned from Academy.
"We were using an Excel sheet to manage this new process, and it just wasn't going well," said Grimm. "The Agile tools we learned in Academy made this overhaul successful."
And they're looking for ways to learn more. Van Meter recently hired NewBoCo's Innovation team to do a full-day training for 20 of their employees expanding on the story mapping work their team learned in Intrapreneur Academy.
"To see Van Meter so quickly find a way to apply one concept we introduced in Academy and ask us to come in and use it on a monster project they've been working on for over 5 years has me thrilled," said Mandy Webber.
Ultimately, Van Meter's work with NewBoCo is about making innovation part of their daily practice.
"Intrapreneur Academy has been a game changer for our Organizational Effectiveness Team," said Grimm. "Van Meter is a better company because of our partnership with NewBoCo."