how accelerating AI-led innovation is impacting the real world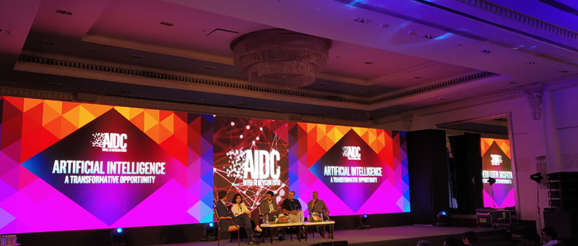 "Today, we are solving problems that no one else has solved before. To change the world, you need a technology partner who has been doing just that. Intel has been one such technology powerhouse for 50 years. And today Intel provides the technology ecosystem the Artificial Intelligence (AI) tools they need to achieve the next breakthrough and together crush the impossible."
This introduction set the tone for the Intel AI DevCon held on August 8 in Bengaluru, the first Intel AI DevCon conference outside the US.
In his keynote address, Gadi Singer, Vice President and Architecture General Manager, AI highlighted how India is home to 400 AI startups doing phenomenal work. He said, "AI has been around for decades but over the last one decade there have been major breakthroughs because of Deep Learning (DL). For instance, recognising images on human or superhuman levels, real time Natural Language Translation and autonomous vehicles. This heralds a major change not just in the world of computing but also across industries. The possibilities of AI application are almost infinite."
Gadi explained to the gathering, largely consisting of developers and tech enthusiasts, the correlation between AI, ML, DL, types of ML, and touched upon aspects related to compute ratio, hardware architecture, sample-scale benchmarks, programming models, among a host of technical subjects. He also explained how DL is coming of age and how the introduction of open-source ML frameworks have led to the democratisation of data science.
Intel® Xeon® – An AI essential tool
Gadi went on to discuss the three pillars of Intel's AI strategy, namely software tools, hardware platforms and ecosystem and communities, and spoke about how Intel solutions are built for AI. He also emphasised that today, the Intel® Xeon® processor Scalable family is where most companies start their AI journey.
The keynote also saw industry partners talking about Intel's power to deliver business performance.  Tapati Bandopadhyay, General Manager and Practise Head, Wipro Holmes – a next gen Artificial Intelligence & Automation solution platform, spoke about the impact of Xeon Platinum processors for Holmes. She said, "Integrating Xeon for Holmes saw us achieve an automation arbitrage of 19,000 people equivalent productivity."
Sharing details of a scientific collaboration between Intel and Novartis, Gadi spoke on the "fascinating challenge" of helping the pharma giant accelerate drug discovery and minimise human error while analysing cellular images by integrating Intel Omni-Path Architecture.
The audience also got to experience live demo of AI-generated music led by Kevin Doucette, a composer and pianist who works with A R Rahman.
Making building AI systems easy with Intel
Amir Khosrowshahi, Vice President, AI Products Group, Chief Technology Officer – Intel, called upon the four-million strong developer community in India to leverage the potential to make a huge impact in the domain of AI and ML.
"Building AI systems is tricky and complicated. As a developer myself, I know the challenges that you face. That's why at Intel we have built a powerful set of software libraries to enable you to build AI systems."
In his talk, Amir detailed the features of Intel's open source libraries such as Intel MKL-DNN, ngraph, the work with industry partners such as Google in the area of TensorFlow and industry case studies on solving business challenges through Intel products and solutions.
Vinay Kumar Sankarapu, Founder and CEO, Arya.ai, an enterprise DL platform, said, "We were excited about Deep Learning when we started out in 2013 when DL was in its infancy. Our goal was to help companies adopt DL efficiently and quickly. We not only built platforms but also plug-and-play modules to simply  the process of building DL systems." And Arya.ai has Intel as a great technology partner. "As a platform and tool for deep learning, the Intel AI Builders Program has helped us access and experiment on new architectures, further optimising the deep learning solutions built on Arya.ai. We achieved a performance boost of 5.9x in inferencing workloads using Intel optimized Tensorflow and Intel distributed Python."
Amir then gave an detailed overview on Intel OpenVINO™ –  a comprehensive toolkit for quickly developing applications and solutions that emulate human vision and explained why it is interesting for developers.
Empowering the community and ecosystem to innovate with AI
Later, Prakash Mallya, Managing Director – Sales & Marketing Group, Intel India, went on to deep dive into Intel's community and ecosystem offerings.  He said, "In April 2017, we committed to train 15,000 developers, students, and professors in AI. We have long surpassed our goal. Today, over 99,000 people across more than 100 organisations have been engaged with, through relevant trainings and workshops. We have been able to accomplish this through our strong collaboration with the academia, government, and the private sector. This streak will continue as we engage with local platforms such as Analytics Vidhya*, to train data scientists and developers."
Prakash also facilitated meaningful conversation around AI by industry partners such as Philips, AWS, and many others.  Ravi Ramaswamy, Senior Director, Health Systems, Philips Innovation Campus, said, "At Philips, we truly believe that AI can be a game changer for healthcare and we call it Adaptive Intelligence. It combines AI and other methods with knowledge of the clinical, operational, or personal context in which they are used. AI can address paucity of healthcare infrastructure, enabling doctors and hospitals to be more productive and help better patient outcomes. This in turn would bring down cost of care, lead to more patients getting treated and improved quality of care."
Experts walk the talk – why and how AI is making business better
The inaugural session was followed by talks on how Indian companies are effectively using AI to accelerate their business and shape the end user experience. Speakers included Dr. Mohit Kumar, Senior Principal Data Scientist, Flipkart, Dr. Santanu Bhattacharya, Chief Data Scientist, Airtel, Dr. C.V. Jawahar Amazon Chair Professor, CVIT, IIIT-Hyderabad, Atanu Roy, AI Specialist Solutions Architect, Amazon Internet Services Pvt. Ltd and Vinutha B N, Consulting Partner and Head, AI Research Charter, Wipro.
Dr Mohit Kumar spoke on AI for e-commerce in India. "At Flipkart, we believe that AI can contribute business problems that are unique to India and that's why it becomes integral to have home-grown AI solutions. We have many Indias within India, each of which require a different approach."
He explained how Flipkart is able to manage and capitalise on the 13 million daily website visits which translate into 30+ TB of data every day to get insights and correlation on user demographics, user behaviour, brand affinity, price affinity, merchandise recommendation, optimised merchandising, returns, fraud, security, among others. According to him, the Flipkart Data Platform (FDP) "is one of the largest Big Data processing platforms in the world."
He said, "Today, every business should have AI-first vision. We need to continuously question and act if a business problem can be solved through systemisation and automation. Every organisation needs to build that culture."
At the panel discussion on 'AI- A Transformative Opportunity' featuring Flipkart, Wipro, Pi Ventures & Niti Aayog representatives, Punit Shukla from NITI Ayog, said, "It is essential  to have two-way communication between developers and the government for the optimum utilisation of data in our country."
In a session on 'AI, Computer Vision and Emerging Opportunities' Dr. C. V. Jawahar highlighted the need for data sets to drive social solutions and how the community must come together to contribute data. He said, "AI is beyond hype, the opportunity to bring in phenomenal transformation is real. While there are challenges in defining ground rules because the real AI journey has just started, we need to structure and build on it as it grows."
The event also included technical sessions and hands-on training on popular AI frameworks, real-world demos, and talk tracks on cutting-edge research in the space.
The event drew to a close with the startup lightening session which saw startup founders or CTOs from Gremener, Artivatic, Ingenii,  SigTuple, Gnani.ai, talk about their AI solutions, the impact they are creating and how Intel's software and hardware portfolio is playing a pivotal role in their journey.
The Demo Lounge saw startups and corporates showcasing their AI products and solutions.  This included Avaamo, Julia Computing, Mphasis Cognitive, NxtGen, WiproHolmes. The lounge also had Intel Demo showcase on Intel® Xeon® Scalable Processor, OpenVINO™ Toolkit, Apache Spark, Intel® Speech Enabling Developer Kit and a few others.
Fast-tracking accessibility to AI
With more than 500 developers present, the event served as a platform to share updates on real-world applications of AI that can benefit businesses and people. It also showcased how Intel is committed to accelerating the accessibility of AI tools across industries, and drive the next wave of computing. In
The Intel AI DevCon 2018 addressed various facets of AI, ranging from the evolution of AI thinking and its capability to create new revenue streams, to the ethical component of the technology and its impact on the larger world population. "The Intel AI Developer Conference in India is a testament to our local collaborations for developing AI technology, and growing the ecosystem," summed up Gadi Singer.