Entenmann's Unveils New Oven-Baked Donut Innovation: Donut Cakes – Perishable News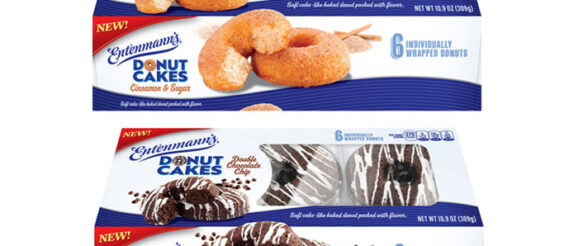 ISLANDIA, N.Y. — A twist on a classic treat has never tasted so good! Entenmann's®, the iconic baked goods brand, is bringing fans the sweetest combination of tradition and innovation with its first-ever baked donut – Entenmann's® Donut Cakes! Baked to perfection, these mouthwatering, old-fashioned style donuts offer a nostalgic trip down memory lane with their bakery-inspired cakey goodness. Available at select retailers in two irresistible flavors, Cinnamon & Sugar and Double Chocolate Chip, Entenmann's® Donut Cakes are the ultimate comfort snack that pack love and flavor into every bite.
Entenmann's® Donut Cakes come in boxes of six and are individually wrapped for freshness and on the go convenience. Made with real ingredients, the Donut Cake varieties also contain no high fructose corn syrup or artificial colors, making them a permissible indulgence that can be enjoyed as breakfast, a mid-day snack or evening delight!
"At Entenmann's®, we are constantly exploring new ways our fans can enjoy our beloved baked goods. Our research shows that consumers are looking for indulgent, individually wrapped snacks for on-the-go snacking, so we wanted to deliver in the sweetest way!" said Richard Link, Senior Director of Marketing at Entenmann's®. "Our latest innovation, Entenmann's® Donut Cakes are truly the perfect blend of an old-fashioned donut with a modern twist, and we can't wait to hear what our fans think."
Available now at select retailers, new Entenmann's® Donut Cakes are the latest addition to the Entenmann's® product lineup, which consists of a delicious variety of baked goods including donuts, crumb cakes, cookies and more. Entenmann's®…Goes Great With People.
For more information on Entenmann's®, please visit www.entenmanns.com. For high-res images, click here.
About Bimbo Bakeries USA
Bimbo Bakeries USA (BBU) is a leader in the baking industry, known for its category leading brands, innovative products, freshness and quality. Our team of 20,000+ U.S. associates operates more than 50 manufacturing locations in the United States. Over 11,000 distribution routes deliver our leading brands such as Arnold®, Artesano®, Ball Park®, Bimbo®, Boboli®, Brownberry®, Entenmann's®, Little Bites®, Marinela®, Mrs Baird's®, Oroweat®, Sara Lee®, Stroehmann® and Thomas'®. BBU is owned by Mexico's Grupo Bimbo, S.A.B de C.V., the world's largest baking company with operations in 33 countries.
About Entenmann's® Bakery 
Entenmann's® baking history dates back 125 years ago when William Entenmann opened his first local bakery in 1898 in Brooklyn, New York. The tradition of using quality ingredients combined with William's baking expertise can still be tasted in Entenmann's wide variety of iconic baked goods sold across the U.S. today. As a national leader in the Baked Goods category, Entenmann's continues to produce over 100 different products in new and innovative ways, including delicious Donuts, Cakes, Cookies, Snacks, and Little Bites.