Excitement Builds as Popular Regional Economic Forecast & Innovation Expo Returns December 7 at Great Wolf Lodge – ThurstonTalk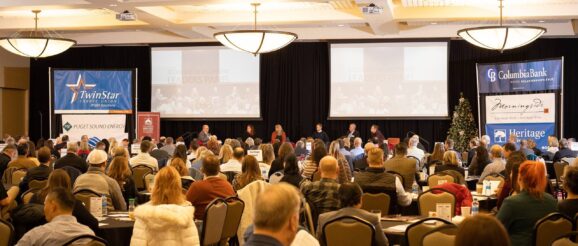 Excitement is growing as business and community leaders plan to gather once again to share insights into critical and emerging economic trends at the popular Regional Economic Forecast & Innovation Expo on December 7, 2023, at Great Wolf Lodge in Grand Mound.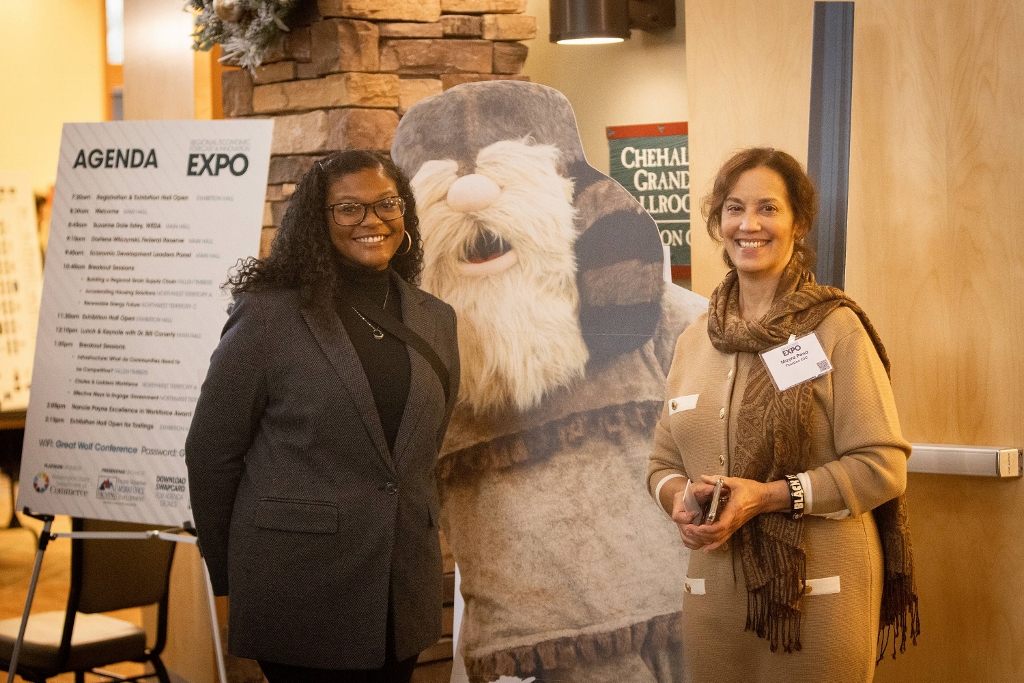 "Economic development in the region has changed fairly dramatically since prior to the pandemic," says Thurston Economic Development Council (EDC) Executive Director Michael Cade. "This year's Regional Forecast event will provide insight and data points detailing changing trend lines – making connections that highlight changes and growth in the economy, and providing a guidepost for planning in the upcoming year."
Hosted by the region's five economic development organizations, the dynamic event spotlights emerging economic issues such as artificial intelligence (AI), infrastructure, energy, the creative economy and more, with attention to embracing diversity, equity, inclusion and belonging. The Regional Forecast event offers in-depth presentations on business and workforce changes plus networking opportunities. Early registration is recommended for this sell-out event.
"As our local economy continues to expand, increasingly strong and proactive economic strategic planning incorporates the connectivity for business and communities throughout the region," adds Cade. "New partners can be established that will support strong and vibrant economic development. By building a regional concept and developing new partners, businesses and communities will become more resilient."
Five Counties of Economic Development Organizations Partner to Support the Economic Forecast Event's Goal of 'Building Regional Economic Prosperity'
The 2023 event theme is "Building Regional Economic Prosperity." Five economic development organizations are partnering in a unique arrangement to offer this event, which typically sees about 500 attendees. Expo partners are the Thurston EDC, the Economic Alliance of Lewis County, Greater Grays Harbor Inc., Economic Development Council of Mason County and the Pacific County Economic Development Council.
"Economic growth and resiliency are dependent on partnerships and a regional response," says Greater Grays Harbor Inc. CEO Lynette Buffington. "The Regional Economic Forecast and Innovation Expo is a highlight of a flagship response to regional needs and opportunities. It is the best place for information, collaboration, and a glimpse into our prosperous future."
The Expo event supplies businesses, community leaders, nonprofits, educators and public sector representatives with information supporting a healthier economic viability.
"The Lewis County Economic Alliance sees the Regional Economic Forecast event as critical for the overall success of our economic region," says Economic Alliance of Lewis County Executive Director Richard DeBolt. "Every year I come away with a new understanding of different projects that are happening around the state and in my backyard. It helps me make better decisions and educate my Board of Directors in my community on what possibilities lie ahead. Also, I find it good to bring my Board of Directors and volunteers to the event to learn what's happening in other organizations that will make us stronger."
Keynote Speakers and Breakout Sessions Address the Region's Economic Future
The event places a strong emphasis on the future. The keynote speakers are Hart Hodges and James McCafferty of the Western Washington University College of Business and Economics. They bring a realistic outlook of the economy so community and business leaders can use that forecast to build resilient business plans.
The Economic Forecast this year will also include participation from the tribal nations of our five county region, presenting on how the future of their economic development efforts will impact our region.
Breakout sessions with expert panels will focus on the five-county region's issues and opportunities, with workforce being foremost. One session will discuss renewable energy sources' benefits and concerns. Another hot topic is how AI tools like ChatGPT, Bard and others are impacting the region's business world.
"It is the full intention of the planning committee that each individual will be able to have a strong understanding of how the region's (and state and national) economic conditions will impact their business – with data points that are relevant – so that they might plan accordingly," says Cade.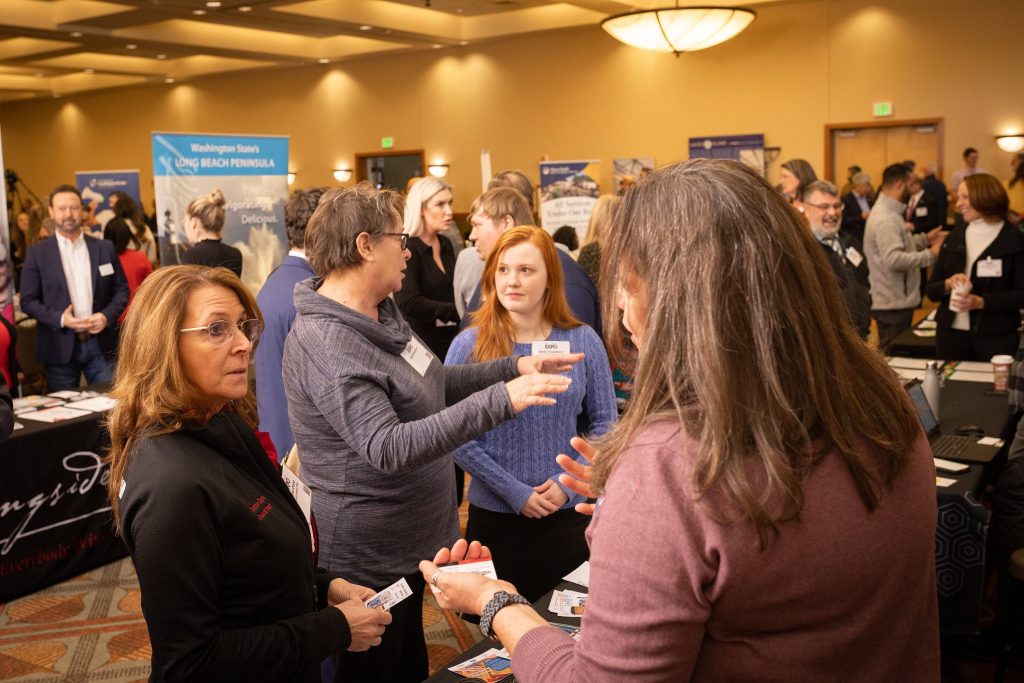 Valuable Networking at the Regional Economic Forecast & Innovation Expo
The December 7 Regional Economic Forecast & Innovation Expo also supplies a great festive opportunity in the midst of the holidays for attendees to network while visiting exhibitors displaying new technologies, products and innovations.
Pacific County EDC Executive Director Susan Yirku agrees networking is one of the Expo event's valuable benefits. "The Regional Economic Forecast & Innovation Expo offers a wealth of opportunities for networking, learning and collaboration," she says. "Whether you're an entrepreneur, policymaker, community leader, or economic development professional, attending the expo is a worthwhile investment in your professional growth, as well as in the economic well-being of Southwest Washington."
Thurston EDC Director of Strategic Alliances Aslan Meade says the Expo event has a celebratory feel. "And there's a lot of energy," he adds. "You can feel it in the room. This event really stands out. Always has. Even before I worked for the EDC, I always thought that there is something special about this one.
And, of course, we always end the event indulging in local bites and craft beverage Tastings from our regional producers!"
Register to attend the Regional Economic Forecast & Innovation Expo.
Contact Holly House at [email protected] by November 20 to participate as a sponsor.
Regional Economic Forecast & Innovation Expo
December 7, 2023 8 a.m. – 4 p.m.
Great Wolf Lodge
20500 Old Highway 99 SW, Centralia
Sponsored