Exclusive: innovation in Wooden Toys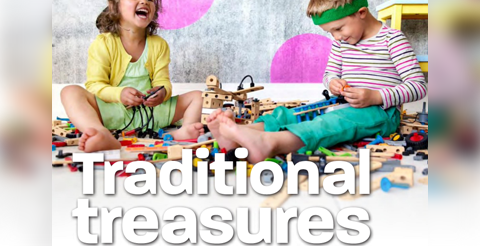 As wooden toys continue to grow in popularity, Sam Giltrow finds out what is fuelling this trend and how suppliers continue to innovate in the sector.
Many of us have something wooden in the attic which we, or our own children, played with when younger – a wooden dolls house, a push along truck with building blocks or a ride-on wooden car. With timeless appeal, these items have become treasured heirlooms to pass down to siblings or even new generations. Indeed, many wooden ranges have evolved into stylish additions to the playroom, some even coming with technological elements to keep today's tech-savvy youngsters happy.
David Allan, MD at Toynamics UK & Ireland, which distributes the Hape brand in the UK, says the rise in popularity of the wooden category is a real opportunity for retailers. "Shoppers, from parents to grandparents and gift givers, are less likely to spend on disposable toys, and more likely to invest in longerlasting heritage type toys," he tells Toy World. "I expect retailers will see a rise in popularity of wooden toys this year across railway, role-play and infant, fuelled additionally by consumer demand for more sustainable toys."
Wooden toys which incorporate the appeal of technology have been developed at Ravensburger, with the Brio brand of wooden trains and tracks. Katy Fletcher, Ravensburger's head of Marketing and Product Development, tells Toy World: "Children can incorporate today's new additions alongside the track and accessories their parents played with when they were young."
Established wooden toy manufacturer Melissa & Doug is tapping into a younger demographic and venturing into a whole new category for AW22 with its 0-2 range. A variety of innovative SKUs has been designed to engender developmental skills that babies and toddlers learn as they grow.
All of the above manufacturers are embracing sustainability initiatives within their ranges, and A.B.Gee is no exception. "Due to the increased awareness of any product's eco credentials, customers are certainly much more interested in sustainability – the wooden option is a great way to lower their carbon footprint while still ensuring high product quality and value for money," says marketing manager Anna Vaughan.
To find out more about the latest introductions to the wooden toys category, see the full feature, which appeared in the August edition of Toy World, here.
The post Exclusive: innovation in Wooden Toys appeared first on Toy World Magazine | The business magazine with a passion for toys.