Extraordinary Future elevates Vancouver's innovation sector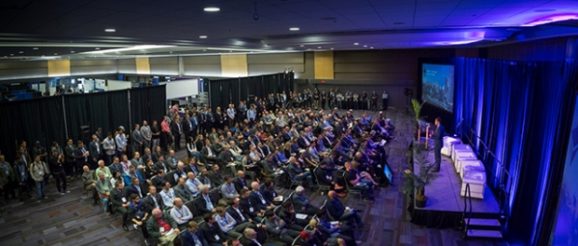 2,500+ attendees and engaged investors representing billions in capital
70+ leading public and private technology companies, and startups
Second year for the conference has doubled in size due to investor demand
Canada's premier tech conference is back in Vancouver for its second year to delve into the possibilities of blockchain, tokenized securities, battery technology, and more. Taking place September 19–20 at the Vancouver Convention Centre East, Cambridge's Extraordinary Future conference will treat attendees to numerous entrepreneurs and companies from the growing tech and innovation sector to showcase Canada's hottest investment opportunities.
"The purpose is to put a spotlight on Vancouver's innovation sector."
— Jay Martin, President & CEO, Cambridge House International Inc.
Now is the Time for Tech
In 2013, Cambridge House launched Canada's first sector wide tech investment conference in Toronto — the Cantech Conference. At that time, Vancouver was still recovering from a beaten down resource market and hadn't yet diversified the venture capital landscape. Toronto became a great home for Cantech and the show has grown by around 500 per cent to date.
In 2017, Cambridge House decided it was time to bring a tech investment conference to Vancouver, and Extraordinary Future Conference was born. Jay Martin, President of Cambridge House International Inc., notes that he was waiting to bring the conference to Vancouver but the timing had to be right. "Vancouver has a super vibrant innovation sector, and coupled with investor interest, we thought it was the right time to launch in the city," says Martin.
"Similar to Cantech, we focused on small cap investment opportunities, and broadened the content offering to resonate with the Vancouver audience — an audience that typically has a larger appetite for earlier stage, more speculative ideas."
During its first year in 2017, the conference showcased 24 companies. With reception numbers being quite high, the size of the conference will double for 2018. Jay notes, "The purpose is to put a spotlight on Vancouver's innovation sector."
The tech sector is thriving based on British Columbia's latest tech sector statistics. B.C. has seen a 4.1 per cent increase in employment in 2016, a 9.2 per cent jump in revenue, and aggregate wages and salaries reaching a new peak.
What to Expect
When asked about what he thinks of Canada's tech talent as a whole, Jay notes that, "Canada has all the right things in place. Investors are keen to invest in technology, and more talent is coming to Canada as a result, adding to our homegrown talent."
The Extraordinary Future conference comes at a perfect time for both companies and investors. Attendees will meet and connect with 70+ leading technology companies, and have the opportunity to pre-schedule private one-on-one meetings with business leaders and influencers.
In addition to unmatched networking opportunities, some of the brightest minds in tech will gather across three stages to share valuable insight on the future of tech investment. The conference boasts a wide range of speakers, including Grammy award winning producer RAC, who will be joined by Lucas James, Seeking Blue Records, and Jesse Grushack, co-founder of UJo Music, to discuss how blockchain technology is transforming the music industry. Blockchain hype is coming close to fruition as investors see what companies can do with the technology, and how they can sustain its use.
Whistleblower and Former Director of Research for Cambridge Analytica and SCL Group, Christopher Wylie, will also be taking the stage for what's sure to be an intense feature, as he discusses the power of data harvesting and compromised privacy. Christopher witnessed firsthand how culture, information, and algorithms were being weaponized by militaries, governments, and companies to undermine elections around the world.
Cambridge House's Extraordinary Future conference is one you can't miss this year, especially if you are interested in the future of technology and innovation. It's an important conference showcasing Canada's most exciting companies' talent, and a chance to get in on some of the most lucrative investment opportunities — so make sure to grab your tickets before they sell out!