Finder Investing & Saving Innovation Awards 2023 – Finder UK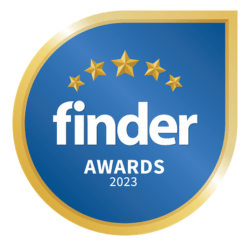 Welcome to the Finder Investing & Saving Innovation Awards 2023
Finder's series of Innovation Awards recognise financial providers that are innovating in their chosen field, by bringing new and impactful features to the market and delivering beneficial services to their customers.
Now in their fourth year, this round of Innovation Awards focuses on the investing and saving space. A shortlist of providers was drawn together by Finder's subject area specialists and the finalists were then assessed by an expert panel of judges.
We are delighted to announce the winning and highly commended companies in the following categories:
Meanwhile, this year for the first time, we asked you which brands made it easy for you to invest or save in our People's Choice Awards. We received thousands of votes across these 2 categories:
Watch our video of the awards announcement or click on the categories underneath it to reveal our winners!
Winner:
eToro
Freetrade
Lightyear
Trading 212
Wealthify
The shortlist of finalists in each category was selected by Finder's subject area specialists, who identified the providers they felt were displaying key innovations in their field.
The shortlist was then passed to an expert judging panel (details below), who decided the winning and highly commended companies by assessing the finalists across 3 different criteria: uniqueness of innovation, impact in the market and value to customers.
The judges
Cherry Reynard, investment journalist
Makala Green, Schroders personal wealth adviser (Chartered)
Niels Pedersen, senior fintech lecturer, Manchester Metropolitan University
George Sweeney, investing deputy editor, Finder
Judging panel
Cherry Reynard is a financial and investment journalist. She's written for a range of publications including the Financial Times, The Telegraph and The Independent. Cherry co-authored a book on investing in emerging markets and is a six-time winner of the Investment Management Association's freelance journalist of the year award.
Makala Green is a multi award-winning chartered financial expert, money motivational speaker, podcaster, and author of her debut book The Money Edit, a no blame, no shame guide to taking control of money. Makala is passionate about making money accessible for all, and keeping things simple, fun and straight to the point.
Niels Pedersen is a senior lecturer specialising in financial technology at Manchester Metropolitan University. As a chartered accountant, Niels worked at PwC and the Financial Services Authority before coming to academia. He is the author of Financial Technology: Case Studies in Fintech Innovation.
George Sweeney is a deputy editor at Finder. He has previously written for The Motley Fool UK, Freetrade, Investing in the Web, MoneyMagpie, Online Mortgage Advisor, Wealth and Compare Forex Brokers. He's focused on making personal finance and investing engaging for everyone.
People's Choice voting process
The Finder People's Choice Awards recognise financial providers that are making an impact with their consumers, by making the customer journey as easy as possible.
The award was voted by the public. The provider who received the most votes in each category was named our People's Choice winner.
Previous Finder Awards winners
We show offers we can track – that's not every product on the market…yet. Unless we've said otherwise, products are in no particular order. The terms "best", "top", "cheap" (and variations of these) aren't ratings, though we always explain what's great about a product when we highlight it. This is subject to our
terms of use
. When you make major financial decisions, consider getting independent financial advice. Always consider your own circumstances when you compare products so you get what's right for you.