Flashnet joins CTIA, connecting to America's wireless industry innovation, ingenuity and enterprise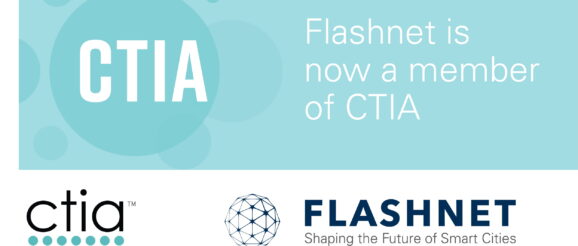 Flashnet

joins

CTIA

,

connecting to

America's

wireless

industry

innovation

,

ingenuity

and

enterprise
We

are

proud

to

announce

that

Fl

ashnet

is

part

of

CTIA, a

representative

of

the

pioneering

U.S. wireless

communications

industry

.

This

exciting

partnership

places

Flashnet

alongside

a

spectrum

of

dynamic

companies

,

all

united

in

their

mission

to

drive

forward

the

incredible

potential

of a

truly

connected

life

. 
As a company that is always looking ahead, striving for innovation, Flashnet's inclusion in CTIA amplifies the commitment to wireless communication, one of the essential pillars of smart city transformation. We recognize the value of collaborative efforts and joining CTIA provides a strategic platform for such initiatives.
CTIA is renowned for its unwavering advocacy for policies at multiple administrative levels that foster the continued growth of America's wireless industry. Their work spans a myriad of crucial areas, from spectrum policy and wireless infrastructure to the ever-evolving Internet of Things. As Flashnet dives deeper into these sectors, especially in the U.S market, the association with CTIA equips us with unique insights and opportunities to align with the best in the industry.
Being part of CTIA reinforces Flashnet's commitment to the U.S. market, and more broadly, to our vision of a world where technological innovation seamlessly intertwines with everyday life. By aligning with CTIA, we're not just looking at the horizon of possibilities – we're actively working towards it.
About Lucy Group
Lucy Group is a diversified international group with operating businesses across three sectors: Lucy Electric, Lucy Controls and Lucy Real Estate. Since its origins in Oxford, over 200 years ago, the Group has grown and evolved. Lucy Group now employs over 1,500 employees across offices and factories in 10 regions and trades in over 70 countries. The Group's annual revenues in 2021 were over £250 million. Further information can be found at
About FLASHNET
FLASHNET is a fast paced tech company that integrates the latest IT, energy and telecommunications technologies into hardware and software solutions, creating and implementing intelligent systems for smarter cities and better infrastructure. Founded in 2005, FLASHNET is a leader in intelligent utility management systems, with worldwide operations. Since 2022, FLASHNET is part of Lucy Group. ()
About inteliLIGHT®
inteliLIGHT® is a reliable remote street lighting management solution developed by Flashnet. It ensures that the right amount of light is provided where and when needed, encouraging better resources management and sustainability. By upgrading your existing street lighting infrastructure, you not only save money and improve efficiency, but also transform the existing distribution level network into an intelligent infrastructure for the future. (www.inteliLIGHT.eu)
The post Flashnet joins CTIA, connecting to America's wireless industry innovation, ingenuity and enterprise appeared first on FLASHNET.