Focus on sustainable farming drives soy innovation on and off the farm | Food Dive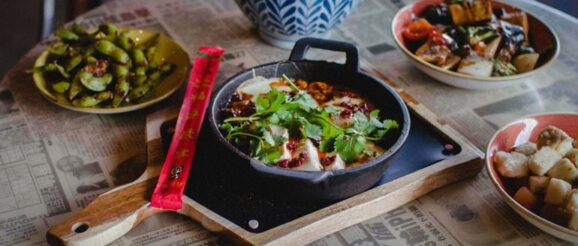 In recent years, the demand for sustainable food choices has risen significantly. A whopping 70% of consumers believe it's important to eat foods produced using methods that contribute to the long-term health of the environment.1
As awareness about the environmental impact of food production increases, there is a growing need for food companies to showcase how they are working towards – and more importantly achieving – their sustainability goals. 
"Over the past decade, I have seen a growing interest in how my farm and my farming practices impact the environment," said Nicholas Kercheval, United Soybean Board Director, West Virginia. "Demonstrating intentional efforts to source food from U.S. farmers like me who implement sustainable farming and conservation practices is a valuable message to share with consumers."  
Food companies that use ingredients made with U.S. grown soybeans, like those grown by Kercheval, tap into sustainable on-farm practices that protect the natural environment and meet consumer demand for foods produced with a lower carbon footprint. 
Farm-level sustainability practices
Meeting customer preferences for more sustainably produced food begins long before ingredients are manufactured, packaged and delivered to consumers.  
"Food sustainability starts at the beginning of food production, right here on the farm. We are stewards of the land," said Kercheval. "We take measures to improve soil health, manage water and preserve air quality."
U.S. soy farmers use multiple methods of growing, collectively known as regenerative agriculture, to reduce their environmental impact. Regenerative agriculture is based on principles that focus on understanding  natural resource availability on the land, prioritizing soil health, reducing erosion and leaving the land in better condition for the next generation.  These are some examples of the regenerative practices U.S. soybean farmers commonly use to grow food that is good for both people and the planet.
Cover cropping: Cover crops are secondary crops planted on open land to reduce soil erosion, increase soil fertility, manage weeds, pests and diseases and enhance water infiltration. These can include species such as oats, radishes or clover. These plants also help crops better withstand extreme weather events like droughts and flooding.2
Conservation tillage practices: U.S. soybean farmers plant on top of a crop residue without disturbing the soil, which minimizes erosion caused by water and wind. Conservation tillage practices also require less fuel to plant a field.3
Crop rotation: Each plant requires specific soil nutrients. Continuously planting the same crop depletes certain nutrients and increases susceptibility to weeds and pests. U.S. soy farmers rotate different crops on their land to promote soil health.
GPS systems & precision technology: Soybean farmers use these technologies to collect data on every inch of land. This information guides decisions for what a crop needs in specific locations to maximize resources and yield.
Buffer strips and filter strips: Areas of permanent vegetation between croplands filter sediment and other pollutants from the water before it enters nearby streams. These areas can also serve as a habitat for pollinators, increasing biodiversity. 
Since the 1970s, Kercheval has used a combination of minimum or no-till practices, cover crops, and even uses poultry litter as a natural nutrient source for crops.
"Through these practices, I have gradually seen an increase in organic matter, an improvement in soil tilth, an increase in earthworms and dramatic increases in crop yields," Kercheval said. "I find a great amount of value in sustainable practices as they help me improve and regenerate my most important resources." 
Less land use
 Soy protein ingredients made with U.S. grown soybeans have the lowest carbon footprint, including land use change, compared to other types of plant proteins.4 Soybeans are one of the few readily available plant-based proteins that provide all nine essential amino acids to meet the nutritional needs of children and adults and can deliver more protein per hectare than any other crop.5
Supplying ingredients with sustainability in mind
Benson Hill® is an innovative food technology company that keeps people and the planet top-of-mind and connects its food and feed ingredients to soybean genetics. 
"The global food system is transitioning from food security to nutrition security, emphasizing nutrient-rich diets rather than simply meeting caloric needs," said Savitha Chelladurai, Director of ESG at Benson Hill. "For Benson Hill, reducing environmental impact means finding ways to save water and reduce greenhouse gas emissions within the existing food system."
To answer these needs, Benson Hill has developed varieties of ultra-high protein soybeans that deliver at least 20 percent more protein right out of the ground compared to commodity U.S. soybeans. Benson Hill soy ingredients require as much as 70 percent less water and 50 percent less carbon dioxide emissions by eliminating a traditional soy processing step,6 which reduces emissions equivalent to taking 189 gasoline-powered passenger vehicles off the road for one year, per ton of protein.7
"As consumers become more aware of their environmental impact and seek ways to reduce it, they begin to expect more from the products they purchase," said Chelladurai.
In fact, a recent study from United Soybean Board indicated that 73% of U.S. consumers want to learn more about where their food comes from. In addition, four in 10 U.S. consumers are increasing their plant-protein consumption for environmental reasons.8
One food brand who saw the benefit in the sustainable sourcing of Benson Hill's ultra-high protein soy is MorningStar Farms®. The brand partnered with Benson Hill to incorporate sustainable soy ingredients in its plant-protein products. 
"Balancing nutritional needs with the wellbeing of our planet requires deliberate decision-making. At MorningStar Farms®, as part of our Better Days®; Promise strategy, we are committed to selecting soy as our primary protein source due to its exceptional nutritional profile and the positive impact it can have on our planet, creating delicious food that our consumers enjoy," explained Kathryn McCann, Vice President of Research and Development at Kellogg North America.
The protein your customers want:
With its sustainability benefits, optimal taste and texture and nutrient-dense profile, soy is the plant protein your customers have been looking for. 
Learn more about U.S.-grown soy and its versatile food industry uses by visiting U.S. Soy.
1 USB Sustainable Farming Consumer Omnibus Report, July 2021. 27th Annual Food Industry Insights: Consumer Attitudes about Soyfoods, Health and Sustainability, United Soybean Board. August, 2020. Deck 1, Slides 45-50
2 https://www.sare.org/resources/cover-crops/
3 https://www.usda.gov/media/blog/2017/11/30/saving-money-time-and-soil-economics-no-till-farming
4 https://solutions.ussoy.org/wp-content/uploads/2023/02/Lowest-Carbon-Footprint-U.S.-Soy-vs.-Other-Plant-Proteins.pdf
5 07062023_Food Company Meeting Dec_IFT_V1.pptx slide 12