German Textile Machinery Giants to Showcase Innovation in India – Middle East Africa Textile News – Kohan Textile Journal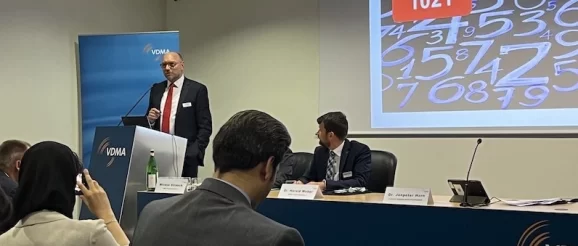 The VDMA Textile Machinery Association is set to facilitate a high-profile delegation visit by 13 renowned textile machinery manufacturers to India from December 4 to December 8, 2023. This visit, supported by the German Federal Ministry for Economic Affairs and Climate Action and expertly organized by SBS Systems for Business Solutions in collaboration with VDMA India, will feature technology showcase events in Ahmedabad on December 5 and in Coimbatore on December 7, 2023.
Decision-makers and experts within India's textile and nonwovens industry will have the opportunity to explore and adopt the latest textile machinery solutions aimed at enhancing the sustainability and efficiency of their textile businesses and products. These innovations span the entire value chain, encompassing spinning, knitting, weaving, nonwovens, dyeing, and finishing processes, as highlighted in a press release by the association.
The delegation comprises 13 distinguished VDMA member companies and their Indian partners. The participating companies include Andritz, Baldwin, Erhardt+Leimer, Groz-Beckert, Karl Mayer, Korting, Pleva, Saurer, Sedo Treepoint, Setex, Trützschler Group, Trützschler Nonwovens, and Weko.
VDMA, representing over 3,600 German and European mechanical and plant engineering companies, stands out for its innovation, export orientation, and support for small and medium enterprises (SMEs). With over 3 million employees in the EU-27, including more than 1.2 million in Germany alone, the mechanical and plant engineering sector holds the distinction of being the largest employer among capital goods industries in both the EU-27 and Germany.
In the EU, VDMA represents a turnover volume of approximately €860 billion, with nearly 80% of the machinery sold in the EU originating from domestic manufacturing plants.
This visit promises to foster collaboration and technological exchange between German and Indian industries, furthering the growth and development of the textile machinery sector in both nations.