Growth, innovation and new beginnings: New Utah State president Cantwell shares her vision for USU's future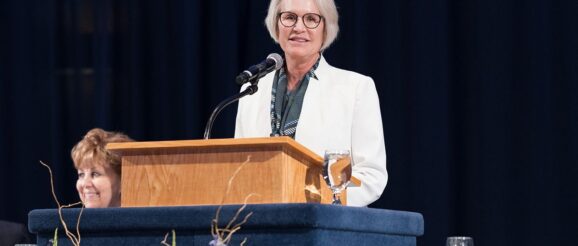 Logan • Relocating to Utah was an easy decision for Elizabeth "Betsy" Cantwell. She traded the blistering Arizona heat for the snowy winters in Cache Valley.
Now the 17th president of Utah State University, Cantwell has just over a month under her belt. In an interview with Utah Public Radio and The Salt Lake Tribune, Cantwell described her first few weeks at the helm in a simple way: "an absolute rocket ride."
"There wasn't much time between when I was selected and when I started," Cantwell said. "And I was willing to do that because it was really important to me to at least have a little bit of a clue by the time school started, and be here when our students started to arrive."
Likening her experience to drinking out of a fire hose, Cantwell said she's been taking in as many aspects of USU as possible — meeting with state lawmakers, community leaders, business owners and members of her new board of trustees.
Cantwell said she strongly believes the future will be created in public universities, saying "public higher education in the U.S. is probably the most important institution we have right now for the future of our democratic republic."
That sentiment goes especially for land grant universities because places like Utah State are meant to serve working people, not the elite.
Want to listen to the Utah Public Radio version of this story? Play it below.
Tough years for Utah State
Cantwell inherits a university that's seen a turbulent past few years.
The U.S. Department of Justice found after a three-year investigation that USU mishandled sexual misconduct on campus, leaving students vulnerable.
Utah State has also been the subject of multiple lawsuits in recent years. USU has been sued over multiple allegations of mishandled sexual assaults; a former football player alleging he was retaliated against for recording the head coach and the now-former police chief making derogatory remarks toward sexual assault victims; and a Black student alleging his professor drew a racist "coon caricature" of him.
Cantwell is taking over for Noelle Cockett, who announced in November she'd be stepping down as president but would remain a USU employee. Recently released emails suggest that Cockett, who had led the university since 2017, was facing pressure to resign amid the lawsuits alleging USU mishandled sex assault cases.
Since arriving at USU, Cantwell said she's seen a strong dedication to training staff on how to handle sexual misconduct, along with seeing firsthand the university's commitment to keeping students safe. But as president, she knows the buck stops with her.
"The thing that a president can do is make it very, very clear that it's not just that we don't tolerate it, it's that we will do everything around the lack of tolerance to make sure that our students are safe," she said.
Cantwell and USU's new police chief, Jason Brei, who was named as chief before Cantwell was tapped as president, came to Logan from the University of Arizona. In the past year, UA has had its own reckoning with campus safety following the on-campus killing of a beloved professor, allegedly at the hands of an expelled student who repeatedly threatened faculty.
University growth, expanding research
For her tenure at Utah State, Cantwell said she wants USU to be the hallmark of what a land grant university — colleges that typically focus on agriculture, engineering and more working class-minded professions — can be in the 21st century. She said the three main goals of any land grant university are teaching and learning, research and community engagement — and all three aspects are what she wants to expand.
"Our research portfolio will grow," Cantwell said. "How do we make sure that is really a vibrant economic value for the state of Utah? I mean, it already is, but as we grow, that's going to be much more visible."
In her past job, Cantwell was the senior vice president of research and innovation at the University of Arizona. In that role, she oversaw the university's UA Tech Park, a large research park in Tucson that contributes $1.7 billion to the local economy. It's that type of dynamic research that Cantwell wants to bring to USU.
She wants USU to grow based on what is needed, making community engagement a crucial piece of the puzzle. In the decades to come, she wants other land grant institutions to point to USU and say, "this is the way we want to be," she said.
That potential expansion of USU's research portfolio is universitywide, Cantwell said. Aspects of USU like the Space Dynamics Lab will continue to grow, but expanded research in the fields of life sciences, machine learning and artificial intelligence are also areas she thinks can expand.
"We should ask ourselves, 'what is our unique innovation ecosystem?' And it might be bigger than Logan and Cache Valley," she said. "If we think that part of our value, our economic value, is to create ideas that become patents that become companies, some of them will be in Cache Valley, some of them will be elsewhere. So maybe we think about our research park concept as a little bit more statewide."
Cantwell said Utah State's many campuses around the state give it a huge leg up on making the goal of research expansion a reality. She's planning on touring every one of Utah State's campuses, "by hook or by crook" she said.
"I may have to charter a bus and sleep in the back while someone else is driving," Cantwell said with a laugh.
Aggie athletics
Within her first few days of the job, Cantwell was given a say in making one of the bigger personnel decisions a university can make — who to hire as the new athletic director.
"So I get here, and two days later the Pac-12 falls apart," Cantwell said. "And four days after that, I interviewed the final (four) candidates."
The pick she made was Diana Sabau, a former deputy commissioner and chief sports officer for the Big Ten Conference and, before that, the senior deputy athletics director at Ohio State University.
Cantwell added that Jerry Bovee, who served as the interim athletic director and was viewed by fans as a strong candidate to take over as the full-time athletic director, is still in the Aggies' athletic department and fully supports Sabau.
(Chris Detrick | The Salt Lake Tribune) Utah State Aggies football players and students celebrate with the Old Wagon Wheel after the game at Merlin Olsen Field at Maverik Stadium Friday, September 29, 2017. Utah State Aggies defeated Brigham Young Cougars 40-24. (Chris Detrick/)
Cantwell also affirmed her support for the Mountain West Conference, saying the conference is strong, but she acknowledges that conference realignment can happen quickly.
"I'm saying with complete conviction that the Mountain West is strong, acknowledging that it is a real strange world out there," Cantwell said.
Since Cantwell spoke with UPR and The Tribune in late August, rumors have continued to swirl over a potential merger between the Mountain West and Pac-12 Conferences.
Cantwell's future at USU
While It's clear that Cantwell has her eyes on the future of Utah State, she's also getting used to the more moderate Utah climate and says she's looking forward to the first snowfall.
"For six months, I couldn't get out and really do anything that I like to do," Cantwell said of her former home of Tucson. "I huddled in my home and waited for it to cool off."
In Logan, she's taking the time to wander the green, flower-filled campus; talk with students; drive around town and enjoy all that USU has to offer.
And yes, that includes sampling Aggie Ice Cream — the famous Utah State staple on campus operated by food science students — though she still hasn't picked a favorite flavor. It will come in due time, as it's one of the many aspects she enjoys on campus.
"I can't tell you how delightful this community is," Cantwell said. "In a fraught time like we're living in, it's really important to teach yourself how to pause and find a little piece of joy."