Innovation continues to power the plant-based food movement | Canadian Grocer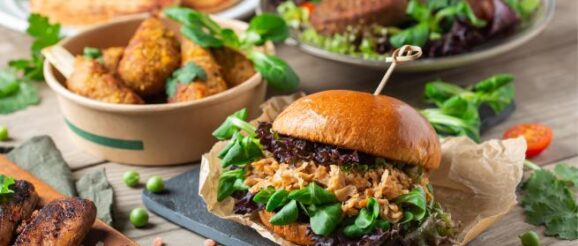 As for the future of plant-based food, however, predictions vary. Statistically speaking, the outlook is bright, with the Business Research Company expecting the value of the global plant-based market to rise from US$44.5 billion in 2022 to $50.4 billion in 2023. The firm, which predicts this number will rise to $82.1 billion by 2027, also reports that North American consumers are leading the charge.
Consumers' dalliances with plant-based meat alternatives such as burgers may be on the wane, but the menu continues to expand.
"Plant-based foods and beverages taste substantially better than they did when they were first introduced to the marketplace, and there are an abundance of options in many different categories," says Digs Dorfman, CEO of the Toronto grocery retailer The Sweet Potato.
Among the most notable recent trends, he says, is the rise of seafood alternatives offered by companies such as Good Catch. "There are a lot of plant-based seafood options, and there were virtually none five years ago," he says. 
Grant Daisley, senior local forager at Whole Foods Market Canada, echoes this sentiment. "Seafood is seeing an increase in plant-based offerings, which includes a variety of tastes and textures as part of a packaged meal or as a single ingredient," he says. "Konscious Foods' Plant-Based California Rolls, made with the root vegetable konjac, and Save da Sea Plant-Based Smoked Salmon, made from carrots, are a couple of examples of this we're seeing."
Both Dorfman and Daisley also note the increased presence of plant-based condiments and flavour enhancers, such as Humble Seedz Saucy Dipz, which are made from sunflower and buckwheat seeds. Dairy-free cheeses, including specialty-style cheese, is also beginning to penetrate the market.
Food manufacturers ranging from large producers like Conagra Brands to newer entrants like Green Bowl Foods are getting in on the action. According to Paul Hogan, vice-president and general manager, Conagra Brands Canada, the company's Gardein line of plant-based foods continues to add new offerings.
"We are especially proud of our Gardein Suprême lineup and the new Gardein Suprême Chick'n Filets, Gardein Suprême Chick'n Nuggets, and Gardein Suprême Saus'ge Links, which are launching later this summer," he says. 
Conagra is also responding to changing population trends by adding fare inspired by global cultures. "Newcomers are leaving a mark on their communities and spreading more awareness of global foods and flavours," says Hogan, who points to the expansion of Gardein's offerings to include black bean and falafel burgers.
Max Jamshidian, founder and CEO of Green Bowl Foods, touts the convenience and sustainable production techniques that go into his company's plant-based products. Green Bowl upcycles food by-products to create meals that appeal to customers' ethics, health interests and time constraints. "This unique method not only addresses the pressing issue of food waste," he says, "but also results in high-quality, shelf-stable products that are rich in fibre and nutrients."
And more producers continue to enter the market. By the fall, Plantropy's line of frozen jackfruit-based nuggets, meatballs, kebabs, breakfast sausages and other offerings will be launched into grocery stores in Canada. "People had been working with jackfruit for about five years, but no one had made it convenient," says Eric Hart, a lead executive at Plantropy. "That's the need we saw."
Other ingredients that are trending upward in plant-based food production include kelp and seaweed, cashews, oats and mushrooms. These ingredients, and the products derived from them, may or may not capture taste buds and dollars – but the sheer volume of players and innovative ideas in the space suggests the seeds of plant-based eating will continue to grow for years to come.
This article first appeared in Canadian Grocer's August 2023 issue.