Head & heart: Giro's long commitment to innovation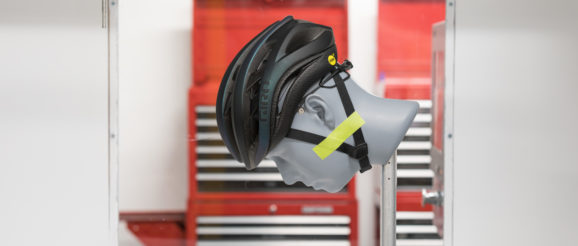 It's 1985, in a stuffy one-bedroom apartment in San Jose, and Jim Gentes has had a lightbulb moment.
As an industrial designer and a talented National-level racer, he's spent hours beyond counting on his bike, thinking about the way his gear is and the way it could be. Road cycling in the US is growing quickly, sparked by the dual gold medals in the men's and women's road races at the 1984 Los Angeles Olympics, and a whole generation of new converts is discovering the transcendental joy that is cycling.
Gentes has a name for his company – Giro – and a logo he's sketched which communicates the feeling that riding imparts. And now, having already designed, manufactured and marketed one of the first aero helmets in his garage, Gentes thinks he's onto something big. As it turns out, he's right; Jim Gentes is about to reinvent the bike helmet.
Perhaps the best way to describe the Giro Prolight isn't by saying what it was, but what it wasn't. It wasn't like every other helmet on the market at the time, which means it wasn't heavy, or hot, or uncomfortable. It didn't have a solid plastic shell. It actually had ventilation. It halved the weight of most bike helmets. As humble as it may look now, it was a once-in-a-generation product that totally redefined a category.
In Gentes' garage, a prototype of what would go on to be the Prolight was constructed, and when it was unveiled at a bike expo in 1986, he went home with $100,000 in pre-orders. A 1986 ruling by the United States Cycling Federation mandating helmets for road racing boosted Giro's ascension, setting the fledgling company up for market supremacy as the only helmet of the time that technologically savvy road riders actually wanted to wear.
Gentes' bedroom became a warehouse, his garage a factory. This little company was on its way.
It's June 2018, and in a meeting room at Giro's stylishly modern HQ in Scotts Valley, near Santa Cruz, brand representatives run through their presentations. Giro's newest road cycling helmet is being launched in front of a select group of the world's top cycling media. The Aether, an evolution of the brand's popular Synthe, is one of the most advanced cycling helmets ever produced, and over the next couple of days, the journalists will put it through its paces on the bike and off it.
What they'll find is this: in many ways, the Aether is arguably the purest representation yet of the journey that Gentes set off on in 1985, and highlights the evolution of Giro over the preceding 30-something years.
Consider the Aether's form: rounded, sculpted, organic. It harkens back to those early designs that put Giro on the map, but under the surface there's a lot more going on – most significantly in terms of safety. There are a number of factors driving this innovation, such as collaborations with forward-thinking brands like MIPS and learnings from the world of snow sports, where Giro is also prominent. But arguably, Giro's biggest secret weapon is the DOME.
The DOME, a brand-agnostic research facility owned by Giro's parent company, started life in the 1950s as a laboratory and workshop owned by Bell Helmets, before Giro joined the fold and expanded the pace of helmet innovation. Today, explains Giro's Senior Brand Development Manager Eric Richter, "the DOME … is really a shared investment and resource that helps both brands to achieve their best, and that also contributes to the future of head protection across multiple sports."
Ventilation and aerodynamics were two areas where Giro's early products made a mark, and as the brand grew, the early strides the brand had taken in these fields continued apace. "Jim and the early team at Giro upped the ante in several ways," explains Richter, "from working with friends at NASA on airflow studies to understand and improve aerodynamics and ventilation, to pioneering ventilation testing with the Therminator, to creating the process of silk-screening graphics onto thermally molded polycarbonate shells." Prior to this last innovation, helmets were generally simple black or white or solid colors; it was Giro that added a touch of flair.
Clockwise from top left: the first promotional image of the Giro Advantage, the brand's first product; the next generation of Giro's aero helmets; triathlon was an early area of focus for the brand; the Giro Air Attack. Photographers unknown.
Small steps over a decades-long journey lead to major advances, as seen with the Aether, but with a resource like the DOME underpinning it all, those steps were each taken with the assurance of scientific data and rigorous testing. "Having the scope of capability [offered by the DOME] is fairly unique in the helmet industry, and it allows us to have full control over every step and aspect of a helmet's development. I'm not sure any other brands beside Giro and Bell can say that," says Richter.
It's this rigorous approach to testing and development that allowed Giro to independently assess the merits of MIPS – the leading slip-plane system that sits inside a helmet and helps reduce the severity of head impacts – and change their position on the technology from skepticism to advocacy. "We got the answers we needed to have confidence in the technology," says Richter succinctly. "We weren't the first helmet brand to embrace MIPS, but I think we were the first to bring the price down in order to make it more accessible.
"We were also the first helmet brand to dig deeply into the science and methodology behind the technology to better understand it, and to find ways to evolve it."
As of 2019, the entire Giro helmet range save for two models will incorporate MIPS technology, from the flagship Aether down. And where a brand like Giro leads, others follow, paving the way for improved head protection industry-wide.
Testing and design in the DOME.
The DOME's workshop is a place of test fixtures and engineers, of 3D printing and CNC prototyping, and it'd be easy to take that as an indication that Giro's innovation is drily analytical. But since the brand's early strides into the global limelight of the cycling industry, that scientific rigour has been tempered by intuition and inspiration. Giro designs with both head and heart, and has a long track record of pushing the envelope, to the point that innovation has become endemic to the company culture.
Through the later 1980s, for instance, road cycling was a sport rooted in traditionalism, with little concern for trifling matters like aerodynamics. Giro, having developed one of the earliest aero helmets for the burgeoning sport of triathlon, was on the radar of the innovative few. "Jim [Gentes] wasn't afraid to challenge convention or pursue what he wanted, and that was part of the appeal to enthusiasts and pros," says Richter. "Whilst the business was small, Giro was working with and winning with top athletes in multiple disciplines almost from the start.
"Within a few years we had helmets on winning riders at the Tour de France … (and) within a decade Giro went from garage to rivalling the biggest brands in the world in specialty market sales."
Alexis Ryan (Canyon-SRAM) and Richie Porte (BMC Racing) with the Giro Aether.
Greg Lemond's 1989 Tour victory was a banner moment for both American cycling and the notion that technological advances like aerodynamics could sway a result. Laurent Fignon, a two-time champion, was neck-and-neck with Lemond for three weeks, but carried a seemingly unassailable 50 second buffer into the final stage time trial in Paris. Lemond, riding with the then-seldom-seen triathlon bars and a Giro aero helmet, took over two seconds a kilometre out of Fignon and snatched the yellow jersey by just eight seconds – still the tightest winning margin in Tour de France history. In doing so, he claimed his second Grand Tour and helped write the prelude to cycling's increasing technological sophistication.
Lemond's victory was an important one for Giro, symbolising the brand's technical prowess and, as Richter puts it, "catalyzing a generation of American cyclists".
Operating at cycling's pinnacle was something that Giro became increasingly familiar with over the following years – on the road with Lemond and Lance, yes, but elsewhere too. "We've been lucky to be along for many spectacular moments," says Richter, "from history's most famous time trial at the Tour de France, to the early freeride mountain bikes dropping into scree-lined cliffs, to Olympic and X Games gold-medal-winning rides."
Left: As mountain biking developed – and became increasingly audacious – Giro manufactured products to fit their needs. Photographer unknown. Right: Greg Lemond time trials to win the 1989 Tour de France. Photographer: Cor Vos.
And over the spectrum of activities the brand designs for, there's healthy cross-pollination. The MIPS Spherical technology used in the Aether, for example, got its start on a helmet designed for World Cup-level Alpine ski racing but found a far broader application beyond that narrow field. Ditto the Roc Loc retention system – the first such harness on a bicycle helmet – which was designed to meet the demands of increasingly daring mountain bikers but soon enough found its way across onto road helmets. Something like it is now a fundamental component of pretty much every helmet on the market, period.
Giro's long history in the industry has seen the company play an active role in much of cycling's recent evolution – through some of the most pivotal performances on the road over the last couple of decades to the evolution and diversification of mountain biking. Fittingly for a brand with such an adventurous spirit, they've also become one of the driving forces in the growth of gravel and adventure riding, going so far as to found their own bike race, Grinduro. "We've spent decades riding our road bikes on gravel and 'cross bikes on singletrack," says Richter. "We saw modern gravel bikes emerge — with disc brakes and wider tires — and wanted to create a competitive outlet for those folks that will never race cyclocross or a road race." The Grinduro format combines a long loop on mixed terrain with four short timed segments, like a mountain bike enduro. In three short years the event has gained a global following, and expanded from its Californian birthplace to add an event in Scotland.
Left & right: scenes from Grinduro, California, 2018. (photographer: Elliot Layda). Centre: Grinduro Scotland poster.
Their now-discontinued New Road range of a few years back also anticipated the industry's move towards gravel, and helped inform the more relaxed fashion around it. With the benefit of hindsight, Richter acknowledges that "the original New Road collection was ahead of its time, but the impact it had on other products is significant."
Among the products which had their designs influenced by the New Road ethos? The oft-imitated Empire range of lace-up shoes – which were (re)popularised by Giro in 2012, and promptly followed by lace-ups from brands as diverse as Specialized, Bontrager, Louis Garneau and Bont – and the Synthe helmet, which would in turn go on to inform the Aether. Most design is cyclical, influenced by something or another, but good design takes lessons from the past and reinterprets them in new and innovative ways.
Way back in 1987, just as Giro was transitioning from a local brand headquartered in a suburban garage to a major industry player, Jim Gentes articulated what his vision for the company was, saying: "I want to create products that make a difference to people, products that cause people to be really happy that Giro exists. Design of great products that are successful in the market and change the face of the industry is the ultimate reason this company exists." Or as Richter puts it, "our job is to be there when riders need us."
Over Giro's long history, by taking Gentes' innovation and entrepreneurial spirit, the brand has been able to transcend its niche origins and become a force across the whole spectrum of cycling, as well as snowsports. But there's a bigger guiding principle at play, and it's exemplified by Giro's ongoing quest to innovate the safety aspects of its headwear. Part of the early reason for the brand's success was certainly in the desirability of its products, and the fact that they met an untapped need – but they were also designed with care for a small community, often of Gentes' personal friends, that were the first to embrace them.
A lot's changed for Giro since those days, but a lot has stayed the same too. Even after Olympic medals and yellow jerseys and decades of kudos, perhaps Giro's story is as simple as a view in microcosm of an innovative helmet like the Prolight then or the Aether now, and the way they shift the paradigm. In this sense, the brand's narrative is much like its name translated into Italian – a circle, a loop – that revolves from garage to global recognition and back again.
The post Head & heart: Giro's long commitment to innovation appeared first on CyclingTips.