How funds drought slowed Nairobi's innovation beacon – Business Daily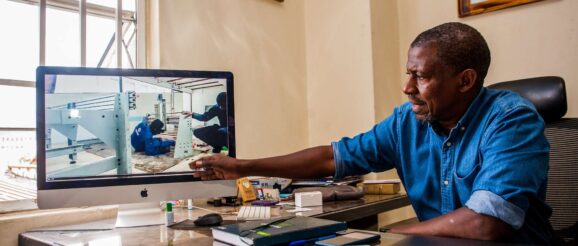 How funds drought slowed Nairobi's innovation beacon
Gearbox, in Nairobi's Industrial Area, came into the limelight late last year as a beacon of innovation, riding on the crest of new technological and engineering products. It was among Kenyan companies that made a mark in the high-tech hardware space.
It had partnered with the UK-based charity Raspberry Pi Foundation to produce circuit boards and computer chips. That was the Gearbox Europlacer- a for-profit arm of the non-profit Gearbox.
But funding dried up, and the company that had been known for offering "clever solutions including solar-powered irrigation systems, water-saving gadgets and speed governors" laid off three-quarters of its permanent staff.
The Business Daily sat with Gearbox's founder and executive director Kamau Gachigi who talked about the rocky transition after the funding drought that has rocked many startups in Kenya and globally. He picked up lessons and started over.
When we visited, a look around the business premises tells the story of a company that is trying to get up after a major fall.
Dr Kamau started as an engineering lecturer at the University of Nairobi and wanted to bridge the gap between classwork and industrial application by bringing innovative systems within a learning environment for industrial use.
"We have been in operation since 2014. This comes out of my experience working as a lecturer in engineering and I was asked to set up a platform that helps to interface what happens in the university and the industry," he says.
In the last nine years, the engineering doctor partnered with innovation and incubation hubs such as iHub to raise the funds needed to set up Gearbox, with additional support from US-based The Lemelson Foundation, which invests in young innovators.
But the wheel of fortune quickly fell off when funding ran out.
"The Lemelson Foundation catered for about 90 percent of our funding until last year although we were aware the funding was coming to an end," says Dr Kamau.
"We realised we had to make plans to transition, and what that looks like to us is having a cohort-based incubator, like taking 10 companies at a time."
Acting on bad advice
Dr Kamau acknowledges how difficult it was to decide to let go of the permanent staff and how ill-advised he was at the time by the human resource person.
"So our funding ended, and the transition model was a rock. When we closed we had to let go [of the permanent staff], pay severance fee and it became very expensive and we finished our money," he says during an interview at Avon Centre, where the company is located in Nairobi's Industrial Area, and shares space with shops, offices, workshops, and banks including Absa Bank.
"Because of that [funding running out] we had to give up half of our space in this building back to the landlord to reduce our rent as we transition to the new model before we occupied the whole thing," he adds.
Slow payments
When he laid off people, he says, he was not able to finish paying everything at once.
"We are still paying, everyone got a letter of termination and we explained to people, which was hard for all of us, that we were going to pay albeit slowly."
In its heydays, Gearbox was sitting on 20,000 square-foot shared space and offering "access to materials and equipment including 3D printing, laser cutting and electronic circuitry at a high-tech."
Now the company has started Gearbox Academy with the hope that it will support the payment of the arrears of the laid-off staff, continue with the business model, and hire new staff.
"One of the ways we will be generating money is via the academy, secondly, Gearbox is a non-profit and it has two for-profit entities including the Europlacer, both of which give back to us because we have a symbiotic relationship where they also rely on us," he says.
"We let go of about 15 to 20, it was quite a high number, and the company had a cumulative 50 workers including interns."
Domiciled within the facility, the academy is seen as the best link between continuing engineering students and industrial applications.
The training programmes are segmented into various stages stretching from beginner, intermediate, advanced, and expert levels with an average of three months of engagement in each level.
Dr Kamau says the company raised a cumulative Sh725 million ($5 million) in nine years and is looking at the future positively and confidently.
The firm has been financed by the Autodesk Foundation and Phillips Foundation among others and locally from KPMG.
"Even if we came and crashed like we did last year, we have a good name in the continent and people trust us, so we are not worried," he says.