How Minal Dalmia Oversees Floral Waste Management Through Innovation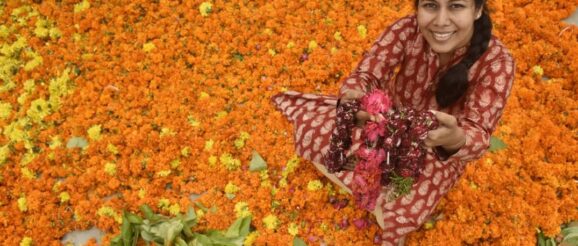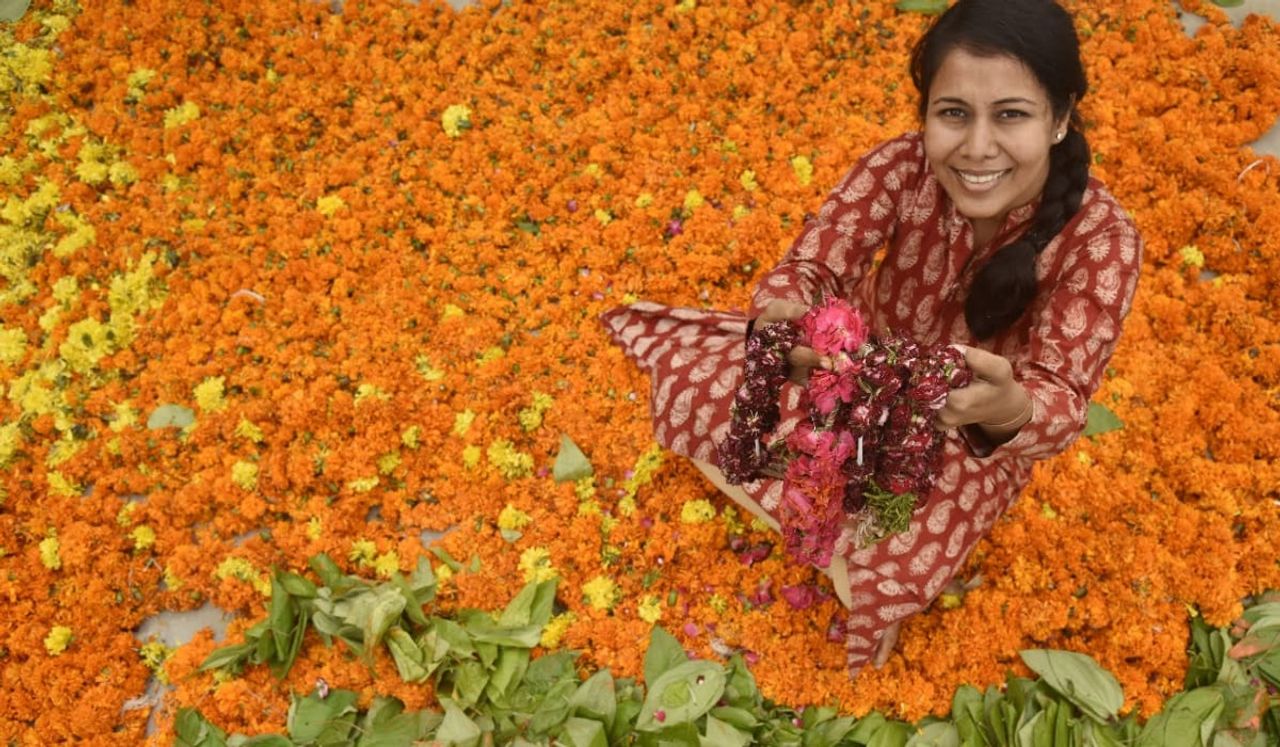 In today's rapidly changing world, where sustainability and social impact are at the forefront of entrepreneurial ventures, Minal Dalmia stands as someone who embodies the convergence of these values. As the founder of Holy Waste, a women-led social enterprise specialising in floral waste management, Minal has a unique and compelling story to tell.
In an interview with SheThePeople, Minal Dalmia discusses her women-led social enterprise 'Holy Waste' which specialises in floral waste management, how the digital realm can make a difference in environmental conservation, and why innovation is key to sustainability practise in India. 
Inspiration Behind Her Enterprise 
Minal's vision for Holy Waste was born out of a profound desire to create a sustainable source of livelihood for women. She recognised that marginalised women often face limited opportunities for professional growth, and her enterprise aimed to change that narrative. By specifically targeting women as their workforce, Holy Waste strives to foster a supportive and inclusive environment where they can thrive. Minal, therefore, used her idea to serve two purposes – to help women gain more financial standing and to tackle the issue of environmental degradation. 
Our approach is twofold: tackling the problem of floral waste generated from religious places, markets, and events, while simultaneously empowering marginalised women with meaningful employment opportunities. Through a unique combination of repurposing discarded flowers and empowering women, we are dedicated to creating eco-friendly products that resonate with both environmental sustainability and social impact.
Managing Floral Waste
Managing floral waste isn't just about collecting discarded flowers; it's a meticulous process. 
Minal explains, "Flowers are collected from various places, such as places of worship, markets, and events. Our team of event managers and individuals also contribute to this effort by sending their floral trash to Holy Waste's facility. Upon arrival, the flowers undergo a rigorous process of segregation based on their type, quality, and freshness. The extracted petals are then carefully dried under the sun for about 6-7 days, depending on weather conditions. Flowers that have already begun to degrade are diverted for composting. Once the drying phase is complete, the flowers are processed into a powdered form, which finds applications in products like incense, soap, and floor cleaners."
Entrepreneurial Journey 
Her enterprise has seen several significant milestones, underscoring the success and impact of her initiative. These include recognitions such as being selected for the Australian Community Slate Program and We-Hub in 2019, winning the India Sustainability Award in 2022, and being honoured by the Customs and GST Department in Hyderabad as Woman Entrepreneurs of the Year in 2021. 
Talking about the power of social media, she emphasises the pivotal role that social media has played in her journey. "The digital landscape has transformed marketing and customer engagement for small businesses. Sharing daily glimpses of our work environment and operations has proven to be a winning strategy. This not only piques the interest of the audience but also fosters trust and loyalty among followers. Through showcasing our behind-the-scenes work, we created a transparent and authentic image that resonates with their audience. This transparency builds trust, as customers appreciate seeing the craftsmanship, dedication, and passion that go into every product."
Minal also highlights the impact of YouTube on her business, citing a transformative video that inspired her to connect with a similar enterprise in North India, showcasing its ability to spark innovation. Talking about modern tools, she adds, "Google Pay (GPay) stands out as a game-changer. GPay has streamlined daily transactions, eliminating the complexities associated with traditional banking methods. Its user-friendly interface and accessibility have empowered startups to establish and manage their financial operations efficiently."
Future plans
In the short term, the enterprise is focused on expanding its reach across India, efficiently managing floral trash to reduce its environmental impact, and creating local employment opportunities. Their long-term vision is to contribute significantly to India's sustainable development goals by addressing the global challenge of floral waste.
Minal Dalmia's journey showcases the transformative power of entrepreneurship driven by a deep sense of purpose. Her commitment to empowering women and addressing environmental issues is an inspiring example of how business can be a force for positive change. 
This interview is in partnership with WE Hub
---
Suggested Reading: Pavani Lolla Enables Sustainable Solutions With Composting Through Venture