PM: It is necessary to secure maximum usage of money of innovation funds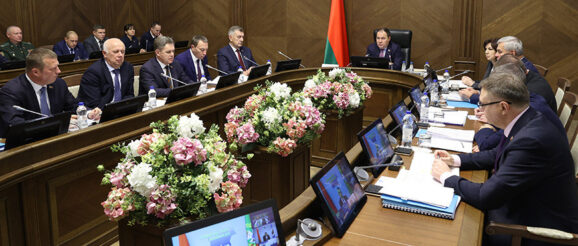 MINSK, 18 October (BelTA) – It is necessary to make sure that money of innovation funds are used as much as possible, BelTA learned from Prime Minister of Belarus Roman Golovchenko during a session of the Presidium of the Council of Ministers.
Roman Golovchenko said: "Amid the sanctions-fuelled pressure the republican centralized innovation fund and municipal innovation funds represent an important financial source for setting up new manufacturing enterprises and introducing cutting-edge technologies. This is why it is necessary to pay close attention to goal-oriented and effective spending of money of these funds. We are talking about considerable amounts of money. Results of the work were already reviewed at a session of the Council of Ministers' Presidium in April 2023. As a result the necessary instructions were given and decisions were made with a view to preventing the accumulation of unspent amounts at the end of the year and their uncontrolled spending on purposes unrelated to innovations. We absolutely don't want that."
In his words, results of the work done in January-September 2023 cannot be called ideal. "If we compare the level of spending of money of the republican centralized innovation fund and municipal innovation funds with the target set for these three quarters of the year, we can see that about 70% has been spent. 77% if we consider last year's rollovers. However, it is nothing to boast about in comparison with this year's target. Under 40% of the targeted amount of money has been spent so far," the prime minister pointed out.
Roman Golovchenko also expressed concern about uneven performance in spending money of municipal innovation funds. "Some oblasts have spent virtually all the money received in January-September 2023. For instance, Brest Oblast. And there are some where spending levels are very low. Those are Mogilev Oblast followed by Gomel Oblast and Grodno Oblast," he noted. The prime minister gave instructions to take measures to rectify the situation.
"Today it is necessary to objectively find out and understand where and who made the mistakes, what needs to be done in order to secure maximum usage of money of innovation funds this year. I'd like to note that the situation is changing for the better but not fast. We have to do everything in order to increase the effectiveness of spending of the funds to 100%," the Belarusian head of government concluded.
While talking to reporters, Chairman of the State Committee on Science and Technology Sergei Shlychkov remarked that money of the innovation funds are spent on various projects, including in the sphere of mechanical engineering, healthcare, and biotechnologies. A government program on innovation-driven development is being implemented in the country. Among other things it provides for realizing projects in regions of the country.
Subscribe to us