How To Turn Innovation Into A Factory Of Business Outcomes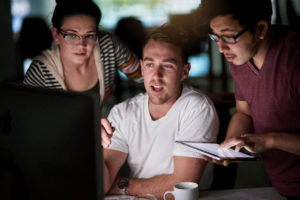 Part 2 of the two-part series "Digital Innovation Factory "
Most IT organizations operate in two distinct modes:
Applications and technology that support basic business operations
Both areas have their own challenges, opportunities, and risks; however, few CIOs can argue that innovation enablement (mode 2) brings a whole new level of complexity.
Digital innovation that includes the dedicated focus and measures of a factory-like approach brings a level of discipline and urgency that businesses need to be competitive and deliver on the expectations of all customers. By pulling together a factory setup that ties together the predictability of repeated output with the challenges of managing creativity, businesses can turn the adoption of continuous innovation into a transformative opportunity.
The essential building blocks of an innovation factory
The pervasive nature of the digital innovation factory model encourages inspired thinking across the business while elevating the quality of innovation and minimizing hype. Why? It really comes down to a foundation supported by three fundamental building blocks.
1. Innovation core team
This small group, comprising IT and business experts, identifies, selects, and oversees the implementation of digital innovation. Nine common innovation objectives are explored, and a chart similar to the one shown in Figure 1 is created to reflect the business's organizational structure, needs, and opportunities. With the help of this visual, the team can take a disciplined approach to pinpoint and choose innovation ideas and keep corporate goals and objectives aligned.
Figure 1: The 4 types of innovation
2. Infrastructure team
This group manages the standard digital technology – including data sources, cloud solutions, and platform – required for digital innovation. It is ideal to create a digital environment that supports innovation and cloud connectivity through a cloud platform.  With the help of a next-generation ERP suite at the core of the landscape, the business can tap into a prime data source that pulls information from other data sources. In return, a framework that leverages the structure of a factory is created to enable digital innovations with machine learning, the Internet of Things, and blockchain.
3. The digital transformation office
A logical accelerator for the digital innovation factory is a digital transformation office (DxO). The DxO considers innovation goals when determining and defining digital parameters such as IT architecture and key performance indicators. This information is added to a business's charter of digital standards and used to develop roll-out roadmaps and implement manufacturing objects. Furthermore, this approach establishes a digital-focused innovation structure that avoids unnecessary data collection, eliminating digital clutter.
By following a business transformation service methodology, the DxO accomplish tasks critical to innovation execution:
Align business digitalization with goals and strategies
Collect relevant digital data at the right time and frequency
Establish a digital charter and road map that optimizes a comprehensive digital transformation schedule
Figure 2: The organizational structure of the digital transformation office
Best practices for innovation execution
Every innovation begins as an idea, and you just never know which one will deliver the outcomes the business wants and needs. For this reason, it is best to keep a running log of ideas to pursue for digital innovation. When you review this list, you may seem some similarities and parallels that may not have been obvious otherwise. From there, you can determine which ideas should be pursued based on innovation principles (see Figure 3).
Figure 3: The 4 principles of innovation
In addition, the innovation idea should undergo additional testing to determine whether it will provide desirable and viable outcomes. With design thinking, decision makers can select and define the innovation use case that is well-suited for the business.
Once this assessment is complete, the innovation concept can move through a five-step process:
Business case: Once a use case is selected, business standards are developed by identifying and documenting business value from the innovation. Typical business value can be articulated in three dimensions: cost reduction, revenue increase, and improved quality.
Team reviews: Both the business and its technology partner reviews the business case to ensure alignment with strategic objectives.
Pilot structuring: The digital innovation factory is created with the assistance of standard infrastructure and a core team. Any required additional skills should be assembled for the accelerated pilot.
Pilot execution: The pilot becomes operational in a contained environment and tested according to defined objectives and scope by using an agile approach.
Business review and approval: Business leadership reviews the outcome of the pilot to validate results and potential viability. It is possible that the idea may not deliver on the business case.
Although not all innovations selected for a pilot will be successful, there are still lessons to be learned that can help fuel future innovations. For this reason, it is important to encourage continuous ideation and piloting to keep the innovation pipeline alive while optimizing pilot selection for higher success rates.
The ideal length of each pilot should be between 8 and 12 weeks – from pilot scope to approval. If an innovation idea takes more than 12 weeks to pass the first assessment, the DxO should reduce the scope to fit the optimal duration – minimizing waste if an innovation is found to be not valuable.
An optimal approach to making innovation part of your business's DNA
Digital innovation across all industries is expected to accelerate and grow in influence for years to come. To realize the most value from your technology investments, it is critical to innovate new use cases and applications with consistency, continuity, and intelligence. And, for many businesses, this is where setting up a digital innovation factory model is incredibly helpful. With the right people, processes, and technologies in place, the entire business can blend inspiration, creativity, and execution into a workplace culture that knows how to quickly develop the right ideas into the outcomes they want.
For more insight on digital innovation, see A Sustainable Enterprise-Level Approach To Innovation.