Innovation For Change Lab to promote microenterprise development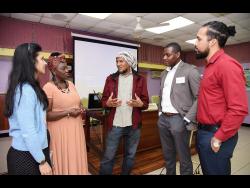 The Association of Development Agencies (ADA), a group of non-governmental organisations (NGOs) working to promote sustainable development and social change in Jamaica, has launched an innovation lab, which will work with civil society groups and social entrepreneurs to promote microenterprise development.
The ADA Chairperson, Amsale Maryam, explained that the 'Jamaica Innovation for Change Lab' will help to increase income generation for individuals, while strengthening the capacity of NGOs to create new or support ongoing initiatives to benefit the communities that they serve.
She was speaking at the soft launch of the project at The University of the West Indies (UWI) Open Campus Social Welfare Training Centre in St Andrew on Tuesday.
Maryam said that persons from different demographic groups in Jamaica can benefit from the programme if they bring innovative ideas for support and are truly interested in becoming entrepreneurs.
"The lab will accommodate young people, students, persons with disabilities, the unemployed, small farmers, and other vulnerable groups from various communities," she noted.
The ADA is coordinating the innovation lab in Jamaica under the 'Innovation for Change' project, which involves collaboration with Dominican Republic-based Alianza NGO and the TIDES Centre in the United States.
The UWI's Social Welfare Training Centre and the Caribbean Climate Innovation Centre (CCIC) located at Scientific Research Council (SRC), Old Hope Road, St Andrew, are offering physical spaces for the activities of the innovation lab.
The first of these was a two-day training session on August 15 at The UWI, where participants were equipped with the basic knowledge and tools necessary to develop innovative solutions.
They were exposed to business methodologies, market and investment readiness training and investor-pitch practice.
At the workshop, teams were required to propose ideas in a competition format, with the winning team to be assisted to enter the Global Innovation for Change Challenge, where they can win funds for ventures focused on sustainable change.