Huawei Wins Business Transformation Award and Nominated for Innovation Technology Award at the IoT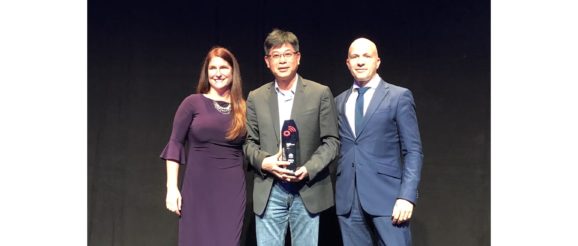 As enterprises embrace the digital transformation revolution fueled by new ICT such as the IoT, Artificial Intelligence (AI), cloud computing and big data, they will be challenged to ensure seamless communication and connectivity across increasingly complex environments with different application scenarios in different industries.
Wangcheng Jiang, president of Huawei IoT solution, highlighted that, "To help our customers' overcome complexity, Huawei's innovative enterprise IoT solution delivers a new level of connectivity. It offers a modular approach to develop solutions for all scenarios from chipsets to platforms, enabling a full-stack, secure, and integrated cloud-pipe-device system for customers. The flexible solution has been fully deployed in many sectors including utilities, logistics, manufacturing, and smart cities. Huawei has tackled the challenges of large-scale commercialization in a wide range of projects to bring real business value to customers and drive the healthy development of their industries through diverse IoT applications. We are privileged to not only receive this award and recognition from the industry that we are enabling business agility, flexible operations, and a thriving open economy, we are also honored to gain the trust of customers. For example, our work with PSA indicates the company is highly recognized by the industry and Huawei's investment in the field of vehicle networking field. In the future, we look forward to working with more customers and partners to realize their IoT ambitions."
Business Transformation Award Winner: Huawei OceanConnect IoV Platform helped Groupe PSA achieve digital transformation and enhance user mobility experiences
The French-based Groupe PSA, also known as PSA Peugeot Citroën, is a world-famous manufacturer that sells vehicles under brands such as Peugeot, Citroën and DS. In , Groupe PSA and Huawei established a strategic partnership and jointly create the Connected Vehicle Modular Platform (CVMP).
In April of this year, DS7 became the first vehicle to use Group PSA's IoT CVMP platform. With the latest connected technology provided by Huawei, DS7 enables customers to access new services such as connected navigation, and natural language voice recognition.
The cloud service provided by Huawei will be applied to all the markets where PSA connected cars are placed. With Huawei's OceanConnect IoT platform, Groupe PSA can produce connected cars based on its own vehicle network modular platform. With strong support from Huawei cloud services, OceanConnect IoT platform has been deployed globally.
Innovation Technology Award Nomination: Huawei IoT Platform improves production quality and management transparency at Songshan Lake Facility
Huawei's large manufacturing facility in Songshan Lake, Shenzhen, supports timely and effective production and delivery of IT equipment to 170 countries around the world. Huawei built an intelligent operation management system with multiple IoT application systems, based on the eLTE enterprise-dedicated network to improve the transparency of factory management, including energy consumption management, device running status monitoring, closed-loop reverse optimization, production panorama visualization, and high-precision personnel asset real-time positioning systems.
The IoT platform provides extra technological monitoring measures to ensure and improve production quality. The ERP and SCM systems are streamlined to reduce energy consumption, delivering significant economic and managerial benefits.
Huawei is committed to creating a smart and connected IoT world by innovating IoT solutions, providing solutions to match enterprise user scenarios, building industry ecosystems, and accelerating digital transformation for customers in various fields. So far, 211 of the Fortune Global 500 companies (including 48 Fortune Global 100 companies) have selected Huawei as their digital transformation partner.
The fourth IoT Solutions World Congress 2018 is held in Barcelona, Spain, from October 16–18. The world-leading industrial IoT conference is committed to promoting cooperation between IoT suppliers and industries. It focused on IoT solutions and actual cases in the following seven areas: connected transport, manufacturing, healthcare, energy and utilities, building and infrastructure, open industries, and IoT enablement. Huawei participated in the conference and shared innovative technologies and best practices with partners and customers for further cooperation. To learn more about Huawei's IoT solutions, visit https://e.huawei.com/cn/solutions/technical/iot.