Hyundai 's Innovation Unveiled: India's Largest LEGO Bricks Installation Showcases Hyundai EXTER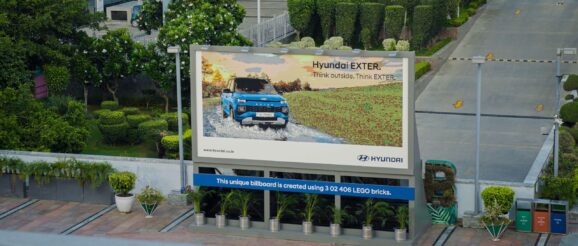 In a stunning display of innovation, Hyundai Motor India Ltd. has brought to life an immersive LEGO bricks installation to showcase the dynamic Hyundai EXTER. Moreover, this groundbreaking initiative uses over 3 lakh LEGO bricks and the talent of 28 skilled LEGO artists to create a captivating outdoor installation. Let's delve into the details of this first-of-its-kind initiative in the Indian automotive industry.
A Display of Creativity
Hyundai's outdoor LEGO bricks installation introduces a new era of creative marketing. Surprisingly, this installation, crafted using 3,02,406 LEGO bricks, showcases the Hyundai EXTER in a visually striking and engaging manner. The installation stands as a testament to Hyundai's commitment to pushing boundaries and thinking outside the box.
Highlighting Hyundai EXTER
The installation centers around the Hyundai EXTER, an embodiment of modernity and exploration. The brand communication, "Think outside. Think EXTER," captures the essence of wanderlust and the spirit of exploration that defines this entry SUV. What's more, with its striking design, advanced technology, and safety features, the EXTER sets new benchmarks in its segment.
Hyundai Exter Redefining Outdoor Marketing
Hyundai's commitment to innovation and engaging consumers is evident in this installation. The display challenges traditional marketing norms and offers a unique way for customers to experience the Hyundai EXTER. Moreover, the installation is a visual representation of Hyundai's motto, encouraging people to think beyond the ordinary.
This extraordinary LEGO bricks installation is the result of the collaboration between 28 talented LEGO artists and Adult Fans of LEGO (AFOLs). Their dedication and creativity shine through as they dedicated over 1200 hours to bring this masterpiece to life. Furthermore, the installation has earned a place in the Asia Book of Records and the India Book of Records for being the 'Largest Hoarding made using LEGO Bricks.
Dates and Venue
The Hyundai EXTER LEGO bricks outdoor installation can be admired at Cyberhub, Gurugram, from August 19th to September 17th, 2023. This installation isn't just a visual treat but signifies Hyundai's dedication to pushing creative boundaries.
Lastly, Hyundai's innovative use of LEGO bricks for an outdoor installation is a celebration of creativity, innovation, and brand spirit. The installation showcases the Hyundai EXTER in a remarkable way, inviting customers to think differently and embrace the spirit of exploration. As the display captures the essence of "Think outside. Think EXTER," it invites us all to explore new possibilities and redefine marketing norms.
The post Hyundai 's Innovation Unveiled: India's Largest LEGO Bricks Installation Showcases Hyundai EXTER first appeared on Motoroids.