Industrial 3D printing at 3M Buckley Innovation Centre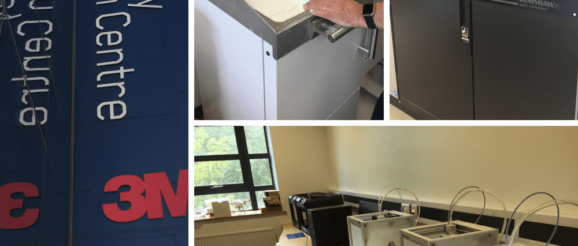 A few months ago we visited PrintCity at Manchester Met University and were amazed by the facilities on offer to university students and local businesses. From FDM to SLS/SLA printing, PrintCity was well equipped to literally print a city if they wanted to. Fast forward a couple of months and we visited another local manufacturing hub, the 3M Buckley Innovation Centre in Huddersfield.
The centre does exactly what is says in it's name. It promotes innovation to new startups, SME's and large corporations through academic and business support. Within the centre there is a vast array of 3D printers in use, from personal FFF style machines that are commonly used in the classroom, to industrial SLS machines worth hundreds of thousands of pounds. As well as industry and business they also support local schools with a stem hub, where they have high quality teaching rooms and a well equipped 3D printer lab with Ultimakers, Makerbots and Formlabs machines.
We were fortunate enough to be given a guided tour by Dr Micheal Wilson the Centre Director and were highly impressed by what was on offer. Micheal gave an excellent demonstration on SLS 3D printing and the applications of high end metal 3D printing as well.
From an educational point of view it's important to learn about the application of industrial 3D printing and where they are used. In lesson 9 we cover the different types of 3D printers (FFF, SLA, SLS and DLP) and the differences in the technology. We have linked youtube clips to the lessons demonstrating the differences in the technology as realistically it would be very rare that a school has access to machines other than FFF.  Whilst the lesson will provide a good grounding for students, there is nothing like seeing the machines working in real life. If you are teaching 3D printing and using learnbylayers, then search out what's going on in your local area. See if you can arrange a class trip to see industrial 3D printing in real life. As a tool for embedding learning, there is nothing like seeing it with your own eyes and getting hands on. We were fortunate enough to see the end result of an SLS print by Micheal during the visit as shown in the video below.
What's our advice to teachers and schools? Find your local manufacturing centre (universities or businesses) and get a visit arranged. The learning opportunities are priceless. Think about it, if your students do end up using 3D printers in their work later in life, they most probably would be using industrial machines like what's on offer at 3M Innovation Centre. We'd like to thank Micheal Wilson for the tour and the excellent work he is doing with Additive Manufacturing.
To contact us about 3D printing or our lessons, use the contact form below;