Innovation Station brings STEM lessons to Bladen County students this summer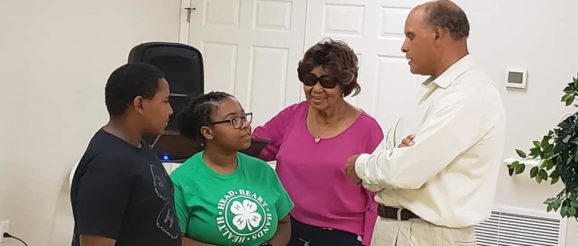 North Carolina A & T State University Chancellor, Harold L. Martin Sr., Ph.D., paid a visit to local students with the Innovation Station mobile stem lab on Thursday, August 1 at Tabernacle Holiness Church. This stop provided attendees an opportunity to see Innovation Station in action. N.C. A&T's Innovation Station, a 41-foot-long mobile makerspace, brings technological resources and STEM education to schools and community-based organizations.
"It was a really great opportunity," Ms. Quessie Peterson, a local community volunteer said about the program.
Since it was unveiled in October, Innovation Station has traveled to 18 counties throughout North Carolina, providing introductory and advanced STEM lessons for more than 2,000 children and youth in grades K-12.
Delivering experiential learning right to students' doorsteps, Innovation Station is the future of STEM education. Cooperative Extension at N.C. A&T designed Innovation Station to help youth see themselves as inventors, engineers and scientists.
"Innovation Station provides opportunities for youths and adults alike to challenge themselves and think outside the box to develop solutions to real-world problems," said Dr. Misty Blue-Terry, the 4-H STEM specialist with Cooperative Extension at N.C. A&T who led the team that created Innovation Station.
Inside the mobile lab, students can work on laptops, iPads, 3D printers, a laser cutter and more in 15 work stations, including a wheelchair-accessible desk. They can gain skills in the engineering design process, robotics, video game design, computer programming and hardware engineering.
In the makerspace, participants can bring ideas to life using low- and high-tech equipment, gaining skills in electronics, 3D modeling and printing, innovative problem solving and critical thinking. Outside, there's an interactive monitor, public address system and a 20-foot awning to keep learners comfortable.
As it brings technological resources to schools and community-based organizations across the state,
Innovation Station also helps close the achievement gap for minority and limited-resource youth by exposing them to STEM skills.
Rev. Keith Graham with Tabernacle Holiness Church explained the difference the 4-H STEM programs have made in the community in years past. He said one student even went to the state level with his abilities and understanding of robotics he first learned at the camp.
The students were impressed with their distinguished guest, Harold L. Martin Sr., Ph.D., according to Peterson. Dr. Martin became the university's 12th chancellor in 2009. The first alumnus to serve as the as the university's chief executive, he brought more than 30 years of transformative leadership experience in higher education to the role.
Under Martin's leadership, A&T has become one of the nation's top producers of African American graduates in engineering, mathematics, statistics, agriculture, journalism, visual and performing arts, marketing and physical sciences. In 2015, the university earned the Community Engagement Classification from the Carnegie Foundation for the Advancement of Teaching. During Martin's tenure, it has also grown its statewide economic impact to more than $1 billion and its regional economic impact to more than $700 million.
Share: