Inside look of NewLab in Detroit, a tech hub of innovation – CBS Detroit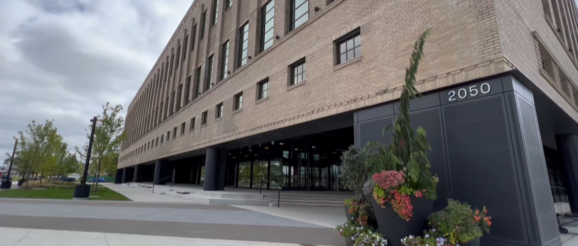 DETROIT, Mich. (CBS DETROIT) – A new tech hub in Detroit is working to help small startup companies create big solutions for some of the world's major issues.
The 270,000-square-foot facility is called NewLab. It's a center full of endless possibilities and innovation.
"An entire ecosystem that exists under one roof here in Detroit on the Michigan central campus," said Rich Fahle, head of partnerships and marketing at NewLab.
NewLab is located in the heart of Corktown, next to the former train station in Detroit.
"Right now, we have about 40 startups here under the roof of NewLab. We've really only been open six or seven months or so in Detroit. That said, we're growing really quickly. New companies are coming in every single day," Fahle stated.
Fahle says each startup is working to solve world issues surrounding mobility and energy. NewLab connects these startups with larger corporations to create solutions.
"The startups that are here are doing some amazing things, and they actually benefit from the relationships that we have in the city and the country and actually around the world to be able to use their technologies in actual real-world piloting situations so they get to scale more quickly, get the feedback they need to make their technology even better, and we're actually solving some of those problems that these large companies come to us to help them with," said Fahle.
David Medina is behind Livaq, an electric four-wheeler hoping to revolutionize the way we see off-roading by using different batteries and motors, among other tools.
"All of that technology combined creates a unique product in the whole industry," said Medina, CEO and founder of Livaq.
Livaq, Medina's company, is one of many startups at NewLab.
"I think that NewLab is an innovative hub that helps entrepreneurs to succeed. There is a lot of collaboration like sometimes we bounce ideas between one founder or the other and are like what do you think about this, what do think about that," Medina stated.
Johnnie Turnage agrees. Three Saturdays a month, Turnage and his team at Even Score bring together hundreds of people to talk tech and bridge the digital divide at an event called "Black Tech Saturdays."
"We help demystify tech and help people break into the tech industry to get jobs, get resources, and really just change the narrative around tech," said Turnage.
A native from Detroit, Turnage says he's grateful to places like NewLab that inspire innovation so opportunities like "Black Tech Saturdays" are possible.
"I really do think tech, when it's intersected with community, culture, and art the right way, can really elevate everybody," Turnage stated.
Then there's companies like Wheel.Me, which managing director Rasmus Bendvold says is the first and only autonomous wheel in the world.
"What that means is that we can essentially mount this wheel to any object and that object would become an autonomous robot," said Bendvold.
A robotics solution that originated in Norway is now in Detroit.
"Detroit came out best in terms of the possibility of new customers, partners, and also access to all the manufacturing talent you have in this city," Bendvold stated.
NewLab is a center of collaboration.
"That combination of energy that happens with startups and the speed that happens and that comradery and connections they make with other companies is really beneficial to all the startups in the building," said Fahle.
A tech hub where ideas are made possible right here in the Motor City.
"The technologies that we're bringing to the floor are Earth-changing. They're world-changing," Fahle stated.
More from CBS News