Interbike Day 3: See the Innovation Award Winners – Triathlete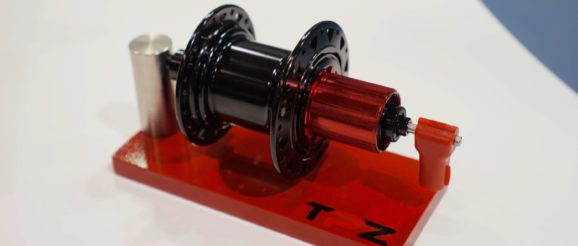 Triathlete magazine Innovation Awards and sleek new lines mark the third day of the annual Interbike trade show in Reno, Nevada.
Two Point Zero Phoenix Hub
Founded by industry veterans looking to literally reinvent the wheel, the Phoenix is a modular system that allows for simple cassette/hub removal without the need for a chain whip. Though it looks like a standard hub from the outside, the removable inner shell—the "axle carrier"—can be moved from Phoenix-equipped wheel to wheel.
The outer shell of the hub is attached to the wheel's spokes, while the "axle carrier" can be easily removed and transferred to another outer shell on another wheel with the removal of a lockring. This means one cassette for multiple wheels and no need to readjust derailleurs or carry large, specialized tools. Available before the end of 2018 in 130 and 135 quick-release hubs, the 400g, 6-pawl freehub costs $750 for two shells, an axle carrier, lockring, and tool—enough for two wheels. Each part is also available individually: the axle carrier alone is $350, the shell alone is $150.
Smith Ignite
Though mostly known for their eyewear, Smith's ever growing helmet line introduces a brand new aero road helmet, the Ignite. Two large central vents pass air through the inside of the helmet and out the back to increase ventilation but also decrease turbulence behind the rider's neck. In fact, Smith says that their yet unpublished tunnel testing puts the Ignite on par with Specialized's excellent Evade 2 helmet. Available in February, the $250 lid will come in a MIPS-only version.
The Stompump
Started as a Kickstarter project, this small, easily serviceable device leverages the rider's full weight to inflate your tires. Easily bolted to a bottle cage mount or stashed in a jersey pocket, the Stompump will pump up tires to a max 100psi, based on your bodyweight. Available in the spring, the Stompump will cost $100.
Elite Nero
Boasting one of the first smart roller setups, Elite's new Nero has all of the best features of today's interactive smart trainers with the challenge of a roller. Using their "Floating system," Elite's latest roller is substantially easier to use than a traditional roller and ANT+ FE-C and Bluetooth Smart connectivity allows you to connect to virtual training environments like Zwift, TrainerRoad, Kinomap, etc. The two six-pound flywheels give realistic road feel—with simulated gradients up to 7 percent—and the foldable design allows for easy storage. Available at the end of December, the system will run a surprising $900.
Wahoo
Though Wahoo isn't releasing any new hardware this coming season, they did announce an interesting new partnership with electronics giant Pioneer. Via a free firmware update, their Elemnt and Elemnt Bolt computers are now exclusively able to display torque pedaling vectors from Pioneer power meters—allowing users to see precisely where inconsistencies appear in their pedal stroke. Available in two weeks, we were able to see the live-updated data in person, giving a new life to the information available on these two already-excellent cycling computers.
Oakley Graphene Aero Jersey and Aero Bib
Oakley's latest offering in their growing clothing line is an unsurprisingly clean-looking cycling kit made to be super ventilated and incredibly aerodynamic. The jersey is made from woven graphene—the new "it" material that claims to have higher durability and excellent energy transfer properties. The jersey's fibers are woven in a way to help dissipate heat and prevent energy loss, but it also boasts fun features like a dedicated eyewear pocket on the side. The bibs have a memory foam pad and woven "air stripes" along the thighs to create less turbulent airflow. Both are available in May; the jersey will run $310, and the bibs will cost $180.
Oakley Graphene Aero Jersey
Oakley's new jersey also boasts "air stripes" woven into the sleeves that are meant to move air more smoothly over one of the most turbulent sections of the rider's body. Available in May the jersey will run $310.