Invent Penn State Venture & IP Conference shines spotlight on innovation | Penn State University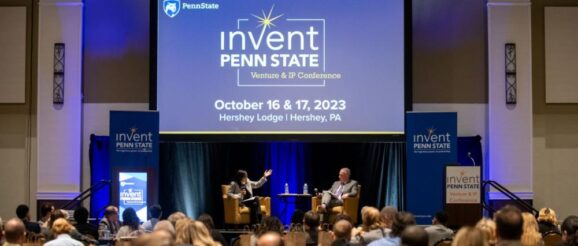 The Student Startup Showcase featured: 
The two-day event also featured Venture Connection, a match-making event between entrepreneurs and venture capitalist investors who are pre-paired based on industry and capital needs, among other key criteria. 
The conference's first day rounded out with the Tech Tournament, a showcase of disruptive technologies and early-stage companies born of Penn State's robust and diverse research enterprise. Eight competitors competed for a grand total of $45,000 in innovation awards. The winners of the Tech Tournament included: 
Entrepreneurs and investors also had the opportunity to participate in multiple panel discussions throughout the two-day event, where they heard and learned about intellectual property and raising funding, among other current topics. 
After the Student Startup Showcase, Read hosted a fireside chat with recently appointed College of Medicine Dean Dr. Karen Kim. They discussed new opportunities for cross-disciplinary collaboration across Penn State and the commonwealth to empower technological and medical advancement. 
The conference also included a keynote presentation from Philip Gaskin, vice president of entrepreneurship at the Ewing Marion Kauffman Foundation. He shared the findings of the Kauffman Foundation's "Access to Capital for Entrepreneurs: Removing Barriers," a report highlighting the need for increased funding of companies led by marginalized founders. 
The event concluded with a fireside chat between Eric Ewell, director of the Mon Valley LaunchBox powered by Penn State Greater Allegheny, and Rodney Sampson, general partner of 100 Black Angels & Allies Fund. The two discussed Sampson's impressive background as one of three Black co-founders in the early 2000s whose high-growth technology startups raised more than $1 million in angel and venture capital and were subsequently acquired for eight figures.  
To learn more about Penn State-affiliated startups, visit the Startup Navigator. To view more Penn State technologies in development, visit the IP Navigator. To find more entrepreneurial resources across the commonwealth, visit the Resource Navigator. 
About Invent Penn State  
Invent Penn State is a commonwealth-wide initiative to spur economic development, job creation and student career success. Invent Penn State blends entrepreneurship-focused academic programs, business startup training and incubation, funding for commercialization, and university/community/industry collaborations to facilitate the challenging process of turning research discoveries into valuable products and services that can benefit Pennsylvanians and humankind.    
This project was financed in part by a grant from the commonwealth of Pennsylvania, Department of Community & Economic Development.