Iowa's Future Foam Success: Celebrating 75 Years of Innovation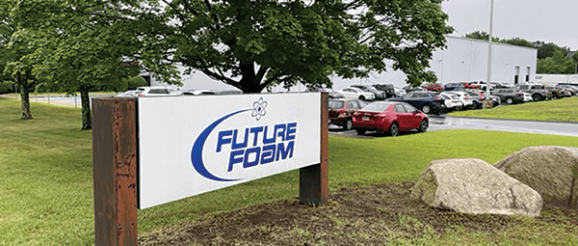 After years of growth, Future Foam continues to value innovation, quality and service.
Now celebrating its 65th year, Council Bluffs, Iowa-based Future Foam continues to succeed and grow by emphasizing the same three core values founder Charles Schneider identified as cornerstones when he launched the company in 1958 — innovation, quality and service.
Back then, polyurethane foam was a relatively new material. Otto Bayer invented the revolutionary chemical compound in 1937, but it wasn't until 1954 that the first polyurethane foams began being manufactured on a commercial scale — first in Europe and then in the United States. The foam initially was rigid and mostly used for insulation. By 1956, more flexible and less expensive foams were being developed.
As these new polyurethane foams emerged, Schneider saw an opportunity. The son-in-law of Rose Blumkin, the legendary co-founder of retail powerhouse Nebraska Furniture Mart, Schneider opened Charles Schneider Furniture in 1946 to make upholstery for the retailer. Realizing the potential that polyurethane foam held for both furniture and bedding, Schneider launched a second company — Future Foam — in 1958 to serve the home furnishings market.
"Our name and logo reflect our roots in the Atomic Age of the 1950s, when scientists were discovering innovative uses for the atom," says Randy Lake, general manager of Future Foam's West Coast region. "It was a forward-thinking time where science was opening exciting new doors of opportunity."
Charles Schneider Furniture closed in 2016 as offshore competition made it difficult for domestic upholstery manufacturers to succeed. But Future Foam has thrived and grown, building on its strong base in furniture and bedding while also expanding into other arenas such as flooring.
A big footprint
Today, Future Foam operates 30 facilities in the United States. The facilities include 16 foam fabrication plants, in states such as California, Florida, Indiana, Massachusetts, North Carolina, Texas, Washington and Wisconsin; nine foam pouring plants; and five rebond plants that make carpet cushioning.
Future Foam also has a strong international presence. In 2004, Future Foam opened Future Foam Asia, becoming the only U.S. foam company with foaming operations both in China and the United States. Future Foam Asia serves China's domestic flexible foam market for furniture and bedding applications.
In 2016, it expanded into Europe with the purchase of Szaidel Cosmetics. The company is a contract manufacturer of cosmetics in Germany, serving health and beauty markets. In 2022, Szaidel purchased DHC, a German company that makes industrial cleaning products.
In that same year, Future Foam signed a technology transfer agreement with New Wind in Italy. The agreement provides both companies with expanded opportunities in the specialty foam segment through the sharing of technology.
The company has more than 1,600 employees worldwide, with an average tenure of more than 10 years.
Recent growth
Across the decades, Future Foam has experienced several waves of expansion. The most recent took place in 2020, when the company moved into three new regional markets by purchasing of polyurethane foam pouring and fabrication facilities from FXI Holdings and Innocor Inc. These plants are in Elkhart, Indiana; Kent, Washington; and Tupelo, Mississippi.
"This is a very exciting event at Future Foam, and we are thrilled to take over the operations and begin serving these markets," said Patrick Medinger, Future Foam's chief financial officer, at the time of the deal. "We are a team of innovators guided by a passion to continually develop customer-driven solutions. And we employ, manufacture and invest where our customers conduct their business." 
Future Foam produces a full range of flexible polyurethane foams used in bedding, from viscoelastic to high-resiliency foams. Other key markets include carpet cushioning, home furnishings, packaging and transportation. The company operates foam pouring, molding, fabrication and converting plants that supply raw materials, foam components and finished products. It also offers its customers fulfillment services.
The company continues to be owned and managed by the Schneider family. Bruce Schneider, Charles' son, has served as president since 1992, and Bruce's son, Cole, serves as a director.
"We have a lean management structure, which empowers our regional managers to make decisions as they see fit to serve their customers," Lake says. "The regional managers report directly to Bruce, and there's close collaboration among all of us and our sales team when it comes to handling national accounts. 
"The fact that we are privately owned, with very hands-on leadership, enables us to be very nimble and respond quickly to changing market demands."
Sustain raises the bar
The Sustain memory foam line, which Future Foam introduced in 2020, provides a good example of the company's ability to pivot and innovate, Lake says. The line features an innovative chemistry in which a minimum of 25% of the foam's weight consists of plant- or bio-based polyol. Five years in development, the line started from a customer request.
"With all the foams … our focus is on comfort, cooling and sustainability."
"They asked us to come up with a line of foams that would meet the 25% threshold required to qualify as a 'USDA Certified Biobased Product,' " Lake says. "That was a big challenge, since historically it's been tough to get even a 10% mix by weight of bio-based components into a sleep foam."
Today, Sustain is one of Future Foam's fastest-growing brands. 
"It really checks the box for those customers looking for a foam that is sustainable and has a great environmental narrative," he says. "We expect this part of our line to become increasingly important over time. Consumers are getting more and more interested in sustainability."
Sustain does more than reduce a foam's carbon footprint, Lake says. It also delivers quality sleep.
"It supports your back and the planet," he says. "With a 2.6-pound density, Sustain provides uniform support and alleviates pressure points at a level that matches or exceeds the characteristics of other, more traditional memory foams."
The Sustain line also can be personalized to meet individual customer's design and support requirements, he adds.
Mattress "mixology"
Allay, another new foam brand, has generated good growth for Future Foam. Introduced in 2022, Allay uses the company's proprietary Forma process to create foam "cocktails" that deliver new mattress options for customers, Lake says. 
Customers start by choosing one of two foam bases offered within the line — Allay Next or Allay Memory. Allay Next is a fast-recovery, high airflow foam; Allay Memory is a slow-recovery variation. 
Once the foam base and its level of desired firmness and density are selected, customers can customize the comfort layer. They can infuse the layer with any combination of elements from three families of additives: thermal conductors (copper, platinum, gel and activated charcoal); essential and sustainable oils (coconut, castor, soy, aloe and CBD); and essences (coconut, mint, chamomile and lavender). The Allay foams can be aerated with pinhole patterns to enhance breathability.
"Allay delivers a very high comfort factor and unparalleled airflow for cooling across the board," Lake says. "And the small batch nature of the production process allows customers to further curate their lines with a variety of custom additives that enhance cooling and other properties." 
Through these choices, customers can develop a range of mattresses that "precisely match the specific performance narrative they desire for their lines," he says. 
In addition to this "mattress mixology" approach, the Allay line also has another big drawing card, Lake adds — it's ability to deliver a high level of comfort for couples.
"Allay's chemistry starts plush and firms up to match each individual's body type," he says. As a larger partner's frame goes deeper into the mattress, the foam responds by firming up on that side, but on the other side, where the smaller partner is, the comfort layer remains the same, because that person isn't penetrating the surface as deeply.
The process occurs dynamically based on body sizes and movements and is more fluid than zoning, because the change in density occurs only where it's needed. 
"Our customers are always asking us for new ways to deliver better comfort for sleepers, and Allay is a direct response to those requests," Lake says.
Gel continues strong
One of Future Foam's longtime best sellers is HyPURgel. This memory foam combines the pressure-relieving support and pushback of a high-resiliency foam with the conforming softness of visco and the resiliency of latex. HyPURgel includes a gel-infusion that delivers optimal temperature control and airflow for deeper, more restful sleep, Lake says. 
"It is temperature and pressure neutral, so it helps spread body weight, enabling you to really feel the conforming nature of the foam," he says.
Future Foam's FutureGel line continues to do well. It's a topical gel-infused foam with phase-change material that is applied to the top of a sleeping surface. Breathable and permeable, FutureGel can be perforated or further machine processed to enhance airflow. It also can be banded to provide areas of alternating coverage, airflow and cooling. 
"We introduced FutureGel about nine years ago, and during that time the technology of PCMs has improved significantly," Lake says. "As a result, we've increased the cooling properties of this product by about 70%." 
Another advantage of FutureGel is that, because it's topical, Future Foam can attain higher loadings of PCMs on the bed surface than can be achieved with an adhesive-based PCM. 
Future Foam's line includes a wide range of other polyurethane foams — including Cu29Gel memory foam, designed to serve as a top layer of a mattress or a topper — and specialty foams, such as synthetic latex. Among the products in that segment of the line is Futuratex Cu29Gel, a copper-infused synthetic latex that is ideal for roll-packed bedding, according to the company.
"Synthetic latex is a great alternative for customers who want the feel of natural latex without the high price," Lake says. He says the company is working on some new synthetic latex formulations but that they are not yet ready to be introduced.
"With all the foams we are developing, our focus is in three areas — comfort, cooling and sustainability," Lake adds.
The finishing touch
Future Foam is first and foremost a foamer, but it also builds beds to meet customers' specifications, offering a private-label, good-better-best program of direct-shipped boxed beds through its plants in California, North Carolina, Rhode Island, Texas and Wisconsin.
"Finished mattresses are a growing part of our business," Lake says. "Our large footprint of strategically located plants allows us to reach 90% of the U.S. population within two days. That proximity and speed result in fewer lost orders for our wholesale customers, which is a huge benefit for their customers."
Future Foam also has a robust pillow business. Produced at the plant in Fullerton, California, Future Foam's pillows are made with the same process as its Allay foam line, enabling customers to mix and match pillows with Allay mattresses for
a complete bed program.
"We've had a lot of success with this," Lake says. "That ability to pair pillows with mattresses provides a great story for retailers."
Future Foam's ability to manage its supply chain and deliver on time is a core strength, Lake says. But that ability was tested in early 2021 when the global pandemic, coupled with severe winter storms, caused massive delays and shortages of the chemical components of foam. Suppliers of everything from furniture and mattresses to boats and blown-in insulation struggled to cope with the restricted supplies of foam.
"That was a tough period," Lake says. "When I think back on that, what we heard from our customers was that we did a great job of communicating what we could and could not do during those supply-chain shortages. That information, even though it might not have been what they wanted to hear, was appreciated."
Coping with inflation
Similarly, the inflationary environment of the past couple of years has created challenges, including a current slowdown of consumer demand that has led to excess capacity in the foam market.
"There's not a lot we can do to spur demand, but what we can do is support our customers with innovative products, great service and top quality," Lake says.
While price hikes for raw materials have slowed as demand has softened, the tight labor market continues to put pressure on businesses of all types, including foamers. 
"It's a challenge to find good people," Lake says. "Thankfully, we have a very stable, skilled workforce that has been with us for many years. We credit our employees with our success."
To counter price pressures, Future Foam works hard to identify ways that automation can be used to take costs out of its products, without sacrificing quality. "We are constantly trying to automate our operations to keep costs down," Lake says.
The company's in-house chemists are another big asset during challenging times, according to Lake. "We have a very talented team of chemists that work on products individually and also collaborate to build on each other's successes," he says. "At all times, we stay in close contact with our customers to make sure what we're working on will be relevant to market needs."
Core values
 Collaboration is one of the three key tenets in Future Foam's vision statement, Lake says. "No. 1, we're a safety-first environment. Second, we strive for excellence in manufacturing, quality and service. And third, we operate with an open, trusting and collaborative environment."
In addition to those three tenets, Future Foam operates with a series of guiding principles: "Take ownership and be accountable," Lake says. "Conduct ourselves with integrity and respect, and build individual success through team success. Everyone in our company lives those values, and they dictate how we do business every day."
That spirit of collaboration and respect extends to the customers that Future Foam serves, as well as the communities in which it operates, Lake adds. 
"We are committed to reducing the impact on our environment," he says. "Helping the environment is ingrained in our culture and how we do business and is reflected in the products we bring to market."
Future Foam has recycled more than 2 billion pounds of post-industrial foam scrap since 2011. It collects the material from its own plants, as well as from customers and noncustomers alike. The material is repurposed into floor and carpet padding at one of several plants that Future Foam has dedicated to the process.
Sustainability also is top of mind in Future Foam's product development initiatives. "Our team of scientists is constantly working on new sustainable foam products for the future," Lake says.