Jack Daniel's ups innovation with Tennessee Tasters' line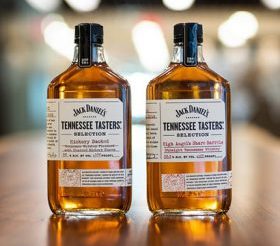 Jack Daniel's has launched a limited edition range of experimental whiskeys, called the Tennessee Tasters' Selection.
Jack Daniel's new limited edition Smoked Hickory Finish and High Angel's Share Barrels whiskeys
The first three whiskeys revealed in the range are: High Angel's Share Barrels, Smoked Hickory Finish and Reunion Barrel.
Bottled at 107 proof (53.6% abv), High Angel's Share Barrels was barrelled in January 2013 and offers a "deep concentration of flavours". It was selected by assistant master distiller Chris Fletcher.
Smoked Hickory Finish has been finished with charred hickory staves for a "smoky flavour". Bottled at 100 proof (50% abv), the whiskey was selected by master taster Marsha Hale and will be available in late October.
Meanwhile, Reunion Barrel has been finished in wine barrels and bottled at 90 proof (45% abv). The barrels were first used to age Jack Daniel's, then used for a Tennessee-produced wine and returned to the distillery. Selected by master distiller Jeff Arnett, it will be available in early 2019.
Each release is expected to yield approximately 24,000 bottles followed by another limited release every few months.
"This collection exemplifies our whiskey-making in a new way in that each whiskey will undergo its own process for unique flavours chosen by our esteemed master tasters," said Arnett.
"We plan on releasing several of these new products each year as we continue to tap the expertise of the master tasters who make our Tennessee whiskey every day."
The range is available in 375ml bottles from the Jack Daniel's distillery and select stores across Tennessee. Each whiskey has an RRP of US$39.99 and comes with a customised label, distillery name embossment on the front and 'Taster sampler bottle' mark on the back.