Join Us on the Frontlines of Innovation in Trenchless Technology!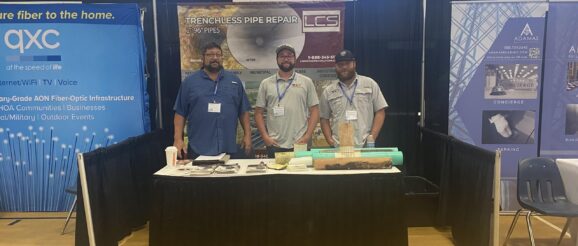 Join Us on the Frontlines of Innovation in Trenchless Technology!
We are thrilled to provide insights into our ongoing commitment to revolutionizing trenchless pipe repair solutions. Lining & Coating Solutions is actively participating in some of the most popular home trade shows, where we highlight our innovative methods and game-changing technologies. Accompanying this post is a photo that epitomizes the passion and dedication of our team members, who are eagerly engaging with attendees at our booth.
Our participation in these trade shows stems from our firm belief in proactive education, meaningful engagement, and fostering discussions centered around effective solutions. Situated in the greater Memphis area, we stand as trailblazers, advocating to both connoisseurs and novices about the profound advantages of trenchless pipe repair strategies. Our active involvement is a testament to our unwavering commitment to advocating approaches that are not only more efficient and non-disruptive but also kinder to our environment.
To our commercial partners, grasping the nuances of trenchless technology translates into unparalleled efficiency and safety in your ventures. It is the gateway to significantly reduced operational downtime, lesser disturbances at the workplace, and the promise of a resilient plumbing framework that stands the test of time.
And let's not forget our residential homeowners! Envision a world where your plumbing predicaments are resolved seamlessly without turning your home upside down or interrupting your cherished daily routines. That's the convenience we're enthusiastic to bring into your lives.
We're making strides, one show at a time, bringing closer a world where plumbing solutions are synonymous with simplicity, efficiency, and sustainability. So, come meet us at these trade shows, share your concerns, and let's explore how our trenchless technology can be your next best decision!
But that's not all! Here's a quick rundown of services we're discussing at our trade shows:
Trenchless Underground Pipe Lining
Continuous Pipe Lining
Pipe Coating
Manhole Spraying & Coating
Mainline Camera Pipe Inspections
Reinstatement Cutters & Pipe Repair
Are you at the trade show? Don't miss this opportunity to engage with us. Stop by our booth, and let's explore how our trenchless solutions can be tailored to your specific needs. Not here? No problem. We're just a phone call away. Reach out to us to talk options, book services, or simply discuss your concerns. Your plumbing security is our top priority, and our experts are on standby to ensure you get the solutions you deserve.
Lining & Coating Solutions — where innovation meets practicality for the ultimate customer satisfaction. See you at the booth!
The post Join Us on the Frontlines of Innovation in Trenchless Technology! appeared first on LCS Lining Coating Solutions.