KREO Design & Innovation extends brand identity program of Sterling Holidays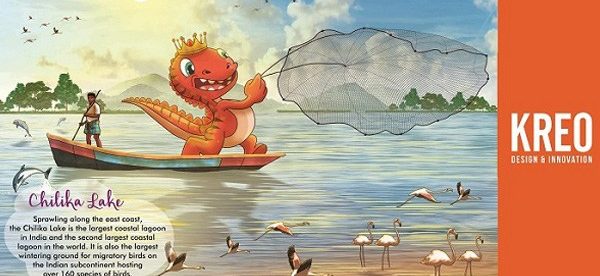 Bengaluru: KREO Design, a multi-disciplinary design firm based out of Bengaluru, was entrusted to develop an extended brand identity program for Sterling Holidays. From the brand guideline to graphic and brand assets and the Sterling discovery mascot, the design mandate given to KREO was to create opportunities for extending the brand vision through effective storytelling.
Sterling Holiday Resorts Limited began a new chapter by rolling out their unique brand positioning with a focus on holiday experiences. As a pioneer in the vacation ownership space in India and with over 30 years of industry expertise, Sterling Holidays is a brand that is continuously evolving.
KREO developed graphic and branding assets through the brand identity program which communicates the brand vision and conveys the brand essence across various guest touch-points in the resorts. KREO created the extensive brand guideline to perfectly capture the spirit of Sterling Holidays. As the design agency partner to Sterling holidays, KREO has also been instrumental in developing the signage program, in-resort brand collaterals, guest experience design that expresses the new brand vision "Holiday Differently" and leading the guests to experience more discoveries every single day.
With this new brand vision, Sterling intended to appeal to all age groups by introducing 'Raja Rex', Sterling's new 'discovery mascot'. KREO conceptualised Raja Rex, inspired by the only Indian dinosaur – Rajasaurus who was discovered on the banks of the river Narmada. Being 'discovered' through design and otherwise, Raja Rex was selected as Sterling's official discovery mascot. Raja Rex is identifiable across all Sterling resorts and extremely relatable to both kids and adults because of its personality characteristics.
Raja Rex perfectly encapsulates the soul of the brand. This adventurous royal mascot is always raring to step out and enjoy nature! He is spotted in various scenarios in the form of wall murals across the Sterling properties in India.
KREO also designed a spectrum of Raja Rex merchandise such as key chains, coffee mugs, playing cards, t-shirts, menu cards, story canvas, and more. The lively nature of the brand mascot has a universal appeal making the resorts beautiful and enhancing the brand's essence of the joy of discovery. (ANI)