Laundry care market size to grow by USD 23.85 billion between 2022 and 2027; Driven by product innovation and portfolio extension – Technavio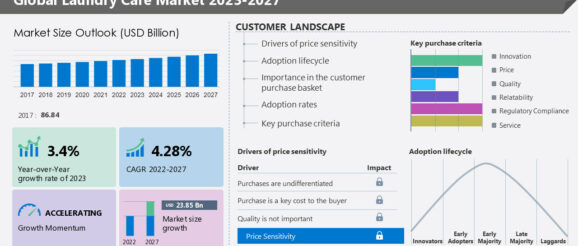 NEW YORK, March 3, 2023 /PRNewswire/ — The global laundry care market size is estimated to increase by USD 23.85 billion between 2022 and 2027. The market's growth momentum will be progressing at a CAGR of 4.28% during the forecast period. The growth of the market is driven by product innovation and portfolio extension. Vendors are introducing superior-quality products with innovative cleaning technologies and features to increase convenience for customers. Some vendors are introducing eco-friendly laundry care products, such as liquid detergents and fabric softeners to attract consumers who are inclined toward organic and eco-friendly laundry care products. These products are priced relatively high due to their additional features and the use of advanced and superior-quality ingredients. These factors are driving the growth of the market. For more insights on the market size historic period (2017 to 2021) and Forecast (2023 to 2027)- Request a sample report
Global Laundry Care Market – Vendor Analysis
The global laundry care market is fragmented due to the presence of several international and regional players that offer a wide range of products. The vendors are differentiating themselves based on product quality, packaging, product pricing, and product portfolio. They are also focusing on business expansion and product premiumization to improve profit margins and gain a competitive edge in the market.
A few prominent vendors that offer laundry care in the market include:
What's New? –
Global Laundry Care Market – Segmentation Assessment
Segment Overview
Technavio has segmented the market based on distribution channel (offline and online), product (laundry detergent, fabric softener, and others), and geography (APAC, North America, Europe, South America, and Middle East and Africa). 
Geography Overview
By geography, the global laundry care market is segmented into APAC, North America, Europe, South America, and Middle East and Africa. The report provides actionable insights and estimates the contribution of all regions to the growth of the global laundry care market.
For insights on global, regional, and country-level parameters with growth opportunities
from 2017 to 2027 – Download a Sample Report
Global Laundry Care Market – Market Dynamics
Key trends influencing growth
The rising demand for laundry pods is identified as the key trend in the market. Laundry pods offer several benefits over liquid or powder detergents. Laundry pods are compatible with all kinds of washing machines. They do not require manual intervention during the cleaning process. Besides, vendors that manufacture laundry pods are offering sturdier packaging that cannot be opened by children. These factors are increasing the popularity of laundry pods among consumers, which is positively influencing the growth of the market.
Major challenge hindering growth
Balancing production cost, price, and quality of products is a major challenge that is reducing the growth potential in the market. The growing competition in the market compels vendors to introduce new products. However, it is challenging for vendors to continuously enhance their production process while complying with labeling, packaging, and quality standards of finished products. Thus, balancing production costs, implementing effective pricing strategies, and maintaining quality standards pose a challenge for most vendors. These factors are hindering the growth of the market.
What are the key data covered in this laundry care market report?
Gain instant access to 17,000+ market research reports. Technavio's SUBSCRIPTION
platform
Related Reports:
Laundry Care Market Scope
Accelerate at a CAGR of 4.28%
APAC, North America, Europe, South America, and Middle East and Africa
US, China, Japan, Germany, Canada, Mexico, Italy, Spain, India, , Australia,  and South Korea
Leading Vendors, Market Positioning of Vendors, Competitive Strategies, and Industry Risks
Key companies profiled
Amway Corp., Church and Dwight Co. Inc., Colgate Palmolive Co., Fena Pvt. Ltd., Godrej and Boyce Manufacturing Co. Ltd., Henkel AG and Co. KGaA, Jyothy Labs Ltd., Kao Corp., Lion Corp., MaddieBrit Products LLC, Puracy LLC, PZ Cussons Plc, Reckitt Benckiser Group PLC, RSPL Ltd., S.C. Johnson and Son Inc., Saraya Co. Ltd., The Clorox Co., The Procter and Gamble Co., Unilever PLC, and Venus Laboratories Inc.
Market dynamics
Parent market analysis, market growth inducers and obstacles, fast-growing and slow-growing segment analysis, COVID-19 impact and recovery analysis and future consumer dynamics, and market condition analysis for the forecast period.
Customization purview
If our report has not included the data that you are looking for, you can reach out to our analysts and get segments customized.
Table of contents:
1 Executive Summary
2 Market Landscape
3 Market Sizing
4 Historic Market Size
5 Five Forces Analysis
6 Market Segmentation by Capacity
7 Market Segmentation by Distribution Channel
8 Customer Landscape
9 Geographic Landscape
10 Drivers, Challenges, and Trends
11 Vendor Landscape
12 Vendor Analysis
13 Appendix
About Us
Technavio is a leading global technology research and advisory company. Their research and analysis focuses on emerging market trends and provides actionable insights to help businesses identify market opportunities and develop effective strategies to optimize their market positions. With over 500 specialized analysts, Technavio's report library consists of more than 17,000 reports and counting, covering 800 technologies, spanning across 50 countries. Their client base consists of enterprises of all sizes, including more than 100 Fortune 500 companies. This growing client base relies on Technavio's comprehensive coverage, extensive research, and actionable market insights to identify opportunities in existing and potential markets and assess their competitive positions within changing market scenarios.
Contact
Technavio Research
Jesse Maida
Media & Marketing Executive
US: +1 844 364 1100
UK: +44 203 893 3200
Email: [email protected]
Website: www.technavio.com/
SOURCE Technavio