Lawmakers Question U Of I On Innovation Network, DPI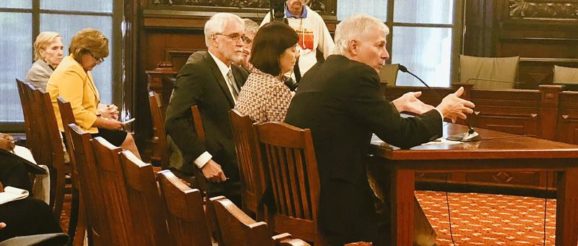 During the past week, you probably caught a brief news story or two about the Illinois Innovation Network, or maybe Discovery Partners Institute. It's worth your attention: In the current state budget, these two projects are slated to receive half a billion dollars.
But what will these two snazzy new creations do? University of Illinois officials spent more than two hours Tuesday telling a panel of lawmakers all about DPI and IIN. Their presentation offered a smorgasbord of superlatives, but only a sprinkling of specifics.
Here's how U of I president Tim Killeen described the mission of DPI and IIN:
"They will educate thousands of students, in leading-edge, hands-on curricula that will nurture the innovators and entrepreneurs of tomorrow….They'll add a jolt to our already rich legacy of pioneering research discovery, that truly packs a punch," Killeen said, reading from a prepared statement.
He touted U of I's reputation for "transformative breakthroughs in innovative strategies" and promised these two initiatives will "serve the common good."
"They will deeply integrate research, education and innovation in a modern way, providing hands-on experiential experiences."
Ed Seidel, the U of I vice-president for economic development and innovation, then told lawmakers the "experiential experiences" will take place in a "special venue" where "universities and companies and organizations" can get collaborate "in areas such as food and agriculture, health and wellness, computing and data, and environment and water."
Bill Sanders, head of UI's electrical and computer engineering department, and newly-appointed interim-director of DPI, described the facility they hope to build.
"It will feature classrooms outfitted with the latest in digitalization and display technologies, that will eliminate the physical distance barriers that we have today," Sanders said.
It will be located in Chicago's South Loop, and is scheduled to be built by 2021, and  fully-operational by 2023. DPI has already opened a Chicago office at 2000 S. Wacker Drive.
Lawmakers tried to wring more facts from the U of I team. Sen. Pat McGuire (D-Joliet), chair of the Higher Education committee, began by asking what DPI is modeled upon. Seidel cited as inspiration Cornell Tech, on Roosevelt Island in New York City. It was born of a partnership between Cornell University and Technion-Israel Institute of Technology (DPI has already announced Tel Aviv University as its first international partner). Killeen mentioned other tech centers, and promised DPI would be unique, "the Illinois model."
"What is the status of private fundraising for DPI?" McGuire asked. "How much is in your pockets right now?"
"In our pockets? I'd rather talk about how much we have potential for," Seidel responded. "We've had many, many conversations with potential donors, and we're talking about funding potentially in the many hundreds of millions of dollars, and we think that's quite viable for us to be able to achieve as we go forward on this."
 
"The governor has said … he expects groundbreaking within six months," McGuire said. "I think he made that statement in June. Do you expect to break ground by the end of the year?"
"Well, we expect to be able to announce a groundbreaking timetable in a matter of weeks to months," Killeen said. "We're working intently through all the procurement issues and every hoop that we need to, to get any donations of land papered-up, so that we can actually have an announcement.
"We're not going to plan premature announcements," Killeen continued. "But we certainly think we're close to a groundbreaking timetable."
The proposed site of DPI is an area called , owned by the real estate development firm called Related Midwest. The firm approached the U of I with a verbal offer to donate 20 acres, which got university officials "excited," Killeen said. "That particular location is on the riverfront, it's downtown Chicago, it doesn't displace any communities, it's large…. And the proposed donation of land was very significant."
That donation is still being negotiated, however, because the U of I wants "a large number" of acres rather than the 20 Related Midwest first offered, Killeen said: "I apologize upfront, you're going to hear a lot where I don't quite have the specifics laid out." So far, they have no written agreement for the land, just a draft they've been revising, he said.
A major new construction project is crucial, Seidel said, for DPI to compete with other tech centers like Austin, Boston, and Silicon Valley. It will serve as headquarters for the Illinois Innovation Network — comprised of campuses that sign on to partner with DPI. Northern Illinois University is one such campus; Lisa Freeman is its president, and she told lawmakers she sees the Network as an opportunity to build on the DeKalb area's heritage.
"Barbed wire was developed in DeKalb," she said. "Everybody knows about DeKalb Genetics and the flying ear of corn. This is an opportunity for us to return to those roots."
When officials from UI approached NIU offering this partnership, Freeman said, it represented a way to "start to put the budget impasse behind us and dream."  
Lawmakers, however, have nightmares about letting $500 million taxpayer dollars slip away, and the senators on the Higher Ed committee told Killeen that someone representing taxpayers needs to have a seat on the DPI board — which is yet another detail that hasn't been nailed down.
"We don't have the governance blueprint in place. We've taken concepts all the way through to potential blueprints, but we need more conversations like this, I think," Killeen said. "This is now forever rooted in state legislative action — taxpayer action at a state, public, flagship university. That is just wonderful."
But he used the word "wonderful" in referring to the $500 million; not necessarily to the notion of having a lawmaker sit on the board.
"There are lessons to be learned about governance systems slowing things down, food fights," he said. "We don't want our faculty to recoil from the governance system that looks like it's not going to liberate them to do amazing things."
McGuire concluded the hearing by asking Killeen to give the committee monthly reports on DPI, and the university president promised he'd deliver.
DPI and IIN aren't the only big projects happening at the U of I. The school's also renovating its basketball practice facility and Memorial Stadium, and contemplating building a hockey arena to host its contemplated Division One hockey team.
Copyright 2018 NPR Illinois | 91.9 UIS. To see more, visit NPR Illinois | 91.9 UIS.